Uber has been open since the 25th April and the theme is Miami Neon.
I think this has been one of my favourite themes so far as it's similar to a past Collabor88 theme that I loved too. Lots of brand new items to top up my spoils from the C88 event.
Foxes made my favourite piece of the round with the Miami Dress in the Tropics colour. You have 19 to choose from so you're bound to find one you like.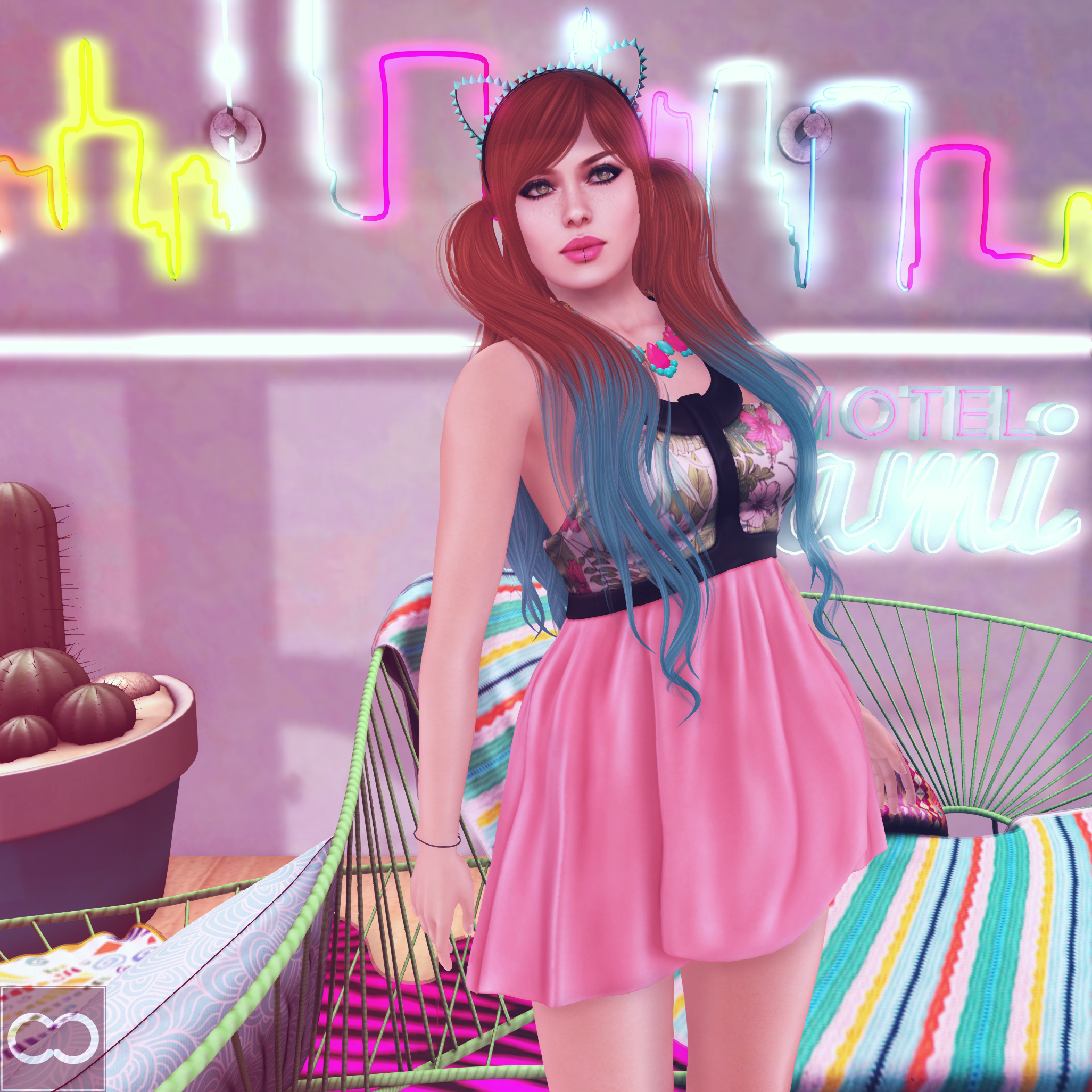 I love the bold black band around the bust area because it means I can team it with some pretty hefty black shoes and they don't look odd compared to the light colours of the fabric. It fit perfectly over my Maitreya Lara mesh body too (using the alpha hud) so I was feeling extra good about it.
The hair is the Sukie Style from Truth. The optional headband is included and comes with a hud that allows you to change the colour of it to suit your outfit.
Cheeky Pea released the Lincoln Road set which includes a pretty unique looking chair and some super flashy neon. The Acapulco Chair comes with Adult or PG animations so it can be a nice chair or a very, very nice chair! The skyline neon light is my favourite and I sized it up to be huge. My new favourite bit of decor.
Happy Shopping!
Pic 1:
Dress -
Foxes
- Miami Dress - Tropics @
Uber
Necklace -
Yummy
- Beaded Statement Necklace - Pink/Aqua
*Hair -
Truth
- Sukie - Gingers Pack (includes headband) @
Uber
Skin -
League
- Erin Pale - Feline (with Erin tintable lipstick)
Eyes -
Ikon
- Charm Eyes - Moor
Eyelashes -
Mon Cheri
- Falsies Eyelash
Body -
Maitreya
- Lara Mesh Body - Includes Hands (with League appliers)
*Pose -
Juxtapose
- Velour Dream - 3
H&G Items:
*Chair -
Cheeky Pea
- Lincoln Road Set - Acapulco Chair @
Uber
*Cactus -
Cheeky Pea
- Lincoln Road Set - Potted Cacti - Sea @
Uber
*Rug -
Cheeky Pea
- Lincoln Road Set - Cow Hide Rug Fauxbra @
Uber
*Neon Skyline -
Cheeky Pea
- Lincoln Set - Silhouette Light @
Uber
Neon Motel -
Floorplan
- Motel Miami - Turquoise
Building -
Intrigue Co
- Miami Electric Motel Lobby