There are just under 2 weeks left until the end of this years Home Show. If you haven't already been to take a look then you need to TP your pixels down there and go check it out.
Second Spaces have the Rhodes Windowseat in both White and Grey.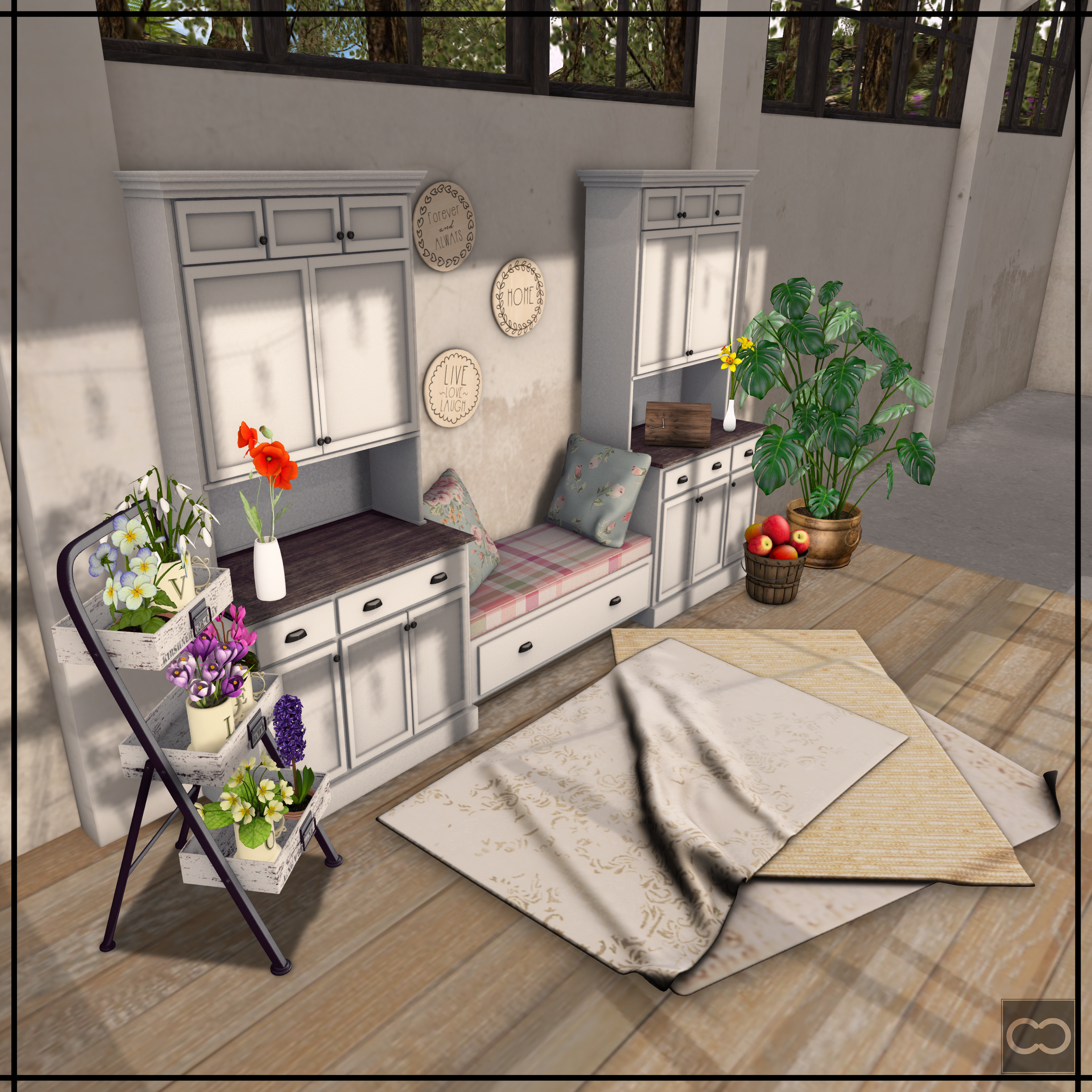 I went for the white and because I didn't have low enough window the gap where the window would be made a lovely spot for some artwork. I used the Warm Words plaques from Fancy Decor. They fit perfectly in that spot but you can use whatever you have.
The Step Shelves, also from Second Spaces, made a perfect spot for me to rez lots of different plants from Terrashop. The great part is they are all mod so you can resize them to fit the space you have available.
The building is from Soy, also at Home Show 2015, and is the Machikouba House. It's a small house but still spacious so you'll have plenty of room for all your furniture.
There'll be a little more from me before Home Show 2015 closes. Until then...
Happy Shopping!
Pic 1:
*Seating -
Second Spaces
- Rhodes Windowseat - White @
Home Show 2015
*Steps -
Second Spaces
- Step Shelves - White @
Home Show 2015
*Flowers Top Step -
Terrashop
- Blue Pansy MC & Snowdrops In The Cup MC @
Home Show 2015
*Flowers Middle Step -
Terrashop
- Crocuses In The Cup MC & Cyclamen In The Cup MC @
Home Show 2015
*Flowers Bottom Step -
Terrashop
- Primroses In The Cup MC & Purple Hyacinth MC @
Home Show 2015
*Poppies -
Terrashop
- Red Poppies In A Vase MC @
Home Show 2015
*Daffodils -
Terrashop
- Yellow Daffodils In A Vase MC @
Home Show 2015
*Apples -
Terrashop
- Autumn Collection - Bucket With Apples MC @
Home Show 2015
*Plant -
Terrashop
- Office Plants - Potted Philodendron MC @
Home Show 2015
*Artwork -
Fancy Decor
- Warm Words - 'Forever & Always', 'Home' and 'Live, Love, Laugh'. @Home Show 2015
*Clock -
Fancy Decor
- Wood Clock - Stained & Silver @
Home Show 2015
*Rugs -
Cheeky Pea
- Delilah Earth Rugs
*Building -
Soy
- House Machikouba @
Home Show 2015