We're just about to sneak into December which means a lot of you will be getting your sim/parcel/home all ready for Winter and Christmas. The Wayward Market, which is open until December 10th, has some great pieces that'll help you along with that.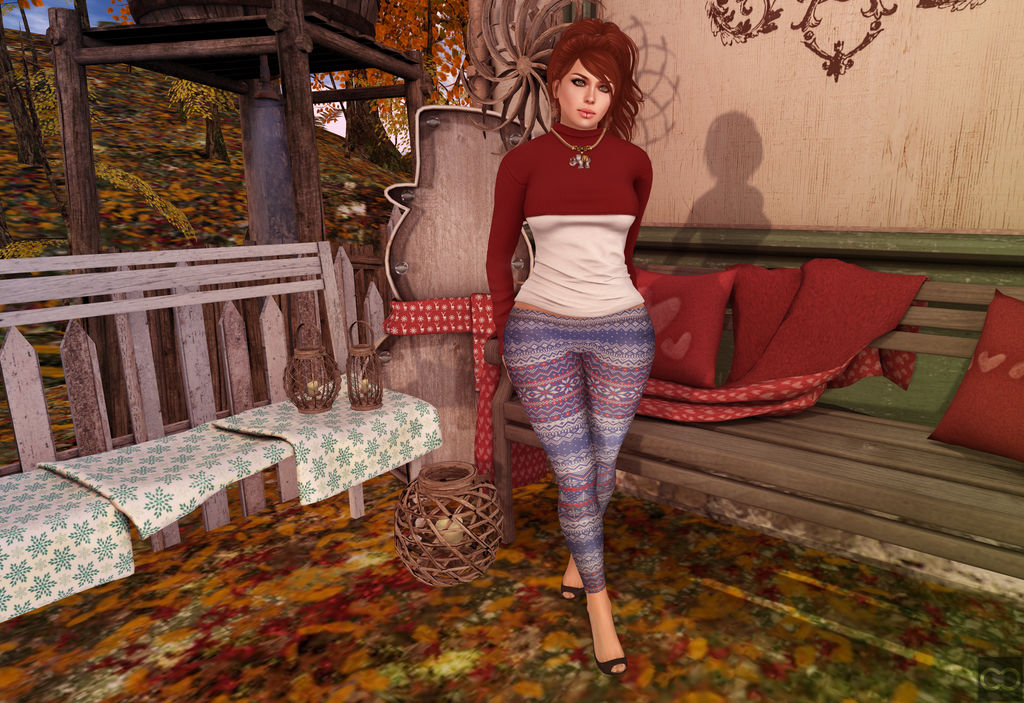 ChicChica have released both shoes and earrings for you adorn yourself with. The Sonya Wedges are available in 5 colours and fit the SLink, Maitreya and Belleza feet. They have pretty little gem studs in the wedge part too so they are perfect for adding a little Christmas sparkle to your outfit. For extra sparkle you can get yourself some of the earrings. They have Snowflakes or shiny Christmas baubles to choose from in several different colours.
The necklace you can grab from Empyrean Forge. It's the Iyara Pendant in Gold and it has a pretty little elephant on it. Maybe not strictly a Christmas themed item but will definitely add some bling to your Christmas outfit this year!
If you wanted to do some Winter decorating then you're going to need the Emilia Bench from Sway's. there are 2 wood colours and 8 fabric colours for the blanket and pillows. There are both single and couples/friends animations in there too so there's something for everyone.
The giant Wooden Snowman from The Hive is a great outdoor Christmas piece. Although there's nothing stopping you having it inside too. It's available in two different scarf colours of if you're more of a reindeer lover then there is a red nosed Rudolf version too.
Happy Shopping!
Pic 1:
*Shirt -
Blueberry
- Roro - Fatpack
*Leggings -
Ama
. - Nordic Leggings - Mixed @
Gen-Neutral
*Shoes -
ChicChica
- Sonya - Noir @
Wayward Market
*Earrings -
ChicChica
- Snowflakes Earrings @
Wayward Market
*Necklace -
Empyrean Forge
- Iyara Pendant - Gold @
Wayward Market
Hair -
Truth
- Louisa - Variety Pack (gift)
Skin -
League
- Erin Pale - Feline
Eyes -
Ikon
- Triumph Eyes - Moor
Ears -
CheerNo
- Human Ears - Tragus
Body -
Maitreya
- Lara Mesh Body - Includes Hands & Feet (with League appliers)
*Pose -
An Lar Poses
- The Silent Series - One @
Wayward Market
H&G Items:
*Bench Left -
Clustered
- Antique Garden Bench - Snowy @
Wayward Market
*Bench Right -
Sway's
- Emilia Bench @
Wayward Market
*Snowman Light -
Hive
- Wooden Snowman - Red @
Wayward Market
*Fence -
Clustered
- Antique Garden Fence 2 @
Wayward Market
*Pinwheel -
Dysfunctionality
- Woodsy Garden Pinwin @
The Liaison Collaborative
*Lanterns -
Dysfunctionality
- Wicker Candle Lanterns
*Showerstall -
Dysfunctionality
- Moorside Barrel Showerstall @
We Love RP
Building -
Trompe Loeil
- Josette Boutique @
Collabor88