I've got a few more things to show you from the Darkness round of Oneword. You have until the 15th to head over there and grab anything you like the look of.
I really like the Torment dress from Storybook. It fitted over my Maitreya Lara with no issues and flashed just enough skin to be a little risque but not too much that I felt the need to find something to cover myself up. Believe it or not I don't usually run around SL mostly naked! lol
I really liked the butterfly pose and prop from Mien. The Dark Wings pack includes black butterflies and they're a bit creepy and surreal. Nothing like your normal bright coloured butterflies.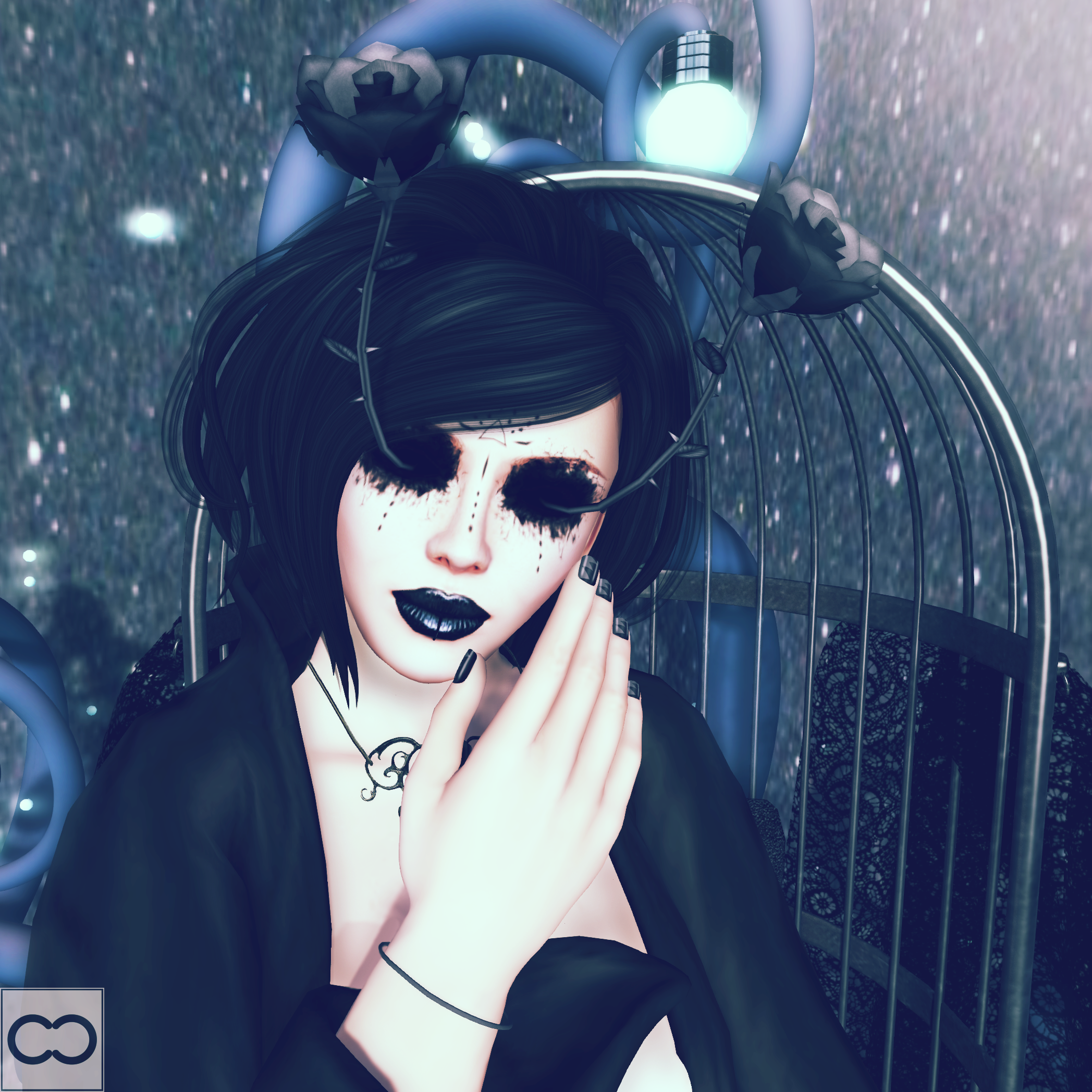 I had to show you these seriously disturbing Blackout Eye Roses from Katat0nik. I think you're probably going to need more than some eye drops if you have plant life growing from your eye sockets. They great for some creepy demonic role play though.
Happy Shopping!
*Dress -
Storybook
- Torment - Pitch @
Oneword
*Stockings -
SYSY's
- Darkness Stockings Ombre @
Oneword
*Ankle Wings -
Scene
- Dark Angel @
Oneword
*Necklace -
Lucky Charlotte Camille
- Darkness Bird Skull Necklace @
Oneword
*Eyes/Flowers -
Katat0nik
- Blackout Eye Roses @
Oneword
*Eye Make Up -
Ama
. - Shattered Blackout Eyes
*Tattoo -
Arise
- Bonjo Facetattoo - Hard @
Oneword
Lipstick -
Pink Fuel
- Ink Lipstick
*Nail Colour -
Bella Elephante
- Darkness Nails @
Oneword
*Hair -
Truth
- Fynn - Black & Whites Pack
Skin -
League
- Erin Pale - Natural
Body -
Maitreya
- Lara Mesh Body - Hands & Feet Included (with League appliers)
*Pic 1 Pose -
Mien
- Dark Wings - 02 (includes butterflies) @
Oneword
*Pic 2 Pose -
Elephante Poses
- I Am You - #1
H&G items:
*Chair -
22769
- Dark Was The Night @
Oneword
*Vine Lamps -
The Mint Condition
- Dark Fantasy Vines @
Oneword
*Vine Dome -
The Mint Condition
- Dark Fantasy Dome @
Oneword
*City Lamp -
The Mint Condition
- Dark City Lamp @
Oneword
*Statues -
Lost Junction
- Reaching For Redemption - Soot A & B @
Oneword