The Liaison Collaborative is open until the 10th of May so I've got a couple more bits to show you before they close their doors.
Baiastice have released a set of lingerie in two very contrasting textures but both are gorgeous.
The first set is the Fling Lingerie in Lace. I went for the pink because it was just too pretty to pass up.
The lingerie itself doesn't have alphas so make sure that you an actual standard size and try a demo before you buy. The corset does include an alpha, because it slims your waist, but you can choose to wear the bra and panties without the corset.
The other option available is the Fling Lingerie in Tartan. This time the Magnolia took my fancy.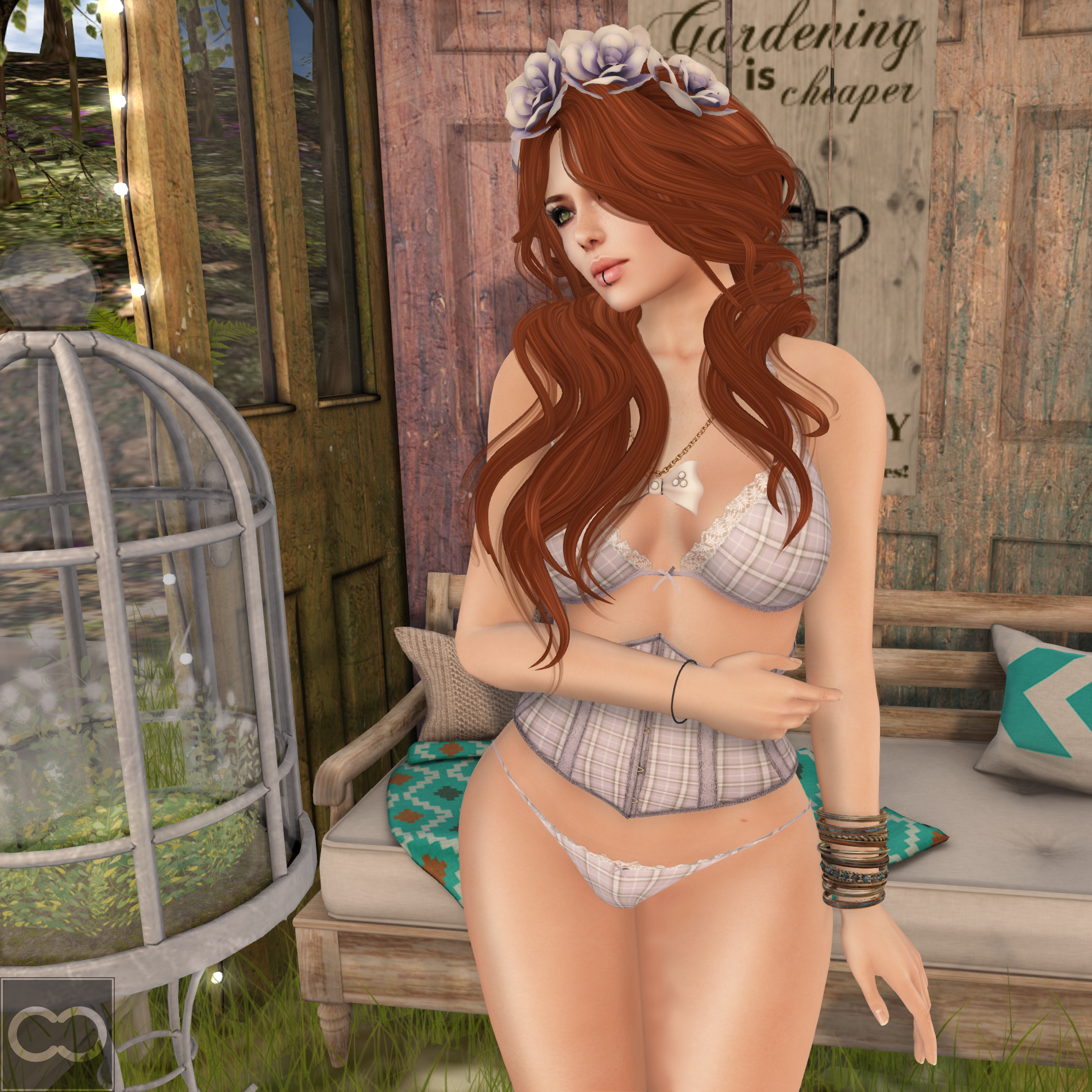 It covers a little bit more than the lace version but is just as pretty. Same rules apply as with the lace version above. Try a demo!
The cute little hair flowers I've used in both pictures are the Darcy Flowers Headband from Ariskea. You have a choice of several pretty pale colours. It just screams spring so it's welcome addition to my inventory.
The Bow Tie Necklace is from Imeka and I blogged about this in my Part 1 post about The Liaison Collaborative. I'd used the black there but it looks equally as adorable in the pale colours too.
The Bangles, also previously blogged in part one, are the Katya Bangles from EarthStones.
The little shack with the fairy lights is from The Hive. It's the Upcycled Spring Door Decor and you have a choice between natural colours or this pretty spring colour. It just needed a touch of resizing to fit around the Andrea Bench from MudHoney. Together they made the perfect little garden hide away. I wish I had one of these in RL to disappear to and read books.
Happy Shopping!
Pic 1:
*Lingerie -
Baiastice
- Fling Lingerie Lace - Pink @
The Liaison Collaborative
*Hair Flowers -
Ariskea
- Darcy Flowers Headband - Blessing Of Love @
The Liaison Collaborative
*Bangles -
EarthStones
- Katya Bangles - Mystery @
The Liaison Collaborative
*Necklace -
Imeka
- Bow Tie Necklace @
The Liaison Collaborative
*Hair -
Truth
- Nayeli - Gingers Pack
Skin -
League
- Erin Pale - Feline
Eyes -
Ikon
- Charm Eyes - Moor
Eyelashes -
Mon Cheri
- Falsies Eyelash
Body -
Maitreya
- Lara Mesh Body - Includes Hands (with League appliers)
*Pose -
EverGlow
- Flora - 04 @
The Liaison Collaborative
Pic 2:
*Lingerie -
Baiastice
- Fling Lingerie Tartan - Magnolia @
The Liaison Collaborative
*Hair Flowers -
Ariskea
- Darcy Flowers Headband - Lavender Veil @
The Liaison Collaborative
*Bangles -
EarthStones
- Katya Bangles - Mystery @
The Liaison Collaborative
*Necklace -
Imeka
- Bow Tie Necklace @
The Liaison Collaborative
*Hair -
Truth
- Effie - Gingers Pack
Skin -
League
- Erin Pale - Feline
Eyes -
Ikon
- Charm Eyes - Moor
Eyelashes -
Mon Cheri
- Falsies Eyelash
Body -
Maitreya
- Lara Mesh Body - Includes Hands (with League appliers)
*Pose -
EverGlow
- Flora - 10 @
The Liaison Collaborative
H&G items:
*Shack -
Hive
- Upcycled Spring Door Decor - Spring @
The Liaison Collaborative
*Bench -
MudHoney
- Andrea Bench - Light Teal @
The Liaison Collaborative
*Greenhouse Cage -
22769
- Voliere Greenhouse @
The Liaison Collaborative