This is my last post for this round of The Liaison Collaborative. The theme is Gentleman's Club.
This pose is from Ilaya and is the Vicente And Valentina 1 couples post.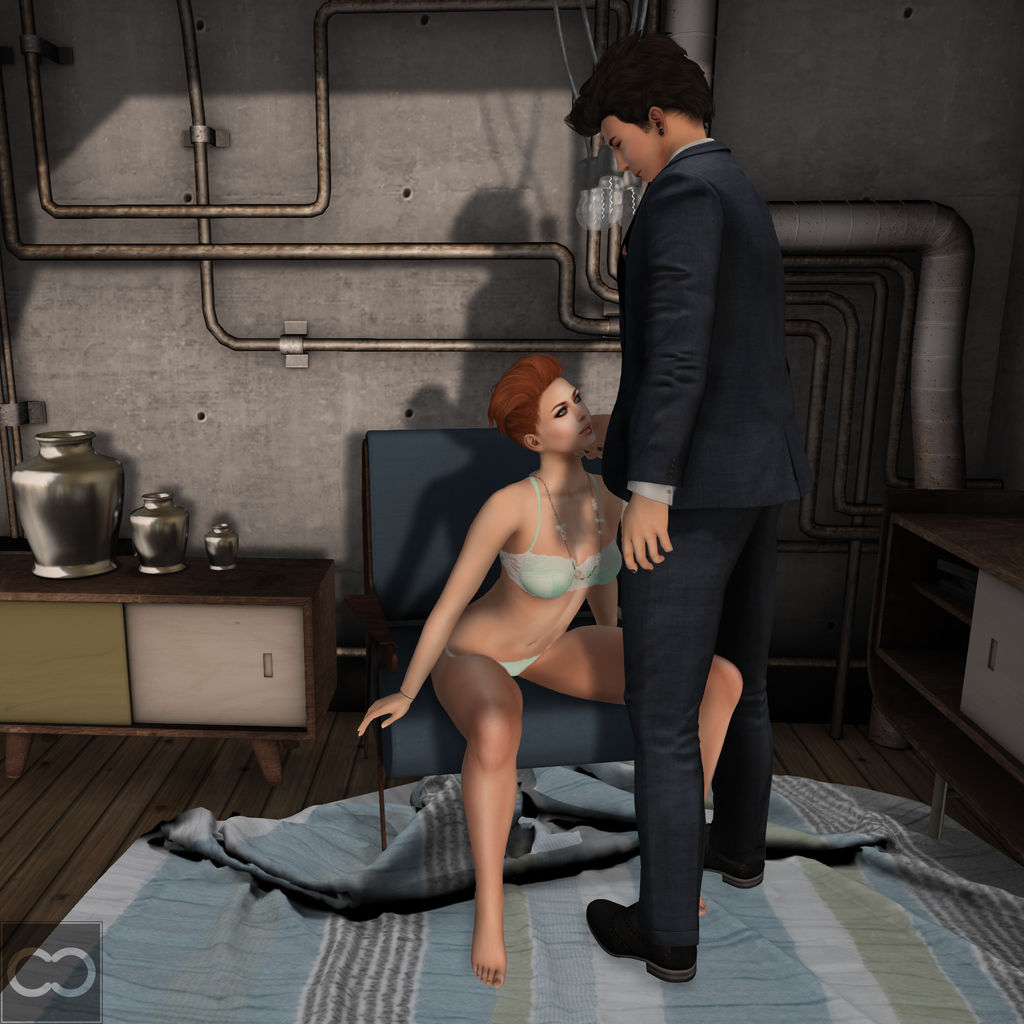 It's a great pose that holds a promise of naughty things to come. It's a very sensual feeling pose with a slight dominant edge for those who like that type of pose. I didn't try it with a m/m or f/f couple so please try a demo before you buy.
Pipes is a prop from Exposeur with 10 poses and 10 addtional mirror versions. I've used it as a room for all my pictures in this post, which it's also great for.
The Vanna lingerie you can grab from Blacklace. It's the TGIF for last week so it's no longer at the main store but of course you can nab it from the Marketplace for same bargain price of 99L
Happy Shopping!
Cryssie:
*Lingerie -
Blacklace
- Vanna Bra Set - Mint
*Necklace -
Imeka
- Bow Necklace With Pearls
*Cigar -
Kunst
- Cigar RARE @
The Liaison Collaborative
*Hair -
Damselfly
- Lane - Light Reds Pack @
The Liaison Collaborative
Skin -
League
- Erin Pale - Feline
Eyes -
Ikon
- Charm Eyes - Moor
Eyelashes -
Mon Cheri
- Falsies Eyelash
Ears -
CheerNo
- Human Ears - Tragus
Body -
Maitreya
- Lara Mesh Body - Includes Hands & Feet (with League appliers)
Valentine:
Suit -
Deadwool
- The Dandy - Blue
Shoes -
Ispachi
- Mason Brogues
Hair -
Exile
- Machinehead - Blacks Pack
Skin -
Pink Fuel
- Ashton - Peach
Eyes -
Ikon
- Spectral Eyes - Denim
Ears -
CheerNo
- Human Ears - Plug Open
Hands -
SLink
- Avatar Enhancement Mesh Hands Male - Relaxed (with Pink Fuel appliers)
*Pose 1 -
Ilaya
- Vicente And Valentina Couple Pose 1 @
The Liaison Collaborative
*Pose 2 -
Rack Poses
- The Gentleman's Club @
The Liaison Collaborative
*Pose 3 -
Exposeur
- Pipes @
The Liaison Collaborative
H&G Items:
*Chair -
Oyasumi
- Retro Chair - Blue @
Home Show 2015
*Small Side Table -
Oyasumi
- Retro Side Table @
Home Show 2015
*Large Side Table -
Oyasumi
- Retro Coffee Table With Lamp @
Home Show 2015
Rug -
Glam Affair
- Andy Rug 01 @
Kustom9
Vases -
Glam Affair
- Andy Vases Black @
Kustom9
*Pipes Room -
Exposeur
- Pipes @
The Liaison Collaborative