Gentleman's Club is the theme of the new round of The Liaison Collaborative and it is open until June 10th.
There's lots to show you so I'm going to break it down into slightly more manageable smaller posts. So keep your eyes open for more from The Liaison Collaborative soon, but for now let's jump into the first post.
Fishy Strawberry have a brand new shirt release for this round.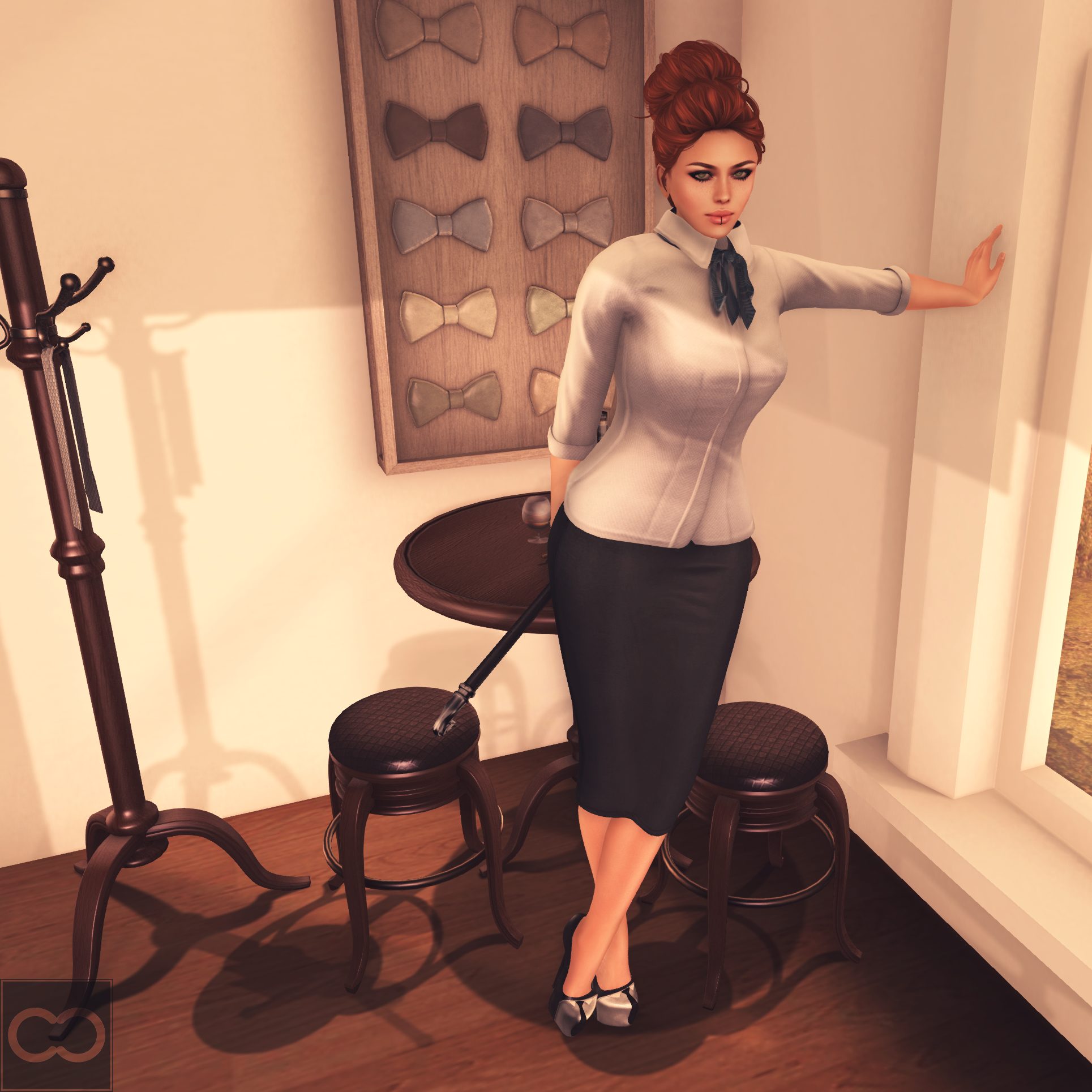 The Country Club Shirt comes in a choice of Black, Blue, Taupe or White. The hud allows you to change the colour of the bow around the neck. Perfect with a slinky little black pencil skirt, like this one from Emery.
The shoes are the Tie Pumps from Pure Poison. They are made to fit the SLink high feet or the Maitreya Lara feet. They look like they are wearing little tuxedos and are super cute.
The gorgeous furntiure you see hiding in the background is the The Gentleman's Club set from Kunst
These pieces are all tucked away in a gacha so it might take a few attempts or some skillful trading to get all the pieces you want but it is definitely worth it. It's such a rich, deep coloured wood and it feels warm and like it would be tucked away in a smoky dark club. However it looks just as good in somewhere as bright and airy as the space I've used so it's really worth popping some lindens in that gacha machine.
Happy Shopping!
Pic 1:
*Shirt -
Fishy Strawberry
- Country Club Shirt - White @
The Liaison Collaborative
Skirt -
Emery
- Midi Skirt Elle - Smoke
*Shoes -
Pure Poison
- Tie Pumps @
The Liaison Collaborative
*Cane -
Random Matter
- Mustang Cane - Black/Black @
The Liaison Collaborative
*Hair -
Truth
- Harmony (bun) - Gingers Pack
Skin -
League
- Erin Pale - Feline
Eyes -
Ikon
- Charm Eyes - Moor
Eyelashes -
Mon Cheri
- Falsies Eyelash
Body -
Maitreya
- Lara Mesh Body - Includes Hands & Feet (with League appliers)
*Pose -
Ridic
- Looking Dapper - 7 @
The Liaison Collaborative
H&G Items:
*Table -
Kunst
- The Gentleman's Club Gacha - Weston End Table @
The Liaison Collaborative
*Stools -
Kunst
- The Gentleman's Club Gacha - Weston Bar Stool @
The Liaison Collaborative
*Coat Rack -
Kunst
- The Gentleman's Club Gacha - Weston Coat Stand w/ Hat & Scarf @
The Liaison Collaborative
*Glasses -
Kunst
- The Gentleman's Club Gacha - Brandy Glasses #2 & #4 @
The Liaison Collaborative
*Bottle -
Kunst
- The Gentleman's Club Gacha - Brandy Bottle Dispenser @
The Liaison Collaborative
*Cigar Box -
Kunst
- The Gentleman's Club Gacha - Cigar Box Open @
The Liaison Collaborative
*Cigars -
Kunst
- The Gentleman's Club Gacha - Cigars @
The Liaison Collaborative
*Ashtray -
Kunst
- The Gentleman's Club Gacha - Cigar Ashtray #1 @
The Liaison Collaborative
*Bowtie Artwork -
Frogstar
- Take A Bow Tie - Muted @
The Liaison Collaborative