This will be the last round of The Liaison Collaborative while they take a few months break over the summer. So you only have until the 10th of June to get yourself TLC goodies and then you're going to have the spend the Summer missing them. I know I will.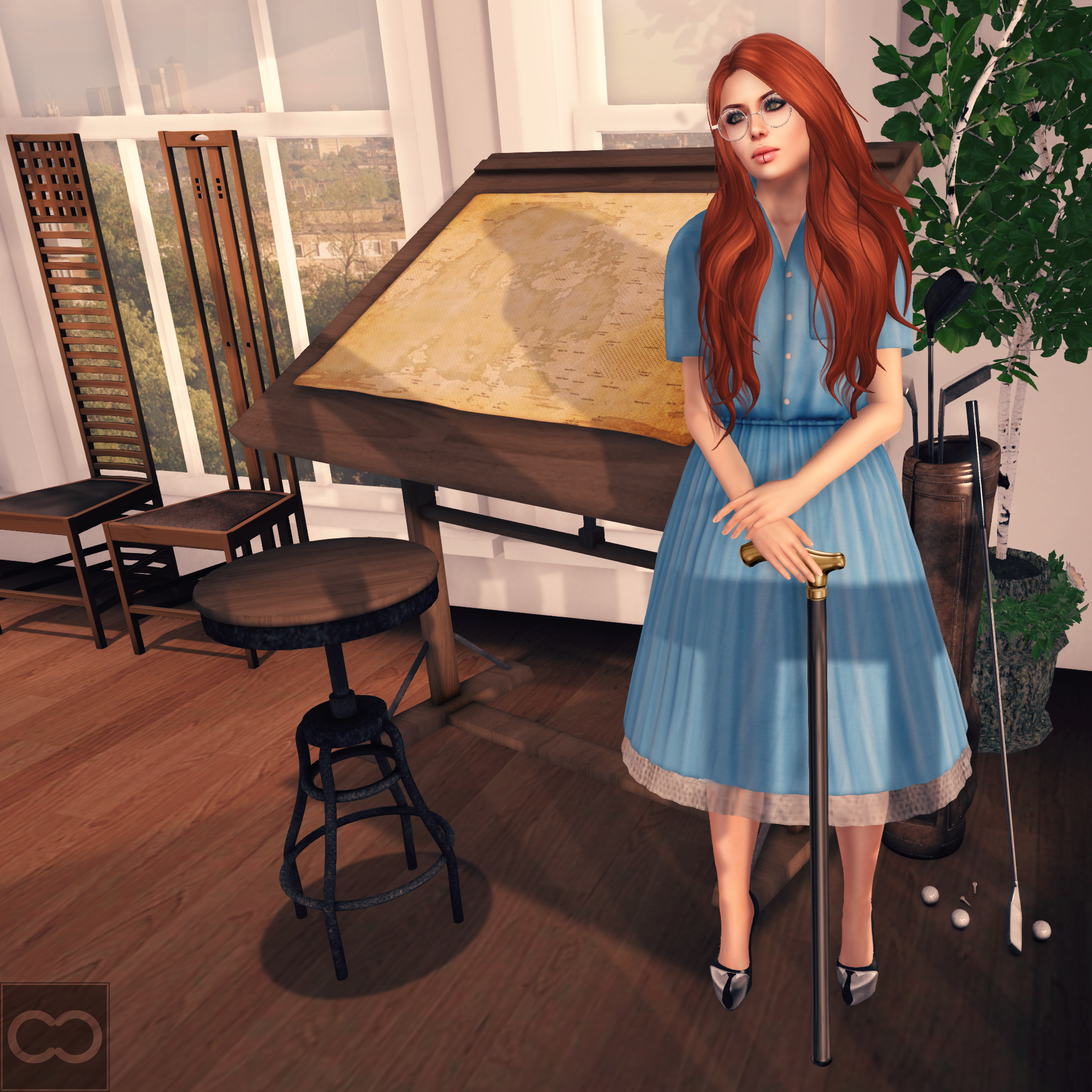 The adorable little Cotton Shirt With Pleated Skirt Dress is from Amiable. You have a choice of 10 colours but I loved this blue colour the most. Lovely dress that is perfect for the summer.
Locklynn is a new release from Damselfly. I love the length on this hair and I grabbed the Light Reds Pack because it has my favourite colour in it. You can of course choose your favourite colour pack.
Izzie's have released the Gentleman's Glasses in a choice of eight colours and between normal lenses and tinted sunglasses lenses.
The Cartographer Desk and Stool are from Fetch. It's a gorgeous set and includes the detailed map piece. I love anything that looks like crafts, drawing or any kind of art. So this is a welcome piece to my house.
Pic 1:
*Dress -
Amiable
- Cotton Shirt With Pleated Skirt Dress - Fatpack @
The Liaison Collaborative
*Shoes -
Pure Poison
- Tie Pumps @
The Liaison Collaborative
*Glasses -
Izzie's
- Gentleman's Glasses - Silver @
The Liaison Collaborative
*Hair -
Damselfly
- Locklynn - Light Reds Pack @
The Liaison Collaborative
Skin -
League
- Erin Pale - Feline
Eyes -
Ikon
- Charm Eyes - Moor
Eyelashes -
Mon Cheri
- Falsies Eyelash
Body -
Maitreya
- Lara Mesh Body - Includes Hands & Feet (with League appliers)
*Pose -
Le Poppycock
- Fine And Dandy - Eternal Superiority (includes cane) @
The Liaison Collaborative
H&G Items:
*Desk -
Fetch
- Cartographer Desk Set - Cartographer Desk @
The Liaison Collaborative
*Stool -
Fetch
- Cartographer Desk Set - Cartographer Stool @
The Liaison Collaborative
*Plant -
Little Branch
- Potted Birch @
The Liaison Collaborative
*Golf Clubs -
EliBaily
- Vintage PNP - Brown @
The Liaison Collaborative
*Chairs -
Convair
- Mackintosh Chairs - 1 & 2 @
The Liaison Collaborative