Until the 15th of May you can find some love from Russia at Shiny Shabby.
There were a couple of poses to show off to you all so I grabbed cat, we both threw on our brand new goodies from ColdLogic and I made her hop on my pose balls. I make her do that a lot.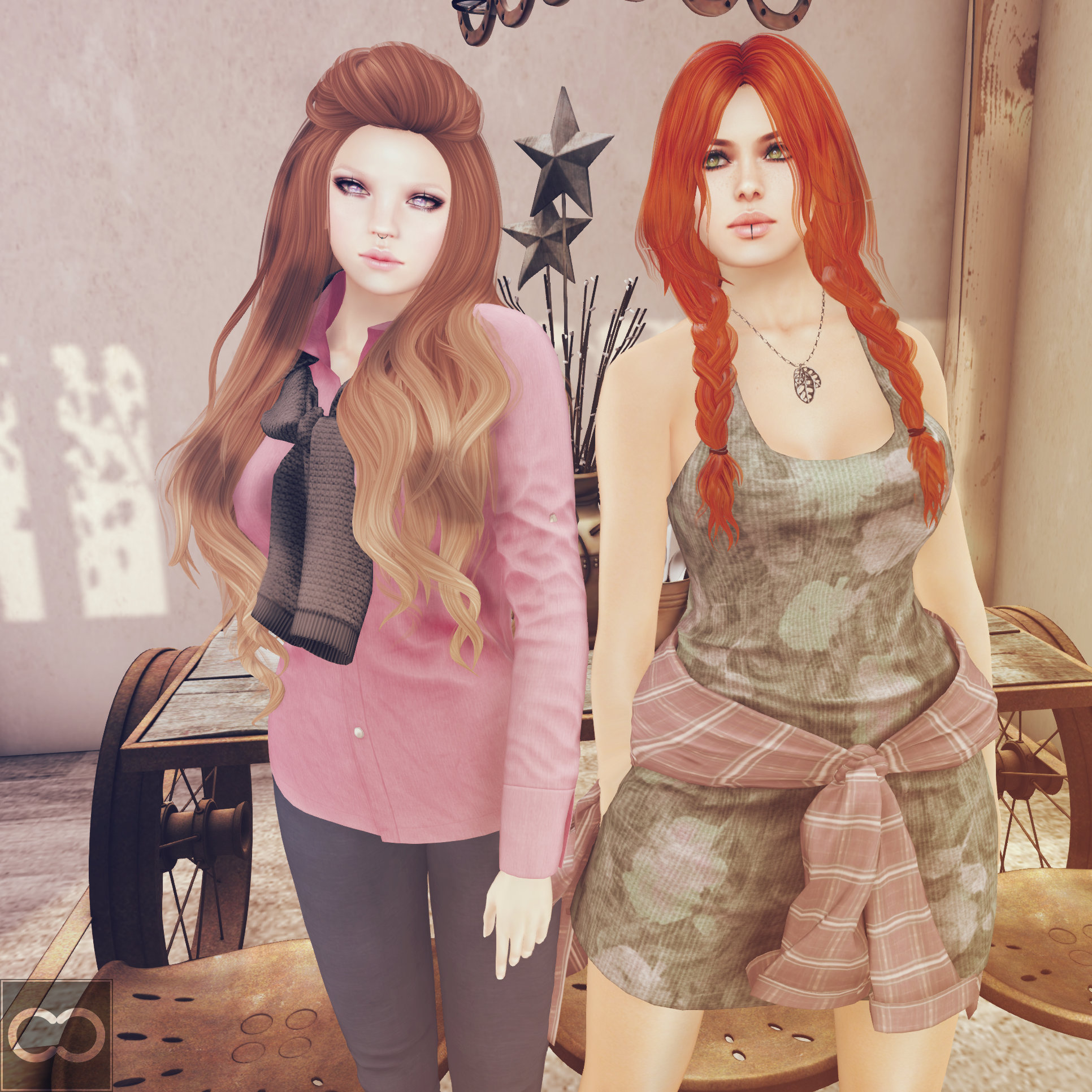 Cat is using stand 484 from Bang. It's included in the Stands 480-489 pack. The pack also includes mirror poses so you're essentially getting double the amount.
I'm using a pose from the Simpli Series II by An Lar Poses. This is pose Two but you have a choice of five poses and their mirrors to choose from.
The hair is from Mina and is the Yuliya style. It's an adorable double braid style and comes in all the usual colour packs Mina has to offer. My favourite being the Dark Reds Pack.
The great little picnic set in the background if the Roma Picnic Set from Cheeky Pea. The table and chairs are all one piece. The set also includes a cutlery basket, the willows in the vase and a candelabrum. You can choose these pieces separately or all as one set.
There is so much more to see at Shiny Shabby so go check it out.
Happy Shopping!
Cryssie:
Dress -
ColdLogic
- Esper Dress w/ Tied Shirt - Mossy
Necklace -
Izzie's
- Leaves Necklace - Silver
*Hair -
Mina
- Yuliya - Dark Reds Pack @
Shiny Shabby
Skin -
League
- Erin Pale - Feline
Eyes -
Ikon
- Charm Eyes - Moor
Eyelashes -
Mon Cheri
- Falsies Eyelash
Body -
Maitreya
- Lara Mesh Body - Includes Hands (with League appliers)
*Pose -
An Lar Poses
- Simpli Series II - Two @
Shiny Shabby
Cat:
Shirt -
ColdLogic
- Ortiz Shirt Untucked w/Sweater - Pinky
Pants -
ColdLogic
- Traux Pants - Midnight
Hair -
Truth
- Octavia - Light Brows
Skin -
Pink Fuel
- Doll V2 - Crystal
Eyes -
The Sugar Garden
- Galaxy - Ice Blue
Body -
Maitreya
- Lara Mesh Body - Includes Hands (with Pink Fuel appliers)
Pose -
Bang
- Stands 480-489 - #484 @
Shiny Shabby
*Table -
Cheeky Pea
- Roma Picnic Set - Roma Picnic Table @
Shiny Shabby
*Willows -
Cheeky Pea
- Roma Picnic Set - Willows @
Shiny Shabby
*Cutlery -
Cheeky Pea
- Roma Picnic Set - Cutlery Basket @
Shiny Shabby
*Chandelier -
Cheeky Pea
- Roma Picnic Set - Roma Candelabrum @
Shiny Shabby
Building -
Scarlet Creative
- Petite Cabine