We're back for a new round of Kustom9 and I grabbed a few goodies to show you all.
I'm a little bit in love with these Skeleton Skinny Jeans from Addams.
They have an incredible shape come in standard sizes or fitmesh versions for SLink Physique, Maitreya Lara and Belleza Venus. You also get a hud that allows you to change the colours of the lower legs and the belt.
The shirt is from Bueno. It's the Zipped Crop Top and it comes in a whole range of colours and patterns. You get your regular standard sizes and fit mesh versions too.
The hair is from Mina and is an updated colour pack for the Aranka style. I'm loving the Greys pack. It's my new favourite specials pack.
Fishy Strawberry has an adorable Peplum Sleeveless Top at this round.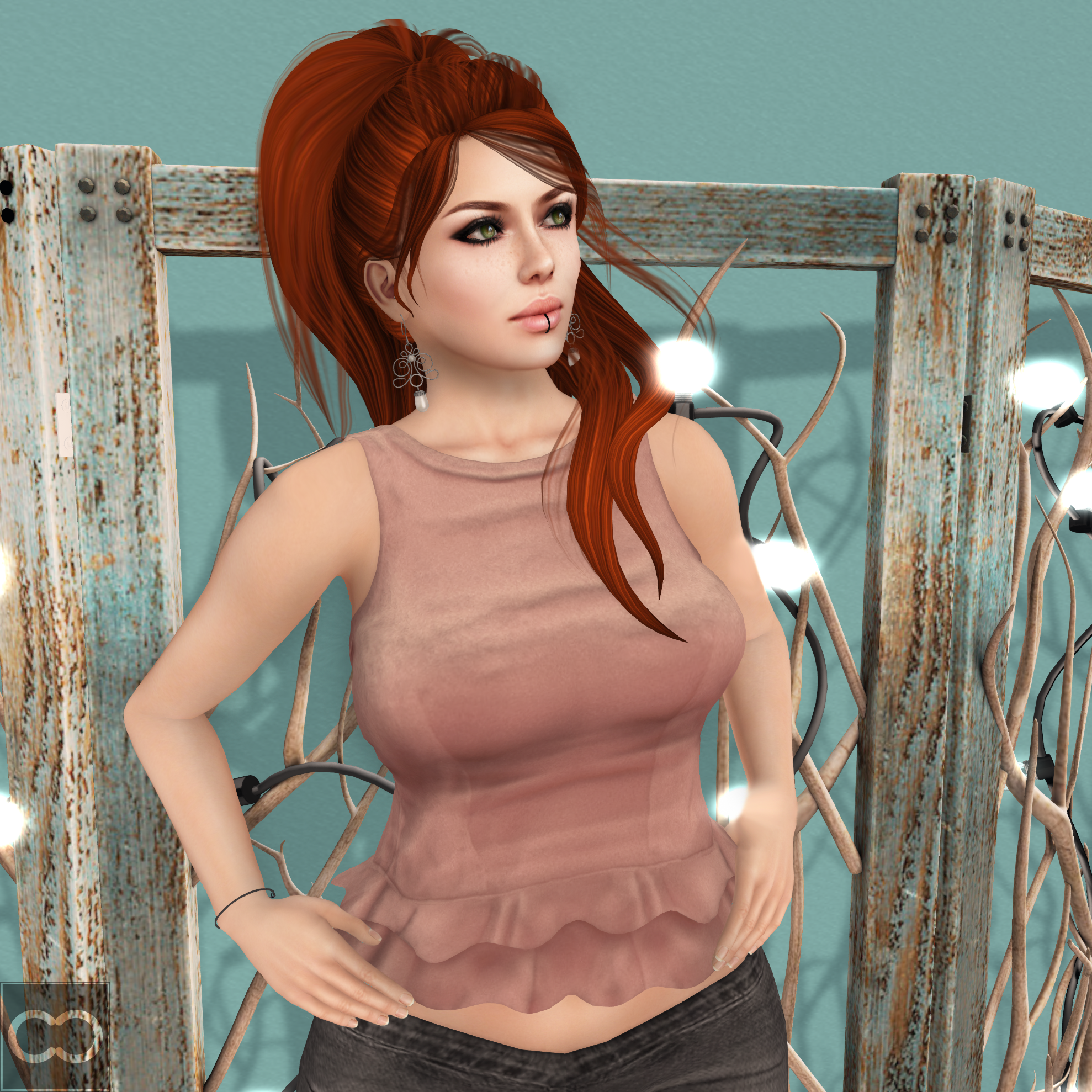 I loved the Blush colour and the cute little ruffles on this shirt. There are other colours to choose from if pink isn't really your thing.
The earrings are from Imeka. They are the Danni Earrings and is a pretty swirl of gold or silver with a pearl. I really like how it can be a casual pair or earrings or can be worn with something far more dressy.
The Willow Lights Screen is gorgeous with lots of intricate details and pretty little fairy lights. You can nab it from Cheeky Pea booth in three different wood colours.
Happy Shopping!
Pic 1:
Shirt -
Bueno
- Zipped Crop Top - Striped - White @
Kustom9
Pants -
Addams
- Skeleton Skinny Jean w/Belt - Black @
Kustom9
Shoes -
Reign
- Bootycall Pumps - Black
Necklace -
Maxi Gossamer
- Unicorn Maiden Star - Store
*Earrings -
Imeka
- Danni Earrings @
Kustom9
*Hair -
Mina
- Aranka - Greys Pack
Skin -
League
- Erin Pale - Feline
Eyes -
Ikon
- Charm Eyes - Moor
Eyelashes -
Mon Cheri
- Falsies Eyelash
Body -
Maitreya
- Lara Mesh Body - Includes Hands & Feet (with League appliers)
*Pose -
Imeka
- Danni - Pose 8 @
Kustom9
Pic 2:
*Shirt -
Fishy Strawberry
- Peplum Sleeveless Top - Blush @
Kustom9
*Pants -
Fishy Strawberry
- Moto Jeggings - Wash 6
*Earrings -
Imeka
- Danni Earrings @
Kustom9
Hair -
Clawtooth
- Up And Away - Exquisite Reds Pack @
Kustom9
Skin -
League
- Erin Pale - Feline
Eyes -
Ikon
- Charm Eyes - Moor
Eyelashes -
Mon Cheri
- Falsies Eyelash
Body -
Maitreya
- Lara Mesh Body - Includes Hands (with League appliers)
Pose -
Overlow Poses
- Pack Gift 5 - 1
H&G items:
*Screen -
Cheeky Pea
- Willow Lights Screen - Medium @
Kustom9