Vintage & Cool is back for 2015 and while the event has been open for a while you still have until September 4th to check out all the retro goodies they have there.
Regular visitors will know I love lingerie so of course I had to take pictures of the delicious lingerie that is on offer from Blacklace.
The first up is the Constance set.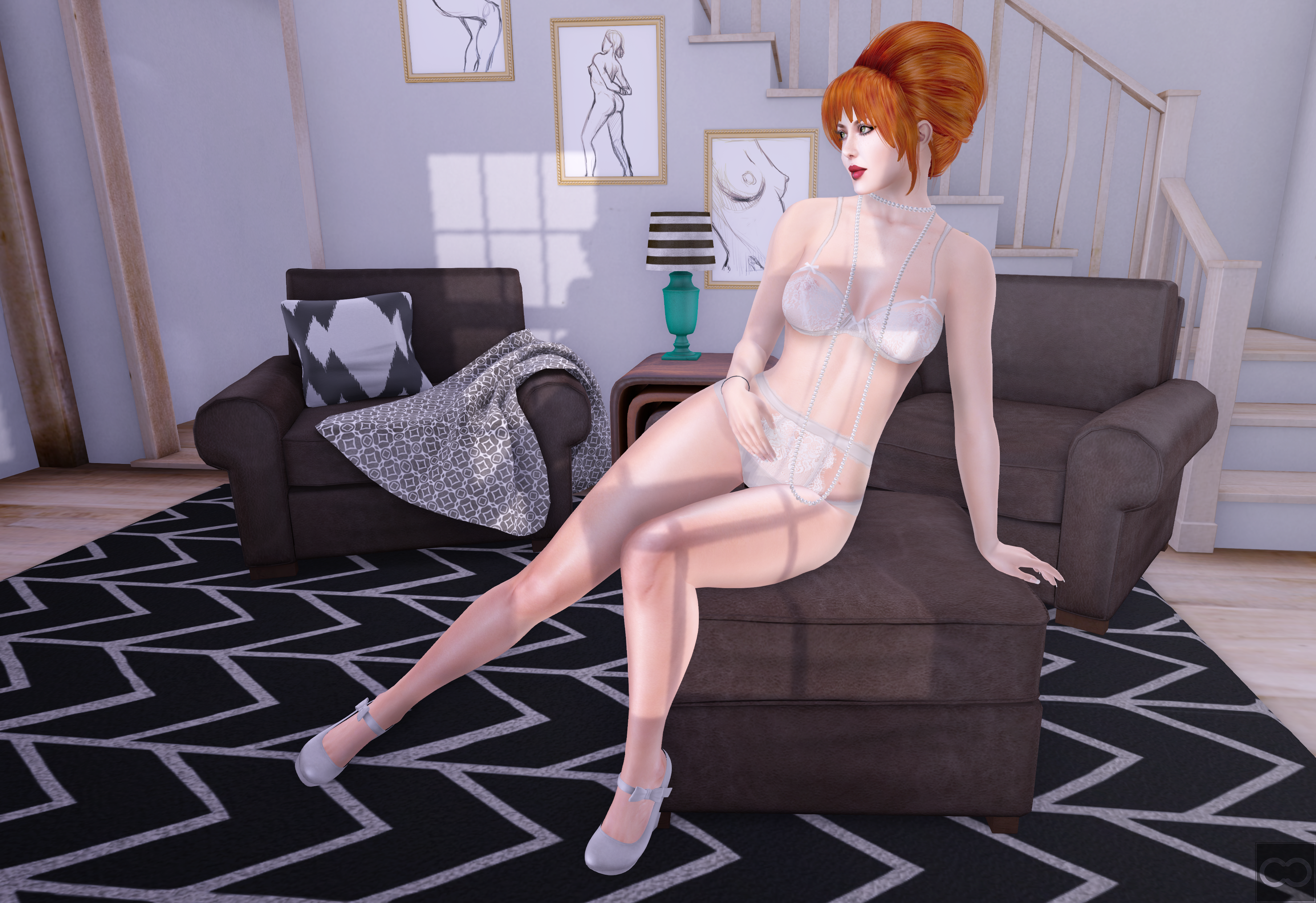 The Beige in this set is gorgeous but of course there are darker and richer colours available for those who prefer them. The set includes system layers and appliers for SLink and Omega. I'm especially in love with the bra on this set.
The second set is called Lavine.
This set has much more coverage than the Constance and includes stockings. As with the Constance set it has system layers and appliers for SLink and Omega. It's lacy, pretty and incredibly sweet looking. Perfect for those of you who love to look a like you might be Little Miss Innocent but bust out some serious sexy for those who deserve it.
The hair in both pics is the Doris style from Mina. It's also available at the Vintage & Cool fair in all the usual Mina colour packs. I'm a Dark Reds girl myself but of course you get to choose your favourite.
The absolutely stunning furniture you can find at the Festival of Sin II by taking a trip to the MudHoney booth in the Lust section. Both versions of the Jessie Chair are available in four colours and a choice of Adult or PG animations. The Jessie Ottoman, also available in the same matching colours, includes just PG animations. The Jessie lamps are available in 10 colour options and the Jessie Table has 2, wood or plastic.
Don't forget that the Festival of Sin II closes on September 5th.
Happy Shopping!
Pic 1:
*Lingerie -
Blacklace
- Constance - Beige @
Vintage & Cool
Necklace -
Erratic
- Aea Edith Pearl Necklace
*Hair -
Mina
- Doris - Dark Reds Pack @
Vintage & Cool
Skin -
League
- Erin Pale - Natural (with Erin lipstick)
Eyeliner -
League
- Classic Wing Eyeliner - 1
Eyes -
Ikon
- Triumph Eyes - Moor
Eyelashes -
Mon Cheri
- Falsies Eyelash
Ears -
CheerNo
- Human Ears - Tragus
Body -
Maitreya
- Lara Mesh Body - Includes Hands & Feet (with League appliers)
Pose -
oOo Studio
- Cube - Five
Pic 2:
*Lingerie -
Blacklace
- Lavine - Peach @
Vintage & Cool
Necklace -
Maxi Gossamer
- DewDrop Glass Bead Necklace
*Hair -
Mina
- Doris - Dark Reds Pack @
Vintage & Cool
Skin -
League
- Erin Pale - Natural (with Erin lipstick)
Eyeliner -
League
- Classic Wing Eyeliner - 1
Eyes -
Ikon
- Triumph Eyes - Moor
Eyelashes -
Mon Cheri
- Falsies Eyelash
Ears -
CheerNo
- Human Ears - Tragus
Body -
Maitreya
- Lara Mesh Body - Includes Hands & Feet (with League appliers)
Pose -
oOo Studio
- Cube - Two
H&G items:
*Left Chair -
MudHoney
- Jessie Chair w/Blanket - Espresso @
Festival of Sin II
*Right Chair -
MudHoney
- Jessie Chair - Espresso @
Festival of Sin II
*Table -
MudHoney
- Jessie Table - Wood @
Festival of Sin II
*Lamp -
MudHoney
- Jessie Lamp - Emerald @
Festival of Sin II
*Rug -
MudHoney
- Jessie Rug @
Festival of Sin II
*Artwork -
MudHoney
- Lust Artwork - Desire, Bound, Need & Beg @
Festival of Sin II
Building -
Floorplan
- Row House - Mint