The Fantasy Collective is open and you have until June 10th to get yourself around this event. It's packed full of fantasy goodies.
Junbug has joined forces with Faida to bring you the gorgeous Princess Of Micenea dress.
The dress includes twos versions, one with a veil and one without. It's pretty revealing dress either way so you'll probably want to wear something underneath. I went with some nipple tape but some pretty nipple covers or even a bra would be perfect.
Sakide have a cute little two piece that works as a great RP outfit or even just as some pretty lingerie.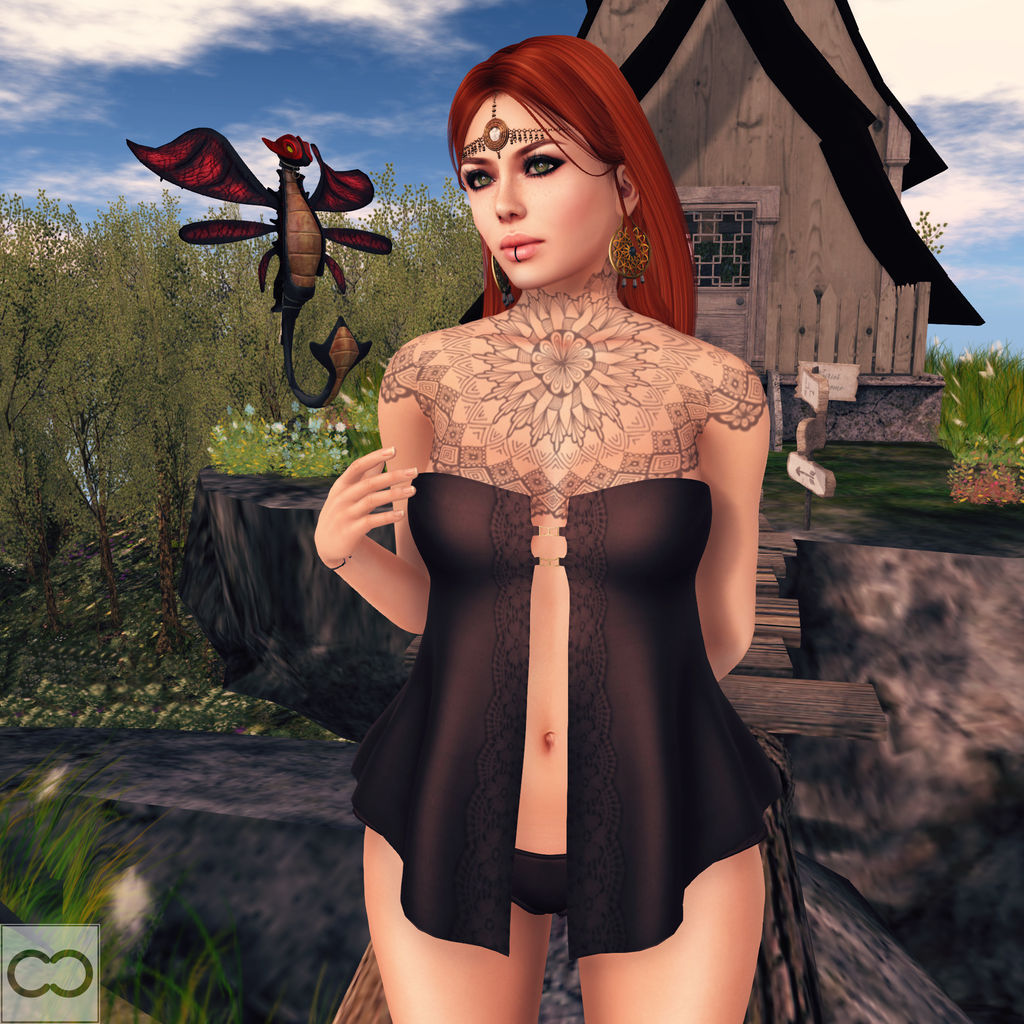 The Faelynn outfit includes a top and panties. The hud allows you to change the pieces individually to lots of different colours, including some floral patterns.
Keystone released the gorgeous Mirran headpiece for this round of The Fantasy Collective. I opted for the Gold & Diamond version but you have a choice of Gold, Copper and Silver for the metal colours and Diamond, Lolite, Lime, Onyx, Ruby and Sapphire for the gem colours.
The Round Earrings are from Tabou Irresistable. You have a choice of Gold, Black or Silver for the metal colours with additional Emeraude, Purple and Steel for the highlighted colours.
Entwined released the Loulou hair for this round and it's gorgeous. You can't really go wrong with a delicate straight style that works great for casual and formal outfits alike. This is one of my current favourites so you might see me in it a lot.
My little flapping friend there is Jeff. Jeff is a flappy thing called a Flutter. Jeff I think looked best in the Overlord colours but you might prefer Jeff in one of the other colours. I love my Jeff because if you ask really nicely he'll flutter off and then come back with a cup of tea. (not really).
More from The Fantasy Collective soon!
Happy Shopping!
Pic 1:
*Dress -
Junbug
&
Faida
- The Princess Of Micenea - Green @
The Fantasy Collective
*Bangles -
Kibitz
- Chara Bangles - Copper @
The Fantasy Collective
*Necklace -
Meshed Up
- Venus Necklace - Aqua Pearls @
The Fantasy Collective
Pasties -
Mad'
- Free Pasties
*Hair -
Entwined
- Loulou - Fatpack @
The Fantasy Collective
Skin -
League
- Erin Pale - Feline
Eyes -
Ikon
- Charm Eyes - Moor
Body -
Maitreya
- Lara Mesh Body - Includes Hands (with League appliers)
*Pose -
Le Poppycock
- True Or Dare
Pic 2:
*Outfit -
Sakide
- Faelynn Outfit @
The Fantasy Collective
*Headpiece -
Keystone
- Mirran - Gold Diamond @
The Fantasy Collective
*Earrings -
Tabou
- Round Earring - Gold Steel @
The Fantasy Collective
*Tattoo -
Things
. - Kreon Tattoo - Black Faded @
The Fantasy Collective
*Hair -
Entwined
- Loulou - Fatpack @
The Fantasy Collective
Skin -
League
- Erin Pale - Feline
Eyes -
Ikon
- Charm Eyes - Moor
Eyelashes -
Mon Cheri
- Falsies Eyelash
Body -
Maitreya
- Lara Mesh Body - Includes Hands (with League appliers)
*Pet -
Swagga
- Flutter - Overlord @
The Fantasy Collective
*Pose -
An Lar Poses
- The Regatta Series - One
H&G Items:
*Garden Island -
22769
- Somewhere Only We Know Garden w/Anchor @
The Fantasy Collective
*House Island -
22769
- Somewhere Only We Know House @
The Fantasy Collective
*Bridge -
22769
- Self Made Bridge @
The Fantasy Collective
*Sign -
Brixley
- Fairy Garden Sign - Arrow @
The Fantasy Collective