FaMESHed are celebrating their 3rd anniversary and not only are all the creators out in force with some incredible designs but some of them have even included a great free gift for those in the FaMESHed update group (this group is free to join so you don't need to miss out if you aren't already in it.)
I've included some of the gifts in this post but there are way too many for me to cover them all so you'll just have to go down there and get them while you're buying everything that takes your fancy!
Fishy Strawberry have released a jumpsuit just for the anniversary round called the Anniversario Playsuit.
You have a choice of six colours and I had no trouble fitting this lovely one piece over my Maitreya Lara body. I love the flared legs on these and you can get away with wearing some seriously high heels underneath this playsuit. The Fly Glasses are the anniversary gift on offer from Fishy Strawberry.
The hair you can also find at FaMESHed. It's the Elvire style from Mina. I grabbed the Dark Reds pack but they have all their usual colour packs available.
The wrist strap is from Ama. It's not at FaMESHed, you can find it at Cosmopolitan. It's the Ballet Leash Holder and it's perfect as an accessory or if you want to use it as a leash holder then it does include the open collar scripts you'll need for that. I fatpacked because I can never choose colours but there's twelve to choose from.
The pose prop I've used for this picture is The White Rooms from Exposeur. It's a huge pose prop with 20 poses and their mirrors, so that's 40 poses for you to use in this fantastic pose prop.
Baiastice have released an outfit that is actually a sneaky all in one dress. The zip runs the entire length of the outfit but it leaves your midriff all exposed at the front like a two piece outfit.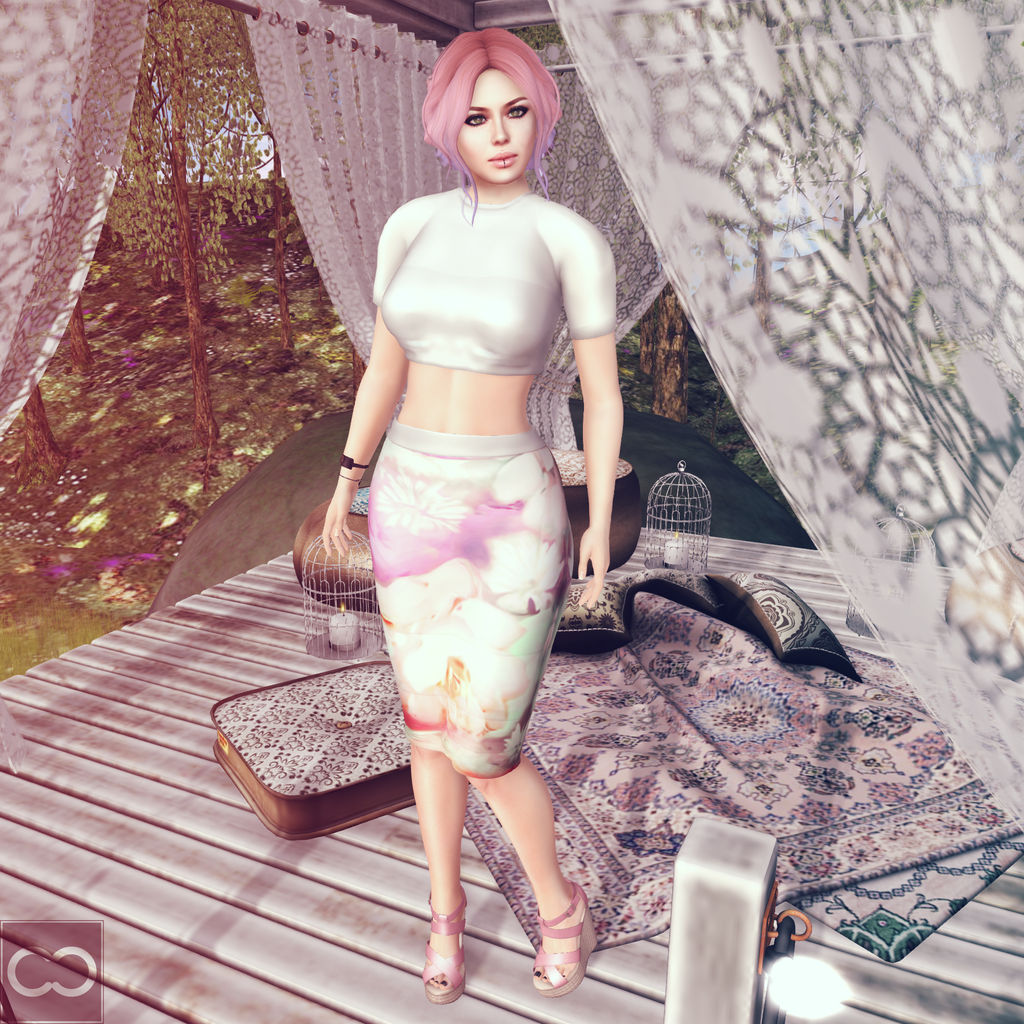 You have 12 colour choices ranging from plain colours to some lovely floral patterns. Each colour includes a version that is sheer and a non sheer. I personally preferred the non sheer version but it's great to have a choice. It's a lovely outfit and very spring feeling. The Ariel Cuff the gift on offer from Baiastice.
The hair was the free gift from Wasabi Pills. It's the Irene style in Sorbet. It's a pale blonde that fades to a soft blue colour but I'm really not a blonde. I didn't want to miss out wearing this gorgeous style with such a pretty fade so I had a little play around and I ended up tinting it pink. It meant the blue turned purple which was super cute. If blonde isn't your thing either then you can still enjoy the free version with a little tint or you can grab one of the full price colours pack that Wasabi Pills always have on offer.
The shoes, while not at FaMESHed, are a brand new release from FATEstep which is the new shoe department of FATEwear. You can find shoes for both men and women and these Jessica Wedges come with a hud that allow you complete control over the colour of the shoes. It's like buying the ultimate fatpack!
Cheeky Pea have a great garden set called the Cahlan Nest. You get a raised deck that rezzes it's own curtains and fairy lights. You can then choose the pieces you want to rez on the deck. The blanket comes in a choice of adult or pg animations and you have several different styles and colours of pouffes and cushions to add to make it a really cozy space for a romantic evening or a family snuggle.
Happy Shopping!
Pic 1:
*Playsuit - Fishy Strawberry - Anniversario Playsuit - Scuba @FaMESHed
Shoes - Reign - Karizma Pumps - Black
Necklace & Ring - Maxi Gossamer - All Seeing Eye
*Wrist Strap - Ama. - Ballet Leash Holder @Cosmopolitan
*Glasses - Fishy Strawberry - Fly Glasses (gift) @FaMESHed
*Hair - Mina - Elvire - Dark Reds Pack @FaMESHed
Skin - League - Erin Pale - Feline
Body - Maitreya - Lara Mesh Body - Includes Hands & Feet (with League appliers)
*Pose Prop - Exposeur - The White Rooms @FaMESHed
Pic 2:
*Dress -
Baiastice
- Ilary Dress - Print Ghost @
FaMESHed
*Shoes -
FATEstep
- Jessica Wedges
*Cuff -
Baiastice
- Ariel Cuff (gift) @
FaMESHed
Hair -
Wasabi Pills
- Irene Mesh Hair - Sorbet [tinted] (gift) @
FaMESHed
Skin -
League
- Erin Pale - Feline
Eyes -
Ikon
- Charm Eyes - Moor
Eyelashes -
Mon Cheri
- Falsies Eyelash
Body -
Maitreya
- Lara Mesh Body - Includes Hands & Feet (with League appliers)
*Pose -
EverGlow
- Fresh - 10
H&G items:
*Deck -
Cheeky Pea
- Calhan Nest Set - Calhan Nest @
FaMESHed
*Blankets -
Cheeky Pea
- Calhan Nest Set - Calhan Nest Blanket @
FaMESHed
*Pillow -
Cheeky Pea
- Calhan Nest Set - Calhan Nest Pillow A @
FaMESHed
*Candles -
Cheeky Pea
- Calhan Nest Set - Calhan Aviary Candle Holder @
FaMESHed
*Squahed Pouffe -
Cheeky Pea
- Calhan Nest Set - Calhan Nest Squash B @
FaMESHed
*Normal Pouffe -
Cheeky Pea
- Calhan Nest Set - Calhan Nest Pouffe A @
FaMESHed