No21 is back for another round and you have until the 10th to get over there and get your hands on some of the exclusives they have available.
There's lots of great pieces available so let's take a peek. My favourite is definitely the Skater Dress from Tres Blah
I couldn't resist this spotty tealish colour. It reminded me of cheetah print almost but whatever it actually is it made me make grabby hands until it ended up in my inventory. Tres Blah has recently branded into Maitreya Lara fit too so double excitement about that.
The pretty little necklace is the Repurposed Charms Necklace from Yummy. I'm a big, big fan of their jewellery and this one is gorgeous. The Eclectic colour is an exclusive for No21 so make sure you grab it there if you want it as it'll be gone once the event is over.
I'm never one to shy away from intense colours and patterns and if you're anything like me then the Julia Dress from Fishy Strawberry needs to be in your inventory.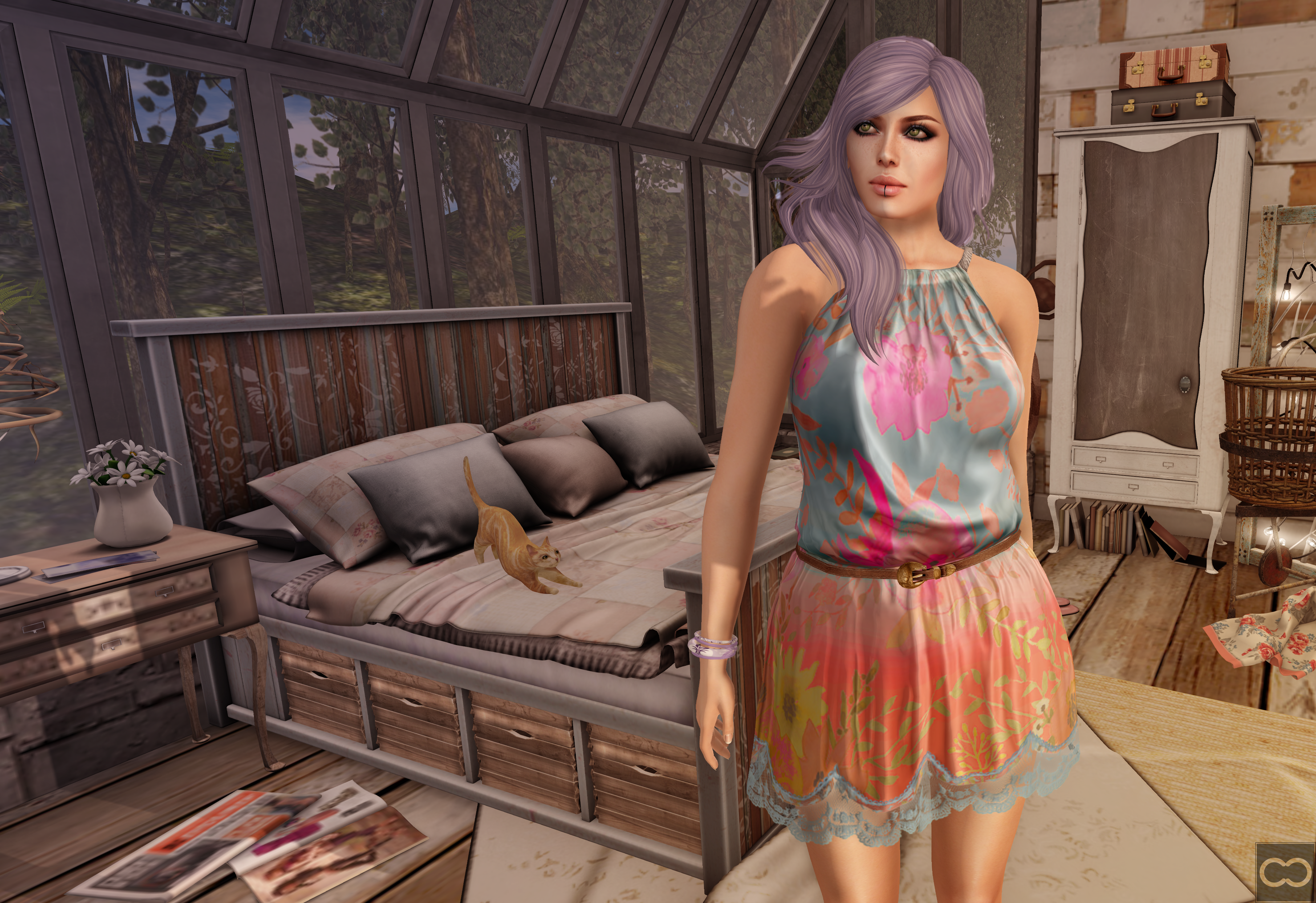 I've been a fan of Fishy Strawberry for forever. I used to buy her stuff back in the day when everything was system layers. I'm 100% sure that this is my most favourite piece she has ever released. I love the patterns and colours, I love the style, I love the fit. It's brilliant. This is the Garden version but there are others to choose from too. It includes standard sizes and fitmesh sizes for all Belleza bodies, Maitreya Lara and SLink Physique.
Before you run off I wanted to mention a few of the furniture pieces that definitely deserve your attention. The bed is a brand new release from Cheeky Pea at No21. It's the Pallet Storage Bed and it's available in Blush or Earth with either PG or Adult animations.
The second piece I wanted to mention was the Wonderland Pocketwatch from Exposeur. You can find this at the Kawaii Project in their gacha. This one is the Bronze Rare but there are 8 commons and 2 rares which all contain six poses (and mirrors) so even if you don't get the Bronze or Silver rares the commons still have the same poses. Good luck getting the colour you want.
Happy Shopping!
Pic 1:
Dress -
Tres Blah
- Skater Dress - Spotty @
No21
Necklace -
Yummy
- Repurposed Charms Necklace - Eclectic (No21 Exclusive) @
No21
*Bracelet & Ring -
Izzie's
- Wooden Button Jewellery - Blue
Hair -
Elikatira
- Kara - Essentials Pack (Hair fair gift)
Skin -
League
- Erin Pale - Opal
Eyes -
Ikon
- Odyssey Eyes - Moor
Eyelashes -
Mon Cheri
- Falsies Eyelash
Body -
Maitreya
- Lara Mesh Body - Includes Hands (with League appliers)
*Pose -
Label Motion
- Jenica - Pose 4
Pic 2:
*Dress -
Fishy Strawberry
- Julia Dress - Garden @
No21
Bracelets -
Maxi Gossamer
- Painted Pansies Bangles
Hair -
Alice Project
- Indigo - Mini Medley Pack (Hair Fair gift)
Skin -
League
- Erin Pale - Opal
Eyes -
Ikon
- Odyssey Eyes - Moor
Eyelashes -
Mon Cheri
- Falsies Eyelash
Body -
Maitreya
- Lara Mesh Body - Includes Hands (with League appliers)
*Pose -
Label Motion
- Jenica - Pose 2
H&G Items:
*Bed -
Cheeky Pea
- Pallet Storage Bed - Blush @
No21
*Clock -
Exposeur
- Wonderland Pocketwatch - Bronze RARE @
Kawaii Project
Cat -
Fashionably Dead
- Cat 08 Stretching
*Rugs -
Cheeky Pea
- Delilah Earth Rugs
*Side Table -
Cheeky Pea
- Heart On A Wire Side Table
*Lamp -
Cheeky Pea
- Heart On A Wire Branch Lamp
Daisies -
Tres Blah
- Spring Living - Daisies
Magazines -
Erratic
- Lazy Sunday Morning - Magazine & Newspaper
*Wardrobe -
Cheeky Pea
- Heart On A Wire Wardrobe
*Books -
Cheeky Pea
- Falling Over Books
Suitcases -
Tres Blah
- Bon Voyage - Stacked Suitcases
*Screen -
Cheeky Pea
- Willow Lights Screen - Birch
Laundry Basket -
Apple Fall
- Neva's Laundry Basket
Clothes -
Erratic
- Lazy Sunday Morning - Clothing Clutter Female
Slippers -
Ispachi
- Florian Flipflops - Pink
Building -
Trompe Loeil
- Garden Bard Abode