The Fantasy Collective has been open since the 22nd and the crowds have died down so it's the perfect time to head over there and get stocked up on goodies. It's open until September 15th so you have plenty of time!
Dead Dollz have released the Evie Dress and I love the folds and twists in the fabric on this one.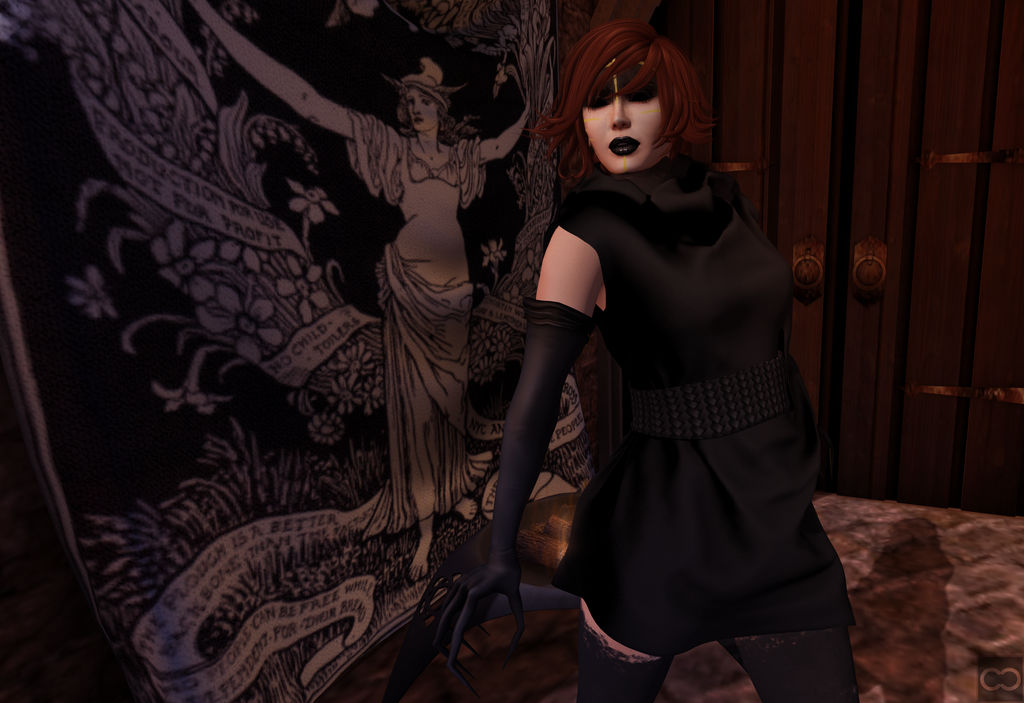 It comes in three colours and is made to fit the Maitreya body only. It may fit other mesh bodies so try the demo but there's no alpha for it to fit the standard system body.
The gloves are the Sanderson's Gloves from Jian. They include a hud that allows you choose between 12 colours. The creepy level of these gloves is off the scale. Perfect considering Halloween is just around the corner.
For a less creepy look I went with the Xora Gown from Senzafine. There are four colour packs to choose from and each one has a hud with four colours on. I loved Hud 03 because it was filled with gorgeous blues and purples.
The hair is also at The Fantasy Collective and you can grab this one from Damselfly. It's the Henley style and comes in all their usual colours packs, my favourite being the Light Reds Pack.
The jewellery I'm wearing is a mix from several different stores. The Sabrina Circlet you can find by heading over to the Junbug booth, the necklace is the Fearis Collar from Charm and the Spiked Collar, ring and cuff are all from Cae. Aside from the circlet each piece is available in several different metal colours.
Things. released the Indrani Tattoo which is gorgeous. I'm a big fan of their tattoos and this one looked even more beautiful in the faded version. There's also a fresh version included for those who love their tattoos to pop a little more.
My little shoulder friend, who of course is called Jeff, is one of the Welsh Dragons from the HEXtraordinary gacha. Being a born and bred Welsh girl of course I had to grab one of these. When you click him he makes adorable little noises and puffs smoke out of his nose. Too cute not to have one of these!
There's more from the Fantasy Collective soon! Don't forget that they have moved to a new sim so make sure your LM's are up to date!
Happy Shopping!
Pic 1:
Dress -
Dead Dollz
- Evie - Black @
The Fantasy Collective
Gloves -
Jian
- Sanderson's Gloves @
The Fantasy Collective
Tattoo -
Ama
. - The Grinder @
The Fantasy Collective
Lipstick -
Pink Fuel
- Ink - Lipgloss w/Teeth
Hair -
Truth
- Arden - Gingers Pack
Skin -
League
- Erin Pale - Natural
Eyes -
Ama
. - Blackout Eyes
Body -
Maitreya
- Lara Mesh Body (with League appliers)
Pose -
Bang
- Stands 505-509 - Stand 570 M @
Shiny Shabby
Pic 2:
Dress -
Senzafine
- Xora Gown - Pack 03 @
The Fantasy Collective
Necklace -
Charm
- Fearis Collar - Silver @
The Fantasy Collective
Choker -
Cae
- Spiked Choker @
The Fantasy Collective
Braclet -
Cae
- Spiked Cuff @
The Fantasy Collective
Ring -
Cae
- Spiked Ring @
The Fantasy Collective
Circlet -
Junbug
- The Sabrina Circlet @
The Fantasy Collective
Tattoo -
Things
. - Indrani Tattoo - Faded @
The Fantasy Collective
Hair -
Damselfly
- Henley - Light Reds Pack @
The Fantasy Collective
Skin -
League
- Erin Pale - Natural
Eyes -
Ikon
- Triumph Eyes - Moor
Eyelashes -
Mon Cheri
- Falsies Eyelash
Body -
Maitreya
- Lara Mesh Body - Includes Hands (with League appliers)
Pose -
An Lar Poses
- The Beauty Series - Elegance Mirrored
Dragon -
HEXtraordinary
- Welsh Dragons - Black @
The Fantasy Collective
H&G items:
Firepit -
Striped Mocha
- Cultist Firepit @
The Fantasy Collective
Wall Hanging -
Paper Moon
- Anarcho Banners - May Day Maiden @
The Fantasy Collective
Building -
DaD Design
- Woodstock Cottage @
The Fantasy Collective