It's Collabor88 4th Birthday and they are celebrating by packing a sim full of designers with their best Daydream themed creations. There are way more booths in this round compared to the usual Collabor88 rounds so make sure your wallet is packed full of Lindens!
I like things that are a bit different to the items I usually have hiding in my inventory so when I saw the Daydream Shorts from Spirit I had to grab them.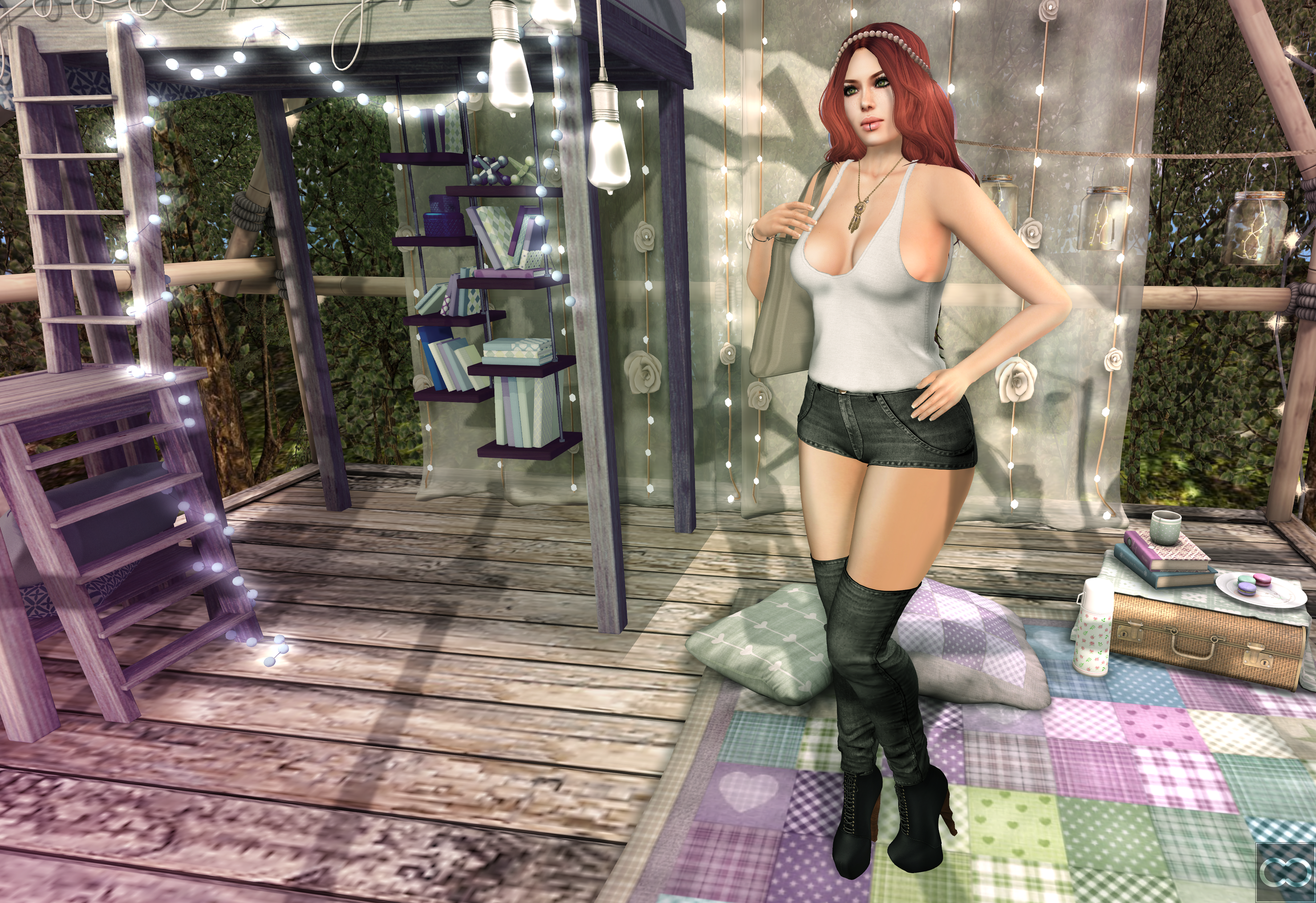 I would definitely suggest trying a demo of these shorts because they really are unique in the sense that the shorts, leg warmers and actual legs are all one piece. It makes them move fluidly without clipping, which can happen with shorts, but means that you will have to colour match the skin of the thighs to your skin. The downside is there is no RGB picker, just a smaller selection of pre programmed skin colours so if you can't find one that matches your skin on the hud then these shorts aren't for you.
However the Daydream Tank Top is perfect for all avatars as it's just a regular shirt that comes in standard sizes and fitmesh for The Mesh Project, Maitreya Lara and SLink Physique.
The boots, also available at Collabor88, are from Baiastice. These are the Kent Boots and you have a vast selection of colours to choose from in both leather and suede. I prefer the leather and to me you can't beat a classic black for boots. They'll go with everything! The pack includes a fitmesh version, a rigged version in one size and an unrigged version too.
There's so much more that I haven't been able to show you so head on over there and check out all the goodies.
Happy Shopping!
Pic 1:
Shirt -
Spirit
- Daydream Tank Top - White @
Collabor88
Pants -
Spirit
- Daydream Shorts - Black @
Collabor88
*Boots -
Baiastice
- Kent Boots - Leather Black @
Collabor88
Bag -
Reign
- Summer Lovin Totes - Set 4 #15
Necklace -
Yummy
- Dreamcatcher Necklace - Gold @
Collabor88
Hair -
Little Bones
- Titania - Reds Pack
Skin -
League
- Erin Pale - Feline
Eyes -
Ikon
- Odyssey Eyes - Moor
Eyelashes -
Mon Cheri
- Falsies Eyelash
Body -
Maitreya
- Lara Mesh Body - Includes Hands (with League appliers)
*Pose -
Elephante Poses
- Emily - #2 (arm altered by bag)
H&G Items:
Bunk Bed -
Second Spaces
- Lofty Daydreams - Natural @
Collabor88
Goodnight Sign -
Floorplan
- Goodnight Wire @
Collabor88
Hanging Bulbs -
Floorplan
- Hanging Light - Silver @
Collabor88
Picnic Set -
What Next
- Lisbeth Garden Blanket & Decor - Full Set @
Collabor88
Curtains -
Half Deer
- Fairy Curtain - White
Building -
Trompe Loeil
- Outcrop Hut @
Collabor88