August 15th is the day that The Fantasy Collective closes it's doors for the current round so if you had your eye on anything now would be the time to nip down there and grab it. If you haven't been yet then get your butt moving!
I had a couple of dresses that caught my eye because I do love to dress up in old medieval feeling dresses and wander around SL. I like to think it confuses people but lets face it, this is SL, nothing shocks people here!

The first dress is from Sweet Lies and you can get your hands on one by trying your luck with the

Turiel Dress Gacha.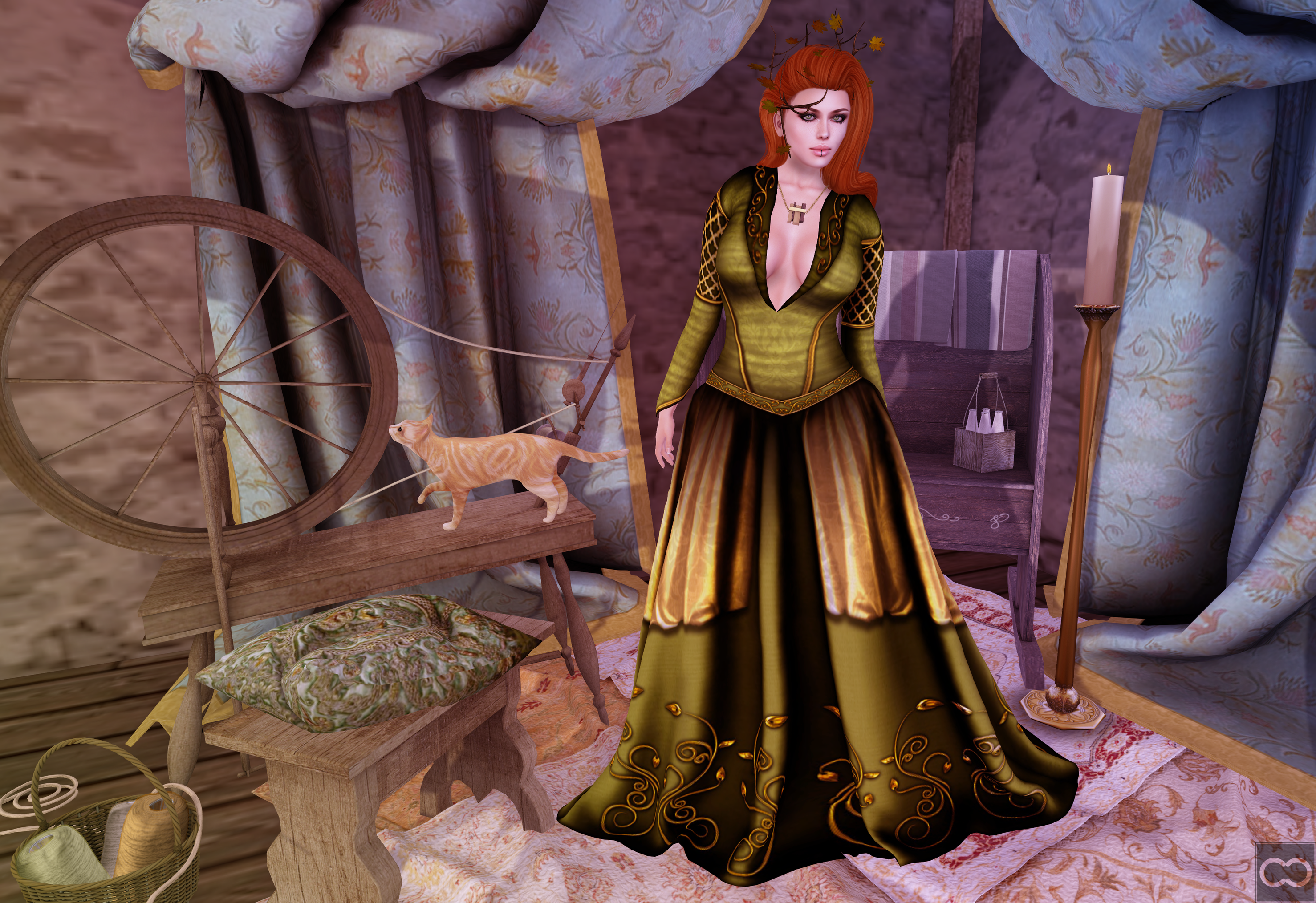 This is one of the Rare versions but the Commons are just as pretty. It's only 50L per play and the only thing in the gacha is dresses so you are
guaranteed
to walk away with a pretty dress no matter if you place or keep playing until you get the one you want. They are fit mesh so there's no standard sizes and I had no problem wearing this over my Maitreya Lara body.
The second dress is the Berenice Dress from Fallen Gods Inc & Faida.
Each pack includes a hud that allows you to toggle through four different tones for the colour you choose for both the top and skirt part of the dress. You can even hide them completely so just the corset is showing. There are six colour packs to choose from and they come in the usual standard sizes so please try a demo if you are using a mesh body. In fact you should always try demos no matter what!
Happy Shopping!
Pic 1:
*Dress - Sweet Lies - Tauriel Dress - 9 RARE
@
The Fantasy Collective
*Necklace - Salt & Pepper - Fea Necklace
@
The Fantasy Collective
*Headpiece - Wicca's Wardrobe - Laerlorn Headpiece
@
The Fantasy Collective
Hair - Murray - Catherine - Red 04 (hair fair gift)
Skin - League - Erin Pale - Mocha
Eyes - Ikon - Odyssey Eyes - Moor
Eyelashes - Mon Cheri - Falsies Eyelash
Body - Maitreya - Lara Mesh Body - Includes Hands (with League appliers)
*Pose - An Lar Poses - The Evenflow Series - Two Mirrored
Pic 2:
*Dress - Fallen Gods Inc & Faida - Berenice - Browns
@
The Fantasy Collective
*Jewellery - Plastik - Hyace Earrings & Necklace - Wood Dark
@
The Fantasy Collective
Hair -
Murray
- Catherine - Red 04
(hair fair gift)
Skin -
League
- Erin Pale - Mocha
Eyes -
Ikon
- Odyssey Eyes - Moor
Eyelashes -
Mon Cheri
- Falsies Eyelash
Body -
Maitreya
- Lara Mesh Body - Includes Hands (with League appliers)
*Pose -
An Lar Poses
- The Demure Series - One
H&G Items:
*Chair - Serenity Style - Wooden Swing Bench
@
The Fantasy Collective
*Curtains - Paper Moon - Grand Cupped Curtains
@
The Fantasy Collective
*Candle Stick -
Paper Moon
- Ornate Candlestick & Candle
@
The Fantasy Collective
*Spinning Wheel - Noctis - Talia's Curse Spinning Wheel
@
The Fantasy Collective
*Rugs - Zerkalo - Dancing Rugs - Sands
@
The Fantasy Collective
Milk - Kalopsia - Milk Case
Cat - Fashionably Dead - Cat 12 Curious
Building - Dysfunctional Designs - Open Front Rustic Building