FaMESHed has been open for a week now so all the crowds have most likely died down and you can go and enjoy some lag free shopping. It's my favourite kind of shopping.
I picked up a few bits I wanted to share with you but I'm going to split it into two posts so keep your eyes peeled for part 2 soon.
My favourite piece for this round is definitely this fantastic Lee Top from Emery.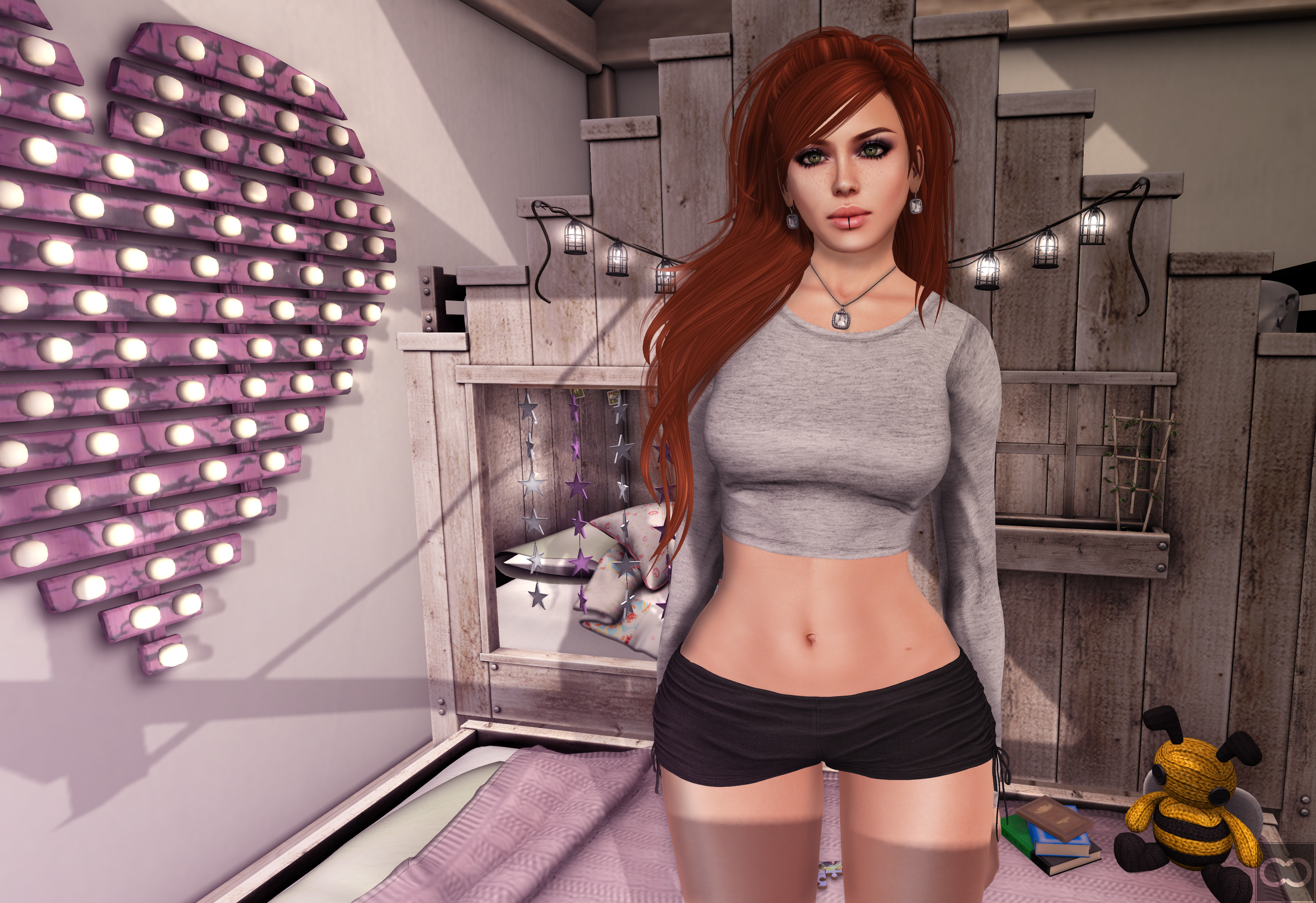 I love the shape on it and that is cropped but still has long sleeves. They have standard sizes and a fitmesh version for the Maitreya Lara and honestly it fits like a glove. I made a little squeal when I tried on the demo and saw how well it fitted. I liked the Dark Grey myself but of course there are other colours available.
I never used to like rompers very much but for some reason something inside me changed and now I can't seem to get enough of them. So when I saw the Perry Romper from Addams at FaMESHed I snatched it right off the rack.
It includes the belt and a hud that allows you change the colour of the belt and also the colour of the piping around the edges. There are lots of colour/patterns options available too but you know how I am with greens so the Legend Green was the one that made it's way home with me. I'm really liking this piece and especially the plunging neckline.
You can never have too many cocktail dresses so you'll be happy to know that Baiastice has released one for FaMESHed that you are going to need.
The Roxette Dress comes in endless colours, as per usual for Baiastice, but what I like most about this dress is that the piping, straps and bow that are around the bust area are different colours on some of the dresses. I liked this Powder version because the contrast in colours was so different.
You can also grab yourself a Flat Clutch, also from Baiastice, while you are there. I resized mine to be a little bit smaller because it started off much bigger but you can choose to make this any size you want. I went with the Black to match the piping on my dress but of course there are lots of colours that are made to match the Roxette Dress so you can make your own colour combos.
If you like the cute little bunk bed piece in the background you can get the Carly Triple Bunk from the Cheeky Pea booth down at FaMESHed. It's packed full of poses for toodledoos and regular SL avatar sized children. Perfect for those of you with large families or if you have kids who love to have sleepovers.
There will be more from FaMESHed soon. In the meantime...
Happy Shopping!
Pic 1:
Shirt -
Emery
- Lee Top - Dark Grey @
FaMESHed
Shorts -
Blueberry
- Side Toed Shorts - Black
Jewellery -
Yummy
- Diamond Pendant & Hinge Earrings
Hair -
Truth
- Lola - Gingers Pack
Skin -
League
- Erin Pale - Lilac
Eyes -
Ikon
- Odyssey Eyes - Moor
Eyelashes -
Mon Cheri
- Falsies Eyelash
Body -
Maitreya
- Lara Mesh Body - Includes Hands (with League appliers)
*Pose -
An Lar Poses
- The Silver Series - Three @We Love Role Play
Pic 2:
Romper -
Addams
- Perry Romper With Belt - Legend Green @
FaMESHed
Jewellery -
Yummy
- Diamond Pendant & Hinge Earrings
Hair -
Truth
- Lola - Gingers Pack
Skin -
League
- Erin Pale - Lilac
Eyes -
Ikon
- Odyssey Eyes - Moor
Eyelashes -
Mon Cheri
- Falsies Eyelash
Body -
Maitreya
- Lara Mesh Body - Includes Hands (with League appliers)
*Pose -
Kirin
- Keiko - Pose 2
Pic 3:
*Dress -
Baiastice
- Roxette Dress - Powder @
FaMESHed
*Clutch -
Baiastice
- Flat Clutch - Black @
FaMESHed
Jewellery -
Yummy
- Diamond Pendant & Hinge Earrings
Hair -
Truth
- Lola - Gingers Pack
Skin -
League
- Erin Pale - Lilac
Eyes -
Ikon
- Odyssey Eyes - Moor
Eyelashes -
Mon Cheri
- Falsies Eyelash
Body -
Maitreya
- Lara Mesh Body - Includes Hands (with League appliers)
*Pose -
Kirin
- Keiko - Pose 3 (arm adjusted for bag)
H&G Items: