You have until September 10th to visit this round of Kustom9 so get your comfy shoes on and get your pixel butt over there to grab some goodies.
I grabbed mostly furniture this round and I was super lucky with a couple of the gachas and managed to snag some rares. Do the rares dance with me!
You finished? Okay onto the pictures.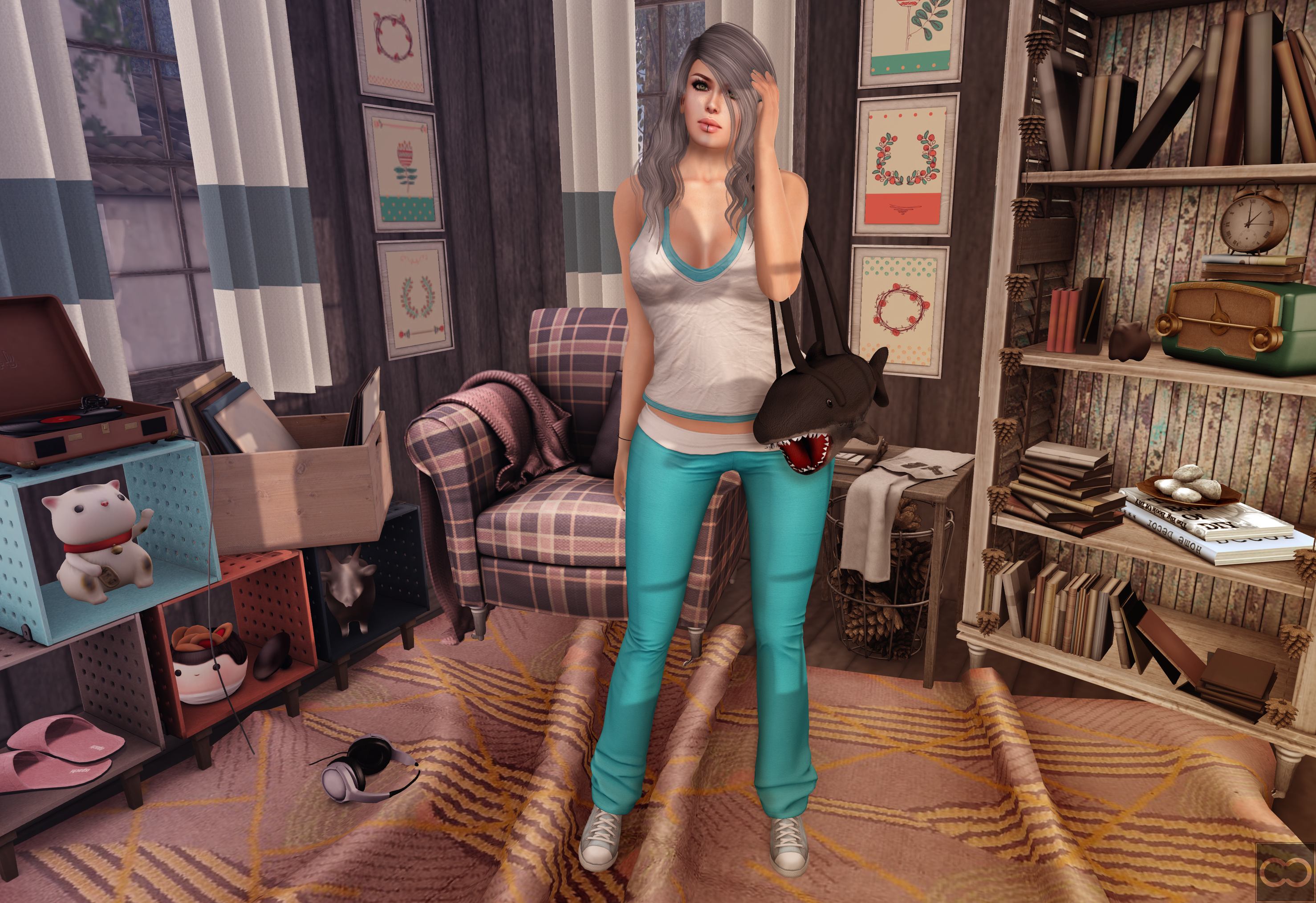 I threw a few lindens at the Apt B Retro Label Gacha and I was lucky enough to get the Record Player RARE on the first pull. I also managed to get myself the Radio common too.
The little table I got from the If I live In A Hut from Hideki. It's common number 4. I was also lucky enough to get the rare which is it the hut itself.
The Venachar Chair and Shelf you can find in the Cheeky Pea booth along with some other bits and pieces that make an adorable little corner. Perfect for reading in or relaxing. The chair comes with PG and adult animations so you can even get a little bit naughty if you wanted to.
The adorable little Shark Bag is also in a gacha. It's the Black, which is a common, and you can find it in the Ariskea & Xin gacha. I love the cute little look on his face. I wish my work out bag was this adorable.
The hair in both pictures is from Mina. The first is the Lizzy style and the second is Grace. Both are available in all the usual colour packs and the specials with bright colours and ombres.
Happy Shopping!
Pic 1:
Shirt -
Blueberry
- Calyn Double Shirt - White
Pants -
Blueberry
- Sylvia Yoga Pants - Aqua
*Shoes -
FATEstep
- Ziggy Chuck
Bag -
Ariskea
&
Xin
- Shark Bag - Black @
Kustom9
*Hair -
Mina
- Lizzy - Specials Pack @
Kustom9
Skin -
League
- Erin Pale - Feline
Eyes -
Ikon
- Odyssey Eyes - Moor
Eyelashes -
Mon Cheri
- Falsies Eyelash
Body -
Maitreya
- Lara Mesh Body - Includes Hands & Feet (with League appliers)
*Pose -
Imeka
- Nina - Pose 1 @
Kustom9
Pic 2:
*Lingerie -
Blacklace
- Kissable - Vollers Pink
Necklace -
Maxi Gossamer
- Jewelled Owl - Short Silver
Hair -
Mina
- Grace - Specials Pack @
Kustom9
Skin -
League
- Erin Pale - Feline
Eyes -
Ikon
- Odyssey Eyes - Moor
Eyelashes -
Mon Cheri
- Falsies Eyelash
Body -
Maitreya
- Lara Mesh Body - Includes Hands & Feet (with League appliers)
*Pose -
An Lar Poses
- The Restful Series - Four @
IDK
H&G Items:
*Chair -
Cheeky Pea
- Venachar Tartan Cosy Chair @
Kustom9
*Basket -
Cheeky Pea
- Venachar Pinecone Basket @
Kustom9
*Shelf -
Cheeky Pea
- Venachar Shelf @
Kustom9
*Hanging Pinecones -
Cheeky Pea
- Venachar Pinecone String @
Kustom9
*Artwork -
Cheeky Pea
- Venachar Picture Frames 1 & 2 @
Kustom9
Table -
Hideki
- If I live In A Hut - Gacha 4 @
Kustom9
Curtains -
Floorplan
- Color Block Curtains - Slate
Record Box -
Hideki
- Record Crate
Retro Shelves -
Apt B
- Retro Label Gacha - Record Player RARE @
Kustom9
Goat -
Half Deer
- Goat Bro Figurine - Pepper
Cookie Jar -
MishMish
- Sumo Cookie Jar
Fortune Cat -
MishMish
- Fortune Cat
*Bottom Shelf Books Left -
Cheeky Pea
- Falling Over Books
*Bottom Shelf Books Right -
Cheeky Pea
- Ansel Book Pile
*2nd Shelf Up Books Left -
Cheeky Pea
- Book Decor Dollarbie
*2nd Shelf Up Books Right -
Bazar
- Toronto Books & Plate Decor
3rd Shelf Up Books Left -
Standby Inc
- Books & Stuff
Paperweight -
Half Deer
- Racoon Paperweight
Radio -
Apt B
- Retro Label Gacha - Radio @
Kustom9
*4th Shelf Up Books -
Cheeky Pea
- Leaning Small Books
Rug -
Hideki
- Old Rug
Building -
Hideki
- If I live In A Hut - Gacha RARE @
Kustom9