I've been playing around a little with new sizes for the pictures I take in SL and while you might all be used to my usual square pictures I've decided it's time for a change.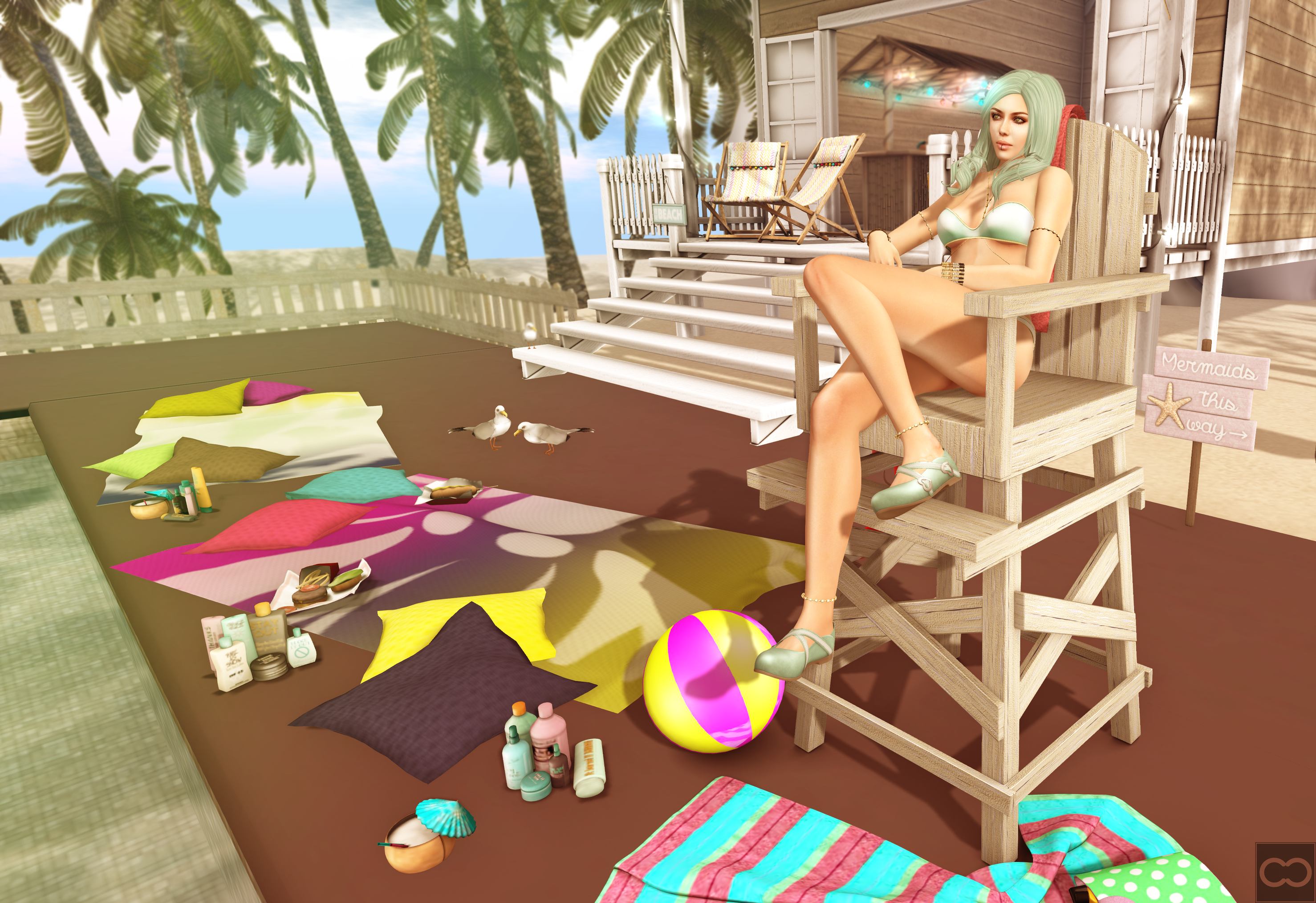 I hope you enjoy the new style and remember you can always get a better view by clicking through to flickr and using the picture viewer to really get in close.
The Epiphany gacha event is new and while it's been open for a while you still have time to nip over there and chance your luck with the machines because it's not closing until August 4th.
It's a little different from your usual gacha events. As long as you don't unpack (or rez until you're ready to trade in) your items then you can collect 1 point from commons and 3 points from rares to save for some of the exclusive items that are also on offer.
You can find the arm bands, bracelets, anklets and bikini in the Colbie Bikini gatcha from Haste but if you were planning on getting your hands on the harness it's an exclusive so you'll have to save up your doubles and trade them in.
Exposeur have released the Lifeguard Chair at their mainstore. It comes in a bunch of colours and if you are in the VIP group then you can get the blue version for free.
Pic 1:
*Bikini -
Haste
- Colbie Bikini Top & Bottoms - Mint @
The Epiphany
*Harness -
Haste
- Colbie Harness Exclusive - Gold @
The Epiphany
*Arm bands -
Haste
- Colbie Upper Armband - Gold @
The Epiphany
*Bracelets -
Haste
- Colbie Bracelet - Gold @
The Epiphany
*Anklets -
Haste
- Colbie Anklet - Gold @
The Epiphany
Hair -
Alice Project
- Amy - Mini Medley Pack (hair fair gift)
Skin -
League
- Erin Pale - Natural
Eyes -
Ikon
- Odyssey Eyes - Moor
Body -
Maitreya
- Lara Mesh Body - Includes Hands & Feet (with League appliers)
*Pose Prop -
Exposeur
- Lifeguard Chair - White
H&G item:
Pool, Towels & Cushions -
W.Winx & Flair
- Poolside
*Cabin -
Cheeky Pea
- Beach Camp Lodge - Cafe
Deck Chairs -
LISP
- Summer Punch Vintage Deck Chair - Chevron Yellow
*Bar -
Cheeky Pea
- Tiki Pea Bar
Lotion Bottles -
Second Spaces
- Beach Day Set
Burger -
Pilot
- Burger Meal
Corndog -
Pilot
- Corndog
*Drinks -
Cheeky Pea
- Tiki Pea Coconut Smoothie
Seagulls -
Ohmai
- Herring Gulls
*Mermaid Sign -
Alouette
- Wood Mermaids Sign
*Fence -
Brixley
- Driftwood Fence - B
Palm Trees -
Mesh Plants
- Dual Palm & Straight Palm