The Festival Of Sin is back for it's second run and it's a sim full of deliciously sinful goodies.
Baiastice have released the gorgeous Vania Dress and as soon as I saw this Ombre Green colour I made squeaky noises that my rat Peaches would have been proud of.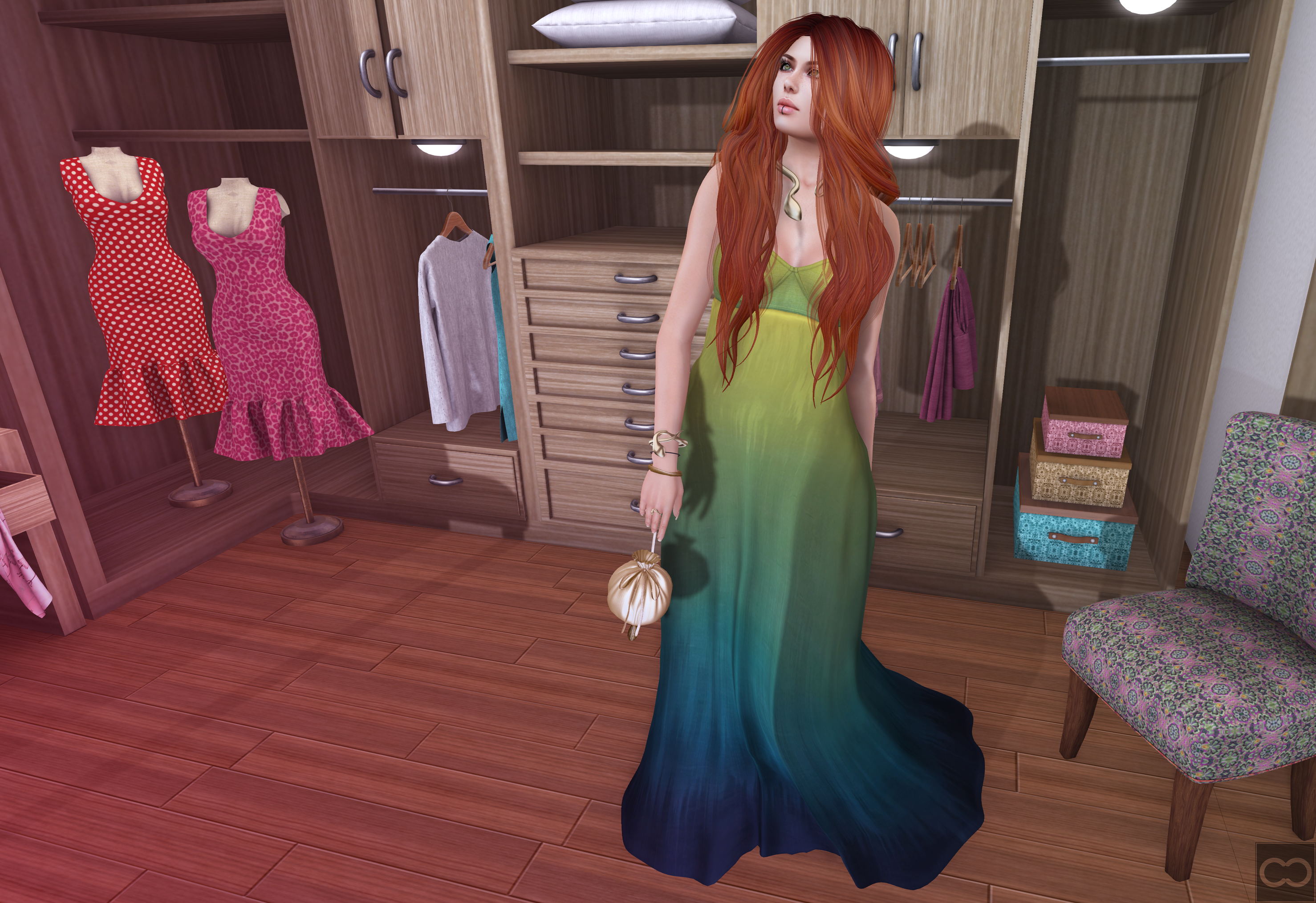 I love the colour of this dress. It's absolutely stunning and the fade from the intense, bright green to the deep blue is beautiful. The other colours available are lovely too so you might have a little trouble picking just one.
The Bucket Bag, also from Baiastice, is from The Festival Of Sin II too. I went with the gold because it looked so pretty against the dress but there are other colours available. It includes two different hold poses or a version without poses.
The Laila hair is from Mina. It's soft and wavy and has an impressive length. It's available in all the usual Mina colour packs and this one can be found in the Dark Reds pack.
You may have figured out by now that I love shoes.
You can find the Serpentine lingerie from Luxuria. It's a welcome and sexy addition to my inventory and the colours on offer are rich and intense.
Keep an eye out for more from the Festival Of Sin II.
Happy Shopping!
Pic 1:
Dress -
Baiastice
- Vania Dress - Ombre Green @
Festival Of Sin II
Bag -
Baiastice
- Bucket Bag - Gold @
Festival Of Sin II
Necklace -
Cae
- Serpent Necklace @
Festival Of Sin II
Bracelet -
Cae
- Serpent Bracelet @
Festival Of Sin II
Ring -
Cae
- Serpent Ring @
Festival Of Sin II
Hair -
Mina
- Laila - Dark Reds Pack @
Festival Of Sin II
Skin -
League
- Erin Pale - Natural
Eyes -
Ikon
- Triumph Eyes - Moor
Eyelashes -
Mon Cheri
- Falsies Eyelash
Body -
Maitreya
- Lara Mesh Body - Includes Hands (with League appliers)
Pose -
An Lar Poses
- The All That Series - One @
Festival Of Sin II
Pic 2:
Lingerie -
Luxuria
- Serpentine - Red @
Festival Of Sin II
Jewellery -
Earthstones
- Dallas Collection @
Festival Of Sin II
Eyeliner -
League
- Classic Wing Eyeliner - 3
Hair -
Blues
- Synn - Colors 2 Pack
Skin -
League
- Erin Pale - Natural (with Erin tintable lipstick)
Eyes -
Ikon
- Triumph Eyes - Moor
Eyelashes -
Mon Cheri
- Falsies Eyelash
Body -
Maitreya
- Lara Mesh Body - Includes Hands & Feet (with League appliers)
Pose -
Exposeur
- Luxury Closet Gacha - Chair + 5 Poses @
Festival Of Sin II
H&G Items:
Closet -
Exposeur
- Luxury Closet Gacha - Complete Set @
Festival Of Sin II