Bang have released some poses for The Men's Dept and so I grabbed a less than willing Amadeo and made him get snuggly with me so I could show off the poses.
The first one is called Breathing Space.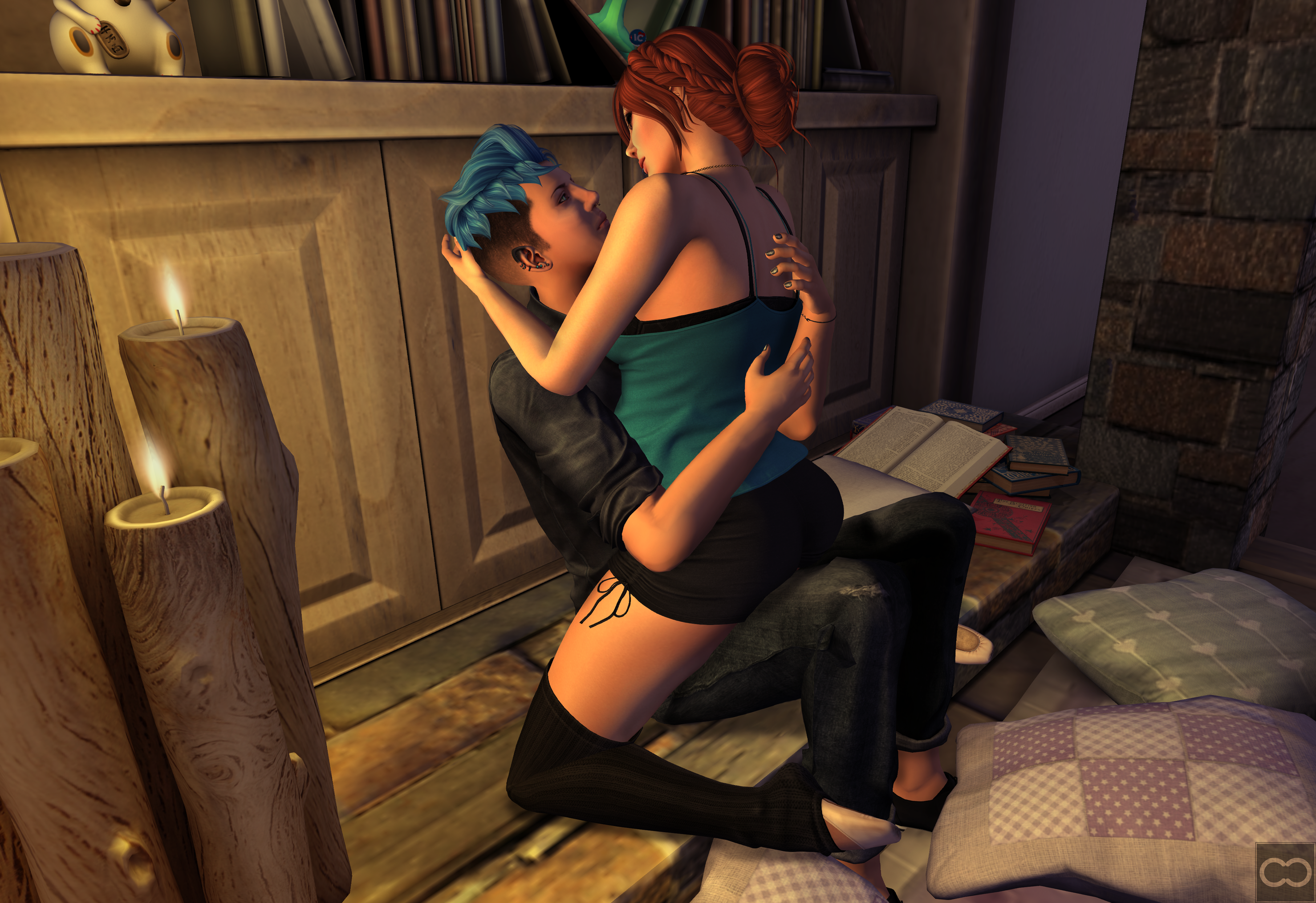 It's a gorgeous snuggly pose that is perfect for a couple. Don't forget to try a demo because when it comes to poses like this they don't always fit perfectly but you'll be able to get there if you adjust it.
The second one is called Gazing.
This would work for friends or couples because I know I'd happily flop all over my friends like this. We decided to use it inside but of course you can take it to the garden and gaze at the stars.
The skybox is also at The Men's Dept and is the Lillooet Skybox from Cheeky Pea. Don't forget to check out all the goodies for your guy shapes. Drag them to buy all the things that make you go 'oooooo'.
Happy Shopping!
Cryssie:
Shirt -
Blueberry
- Mima Top & Bra - Aqua
Shorts -
Blueberry
- Side Tied Shorts - Black
Legwarmers -
Reign
- Ballerina Warmers - Tippy Shape - Black @
Collabor88
Hair -
Truth
- Priya - Gingers Pack
Skin -
League
- Erin Pale - Feline
Eyes -
Ikon
- Odyssey Eyes - Moor
Body -
Maitreya
- Lara Mesh Body - Includes Hands (with League appliers)
Ama:
Shirt -
Deadwool
- Hugo Shirt - Denim Grey
Pants -
Deadwool
- Jeans + Belt - Dark Blue
Shoes -
Flite
.- Oxford - Black @
Collabor88
Hair -
Exile
- Jack - All Or Nothing Pack (hair fair gift)
Skin -
Pink Fuel
- Ash - Peach
Eyes -
Ikon
- Odyssey Eyes - Nymph
Ears -
Mandala
- Steking Ears - Season 5
Hands -
Slink
- Avatar Enhancement Mesh Hands Male - Relaxed (With Pink Fuel appliers)
Feet -
Slink
- Avatar Enhancement Mesh Feet Male (With Pink Fuel appliers)
*Pose 1 -
Bang
- Breathing Space @
TMD
*Pose 2 -
Bang
- Gazing @
TMD
H&G Items:
Candles -
HIDEKI
- Wooden Candles
Books With Pillow -
Floorplan
- Pile Of Books
Pillows -
What Next
- Lisbeth Garden Blanket (extra pillows added) @
Collabor88
*Building -
Cheeky Pea
- Lillooet Skybox @
TMD