There are loads of different events running at the moment and lots of different bits have made their into my inventory.
I found the pretty Cutie Flowers Crown at the Kawaii Project by Imeka until Sept 10th. There are a few different colour choices and it fitted almost perfectly over the Anais hair from Mina which you can find at Shiny Shabby until Sept 15th.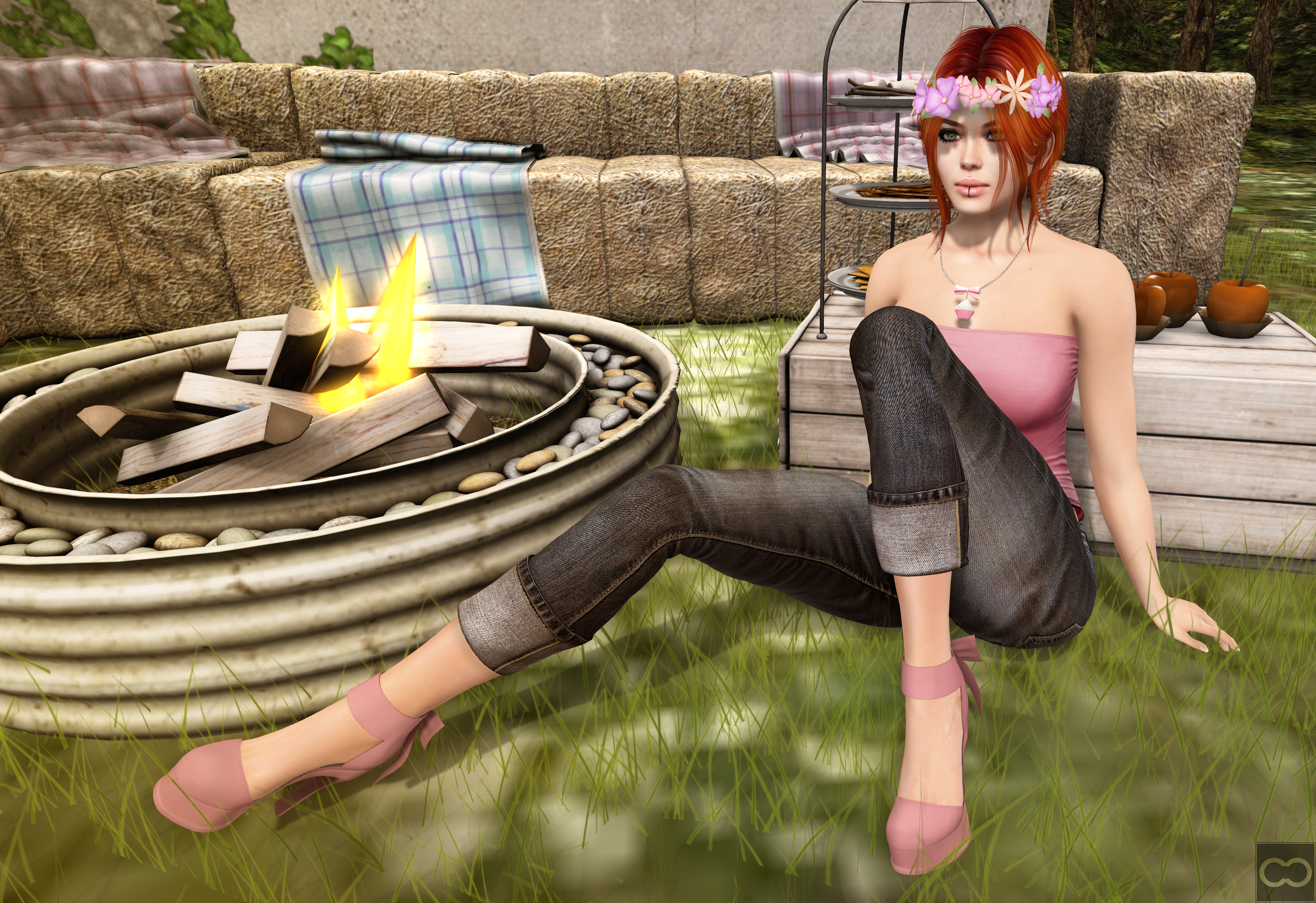 The lovely garden furniture set is from Cheeky Pea. The Roll In The Hay Set was originally released at LTD but since that event is over you can find it at the Cheeky Pea main store.
The shoes are a new release from FATEstep which is the shoe section of FATEwear by Damien Fate. As with all his shoes you get a hud packed full of colours so you can pick and choose to suit your mood or your outfit. These are the Janie Pumps with the plain texture but you can also pick up the Marlowe Pumps with a tartan texture to play with.
Happy Shopping!
Shirt -
Blueberry
- Lils Tube Top - Pink
Pants -
Blueberry
- Luna Rolled Cuff Jeans - Faded Dark
*Shoes -
FATEstep
- Janie Pumps
*Necklace -
Imeka
- Cupcake Necklace With Bow
*Flowers Crown -
Imeka
- Cutie Flowers Crown @
Kawaii Project
*Hair -
Mina
- Anais - Dark Reds Pack @
Shiny Shabby
Skin -
League
- Erin Pale - Feline
Eyes -
Ikon
- Triumph Eyes - Moor @
Shiny Shabby
Eyelashes -
Mon Cheri
- Falsies Eyelash
Body -
Maitreya
- Lara Mesh Body - Includes Hands & Feet (with League appliers)
*Pose -
An Lar Poses
- The Restful Series - Three @
IDK
H&G Items:
*Fire -
Cheeky Pea
- Roll In The Hay - Firepit
*Table -
Cheeky Pea
- Roll In The Hay - Crate Table
*Apples -
Cheeky Pea
- Roll In The Hay - Caramel Apple
*Plates -
Cheeky Pea
- Roll In The Hay - S'more Plates
*Hot Chocolate -
Cheeky Pea
- Roll In The Hay - Hot Chocolate
*Hay Seating -
Cheeky Pea
- Roll In The Hay - Right End Part & Middle Blanket Part