Uber is back and the theme for this round is Urban. I grabbed a few pieces that took my fancy but as always there are a load more designers with creations on offer that you need to go check out.
Erratic made a fantastic bikini that is an exclusive for the Maitreya Lara body and it fits like a glove.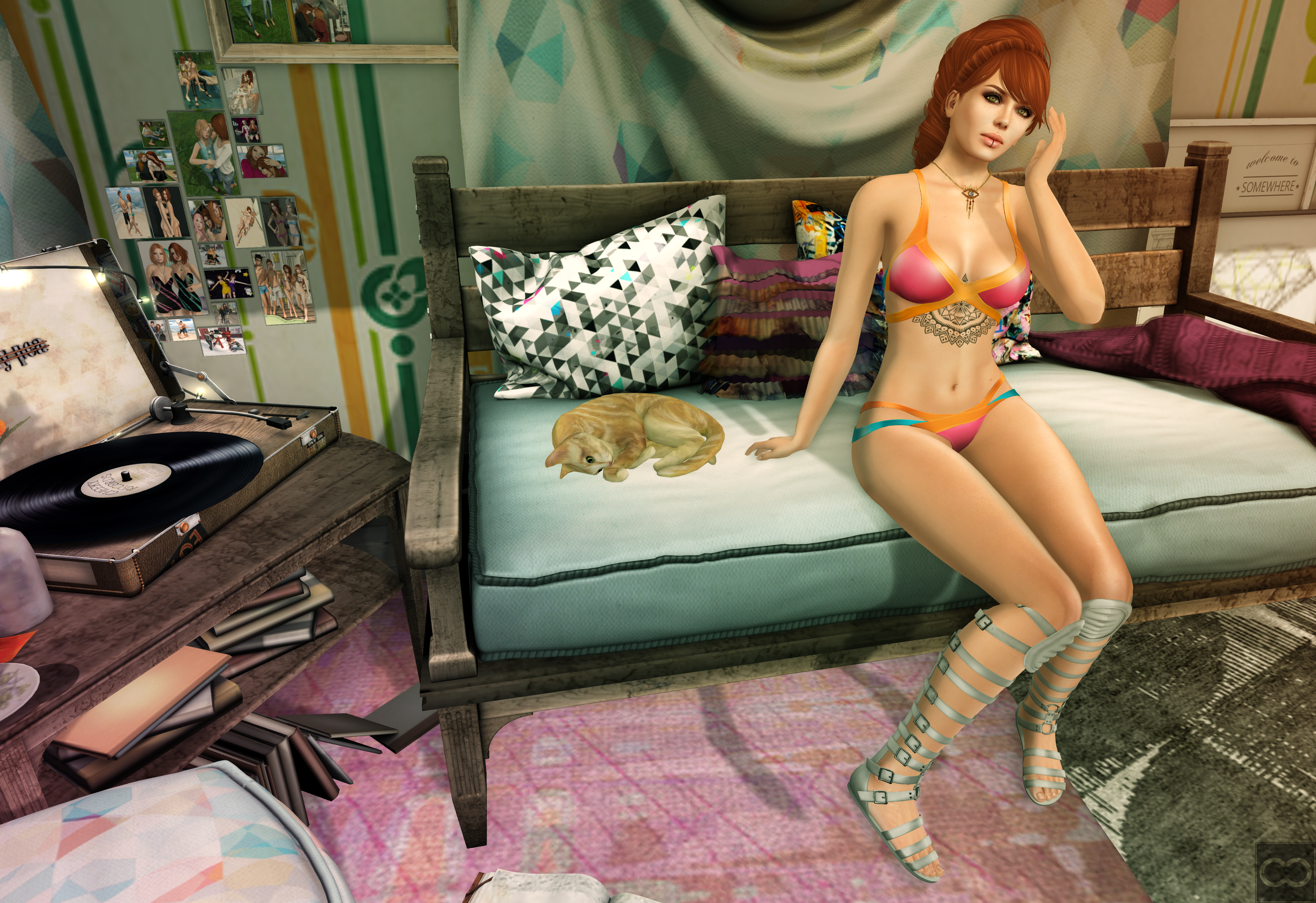 I love the wrapped feel of this bikini, it's a bit different to your usual kind. I couldn't resist the bright colours of the Hot Pink version, especially for the Summer, but the have single colour versions available for those who like something little less in your face colour wise.
Truth released the Ami hair in their usual colour packs at Uber this month. It's a great little braided style that runs down the back with some serious fringe (bangs) in the front. I love a fringe that is substantial but isn't too blunt for every day wear.
Blueberry released an adorable little Laced Crop Shirt. It comes in plain or printed versions in whichever colour you pick from the usual selection of Blueberry colours. You'll get your regular standard sizes and fitmesh for all Bellaza bodies, Maitreya Lara and SLink Physique.
If you're looking for a cute pair of pants to wear with the shirt then nip over to the ISON booth and grab the Wax Zip Denim pants. I got the black because you can't beat a good pair of black jeans but of course they are more colours on offer. They include standard sizes and a Maitreya Lara fit too.
I love the mix of different fabrics in this set and the texture change wall hangings. You can mix and match all the pieces you want by purchasing them separately or of course you can pick up the whole set in one go and save yourself a few lindens. As always you have a choice between PG and Adult animations.
Happy Shopping!
Pic 1:
Bikini -
Erratic
- Beth Bikini - Hotpink @
Uber
Necklace -
Yummy
- Oracle Necklace
Tattoo -
Arise
- Lasa Tattoo - Medium
Hair -
Truth
- Ami - Gingers Pack @
Uber
Skin -
League
- Erin Pale - Steel
Eyes -
Ikon
- Odyssey Eyes - Moor
Eyelashes -
Mon Cheri
- Falsies Eyelash
Body -
Maitreya
- Lara Mesh Body - Includes Hands & Feet (with League appliers)
*Pose -
Kirin
- Sitting Pretty - Pose 4
Pic 2:
Shirt -
Blueberry
- Laced Crop Shirt Printed - Black @
Uber
Pants -
ISON
- Wax Zip Denim - Black @
Uber
Necklace -
Yummy
- Oracle Necklace
Hair -
Truth
- Ami - Gingers Pack @
Uber
Skin -
League
- Erin Pale - Steel
Eyes -
Ikon
- Odyssey Eyes - Moor
Eyelashes -
Mon Cheri
- Falsies Eyelash
Body -
Maitreya
- Lara Mesh Body - Includes Hands & Feet (with League appliers)
*Pose -
Kirin
- Ayumi - Pose 1
H&G Items:
*Couch -
Cheeky Pea
- East Side Set - East Side Couch @
Uber
*Chair -
Cheeky Pea
- East Side Set - East Side Chair w/Pillow @
Uber
*Table -
Cheeky Pea
- East Side Set - East Side End Table @
Uber
*Record Player -
Cheeky Pea
- East Side Set - East Side Record Player @
Uber
*Books On Floor -
Cheeky Pea
- East Side Set - Falling Over Books @
Uber
*Books On Shelf -
Cheeky Pea
- East Side Set - Book Decor Dollarbie @
Uber
*Wall Hangings -
Cheeky Pea
- East Side Set - East Side Graffiti Drape @
Uber
*Mirror -
Cheeky Pea
- East Side Set - East Side Triangle Mirror @
Uber
*Pink Rug -
Cheeky Pea
- East Side Set - East Side Blush Rug @
Uber
*Black Rug -
Cheeky Pea
- East Side Set - East Side Mono Rug @
Uber
*Picture Frame -
Cheeky Pea
- East Side Set - East Side Falling Down Frame @
Uber
Record Crate -
Hideki
- Record Crate
Lamp -
Apple Fall
- Manhattan Table Lamp
Teacup -
Pixel Mode
- Writer's Room - My Cup Of Tea
Poppies -
Apple Fall
- Poppies Glazed Vase
Sketchbook -
Apple Fall
- Sketchbook
Crayons -
Vespertine
- Crayons
Floor Frames -
Hideki
- Pile Of Stuff
Cat -
Fashionably Dead
- Cat 02 Sleeping Curled
Building -
Trompe Loeil
- Shogun Shack - Tulane