Summerfest is back for 2015 so you can go grab yourself lots of gorgeous Summer themed goodies.
Let's jump right into peeking at those goodies because you have until 12th July to get them.
First up are some pieces from Baiastice.
The Fringe Micro Bikini is super cute and comes in so many colours you're never going to be able to choose... but you'll have to. YOU HAVE TO CHOOSE! Or you can fatpack! The bikini comes in standard sizes but be warned they are perfect standard sizes so they don't come with alpha layers. That means you'll have to try a demo before you purchase. It also includes a fitted mesh version to wear with mesh bodies. I wore mine over the Maitreya Lara and it fitted perfectly.
The giant Delilah Mare Big Hat is also from Baiastice. This is the Cyan one but of course you have more colours to choose from. It's enormous and I had no problem wearing it over several different hairs without having to edit. So give it a try with some of your flatter hairs and see if it fits.
I love, love, love maxi dresses so I snatched this one from Pixicat into my inventory at light speed.
The Tropical Dress comes in two versions. Short or Maxi and each one you buy comes with a choice of two colours. This pretty pattern with the 'base' colour mixed in or the base colour on it's one. In this case it was blue.
Submerged is a new style from Little Bones. It's a gorgeous side swept style and of course all the usual colour options are available and Little Bones has some fairly gorgeous colour packs. I always end up going for the classic red though.
If you're looking for a new swimsuit then Maitreya has nailed it by releasing this amazing new one piece just for the Lara Mesh Body.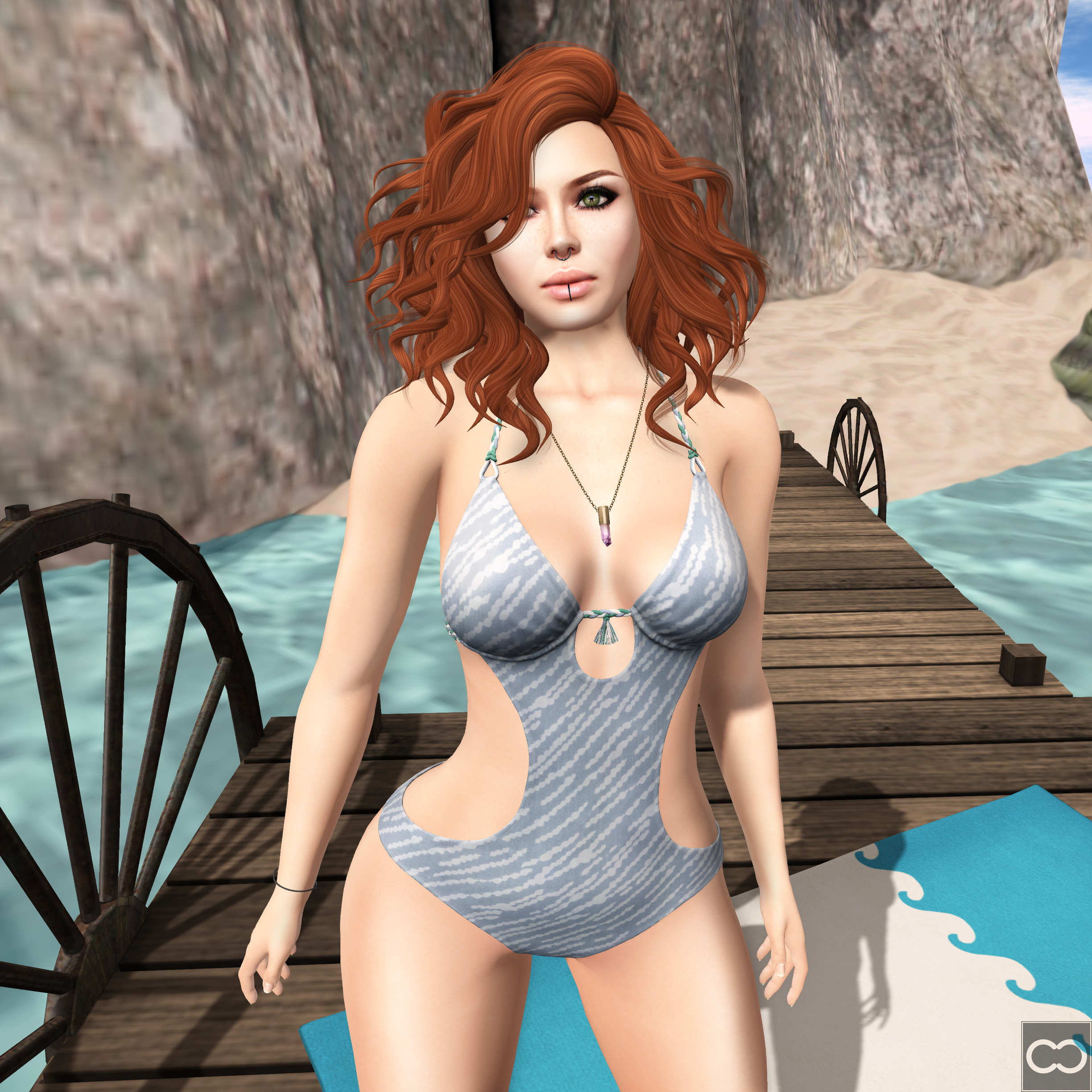 The Caia One Piece is available in the usual colours the Maitreya release but this Wild colour was something new, to me at least, so I decided to go with that one. It is only for the mesh body so it doesn't come with alphas. I doubt it would fit over the standard avatar or other mesh bodies but I guess you can always try a demo.
Happy Shopping!
Pic 1:
*Bikini -
Baiastice
- Fringe Micro Bikini - Print Watercolor @
Summerfest
*Hat -
Baiastice
- Delilah Mare Big Hat - Cyan @
Summerfest
Necklace -
Maxi Gossamer
- Wild Honey - Purple
Hair -
Truth
- Verinne - Gingers Pack
Skin -
League
- Erin Pale - Feline
Eyes -
Ikon
- Odyssey Eyes - Moor
Eyelashes -
Mon Cheri
- Falsies Eyelash
Body -
Maitreya
- Lara Mesh Body - Includes Hands & Feet (with League appliers)
*Pose -
Double Take
- No Dishonesty
Pic 2:
Dress -
Pixicat
- Tropical Maxi Dress - Blue @
Summerfest
Necklace -
Yummy
- Chunky Crystal - Blue
Hair -
Little Bones
- Submerged - Reds Pack @
Summerfest
Skin -
League
- Erin Pale - Feline
Eyes -
Ikon
- Odyssey Eyes - Moor
Eyelashes -
Mon Cheri
- Falsies Eyelash
Body -
Maitreya
- Lara Mesh Body - Includes Hands & Feet (with League appliers)
*Pose -
Kirin
- Coco - Pose 1
Pic 3:
Swimsuit -
Maitreya
- Caia One Piece - Wild @
Summerfest
Necklace -
Yummy
- Rough Crystal - Purple
Hair -
Truth
- Bronwyn - Gingers Pack
Skin -
League
- Erin Pale - Feline
Eyes -
Ikon
- Odyssey Eyes - Moor
Eyelashes -
Mon Cheri
- Falsies Eyelash
Body -
Maitreya
- Lara Mesh Body - Includes Hands & Feet (with League appliers)
Pose -
Mien
- Sonder - 03
H&G items:
*Desk -
Exposeur
- Rustic Wheel Dock @
Summerfest
Seagulls -
Ohmai
- Herring Gulls @
Summerfest