This is your last chance to pop down to the Wayward Carnival to grab the goodies on offer there because the doors close on the 30th.
You can check out my two previous Wayward Carnival blogs by taking a peek at the archives on the right hand side there but before you go make sure you finish reading this one!
Exposeur made an adorable little kissing booth pose prop and it has several different kissing poses including f/f and m/m poses.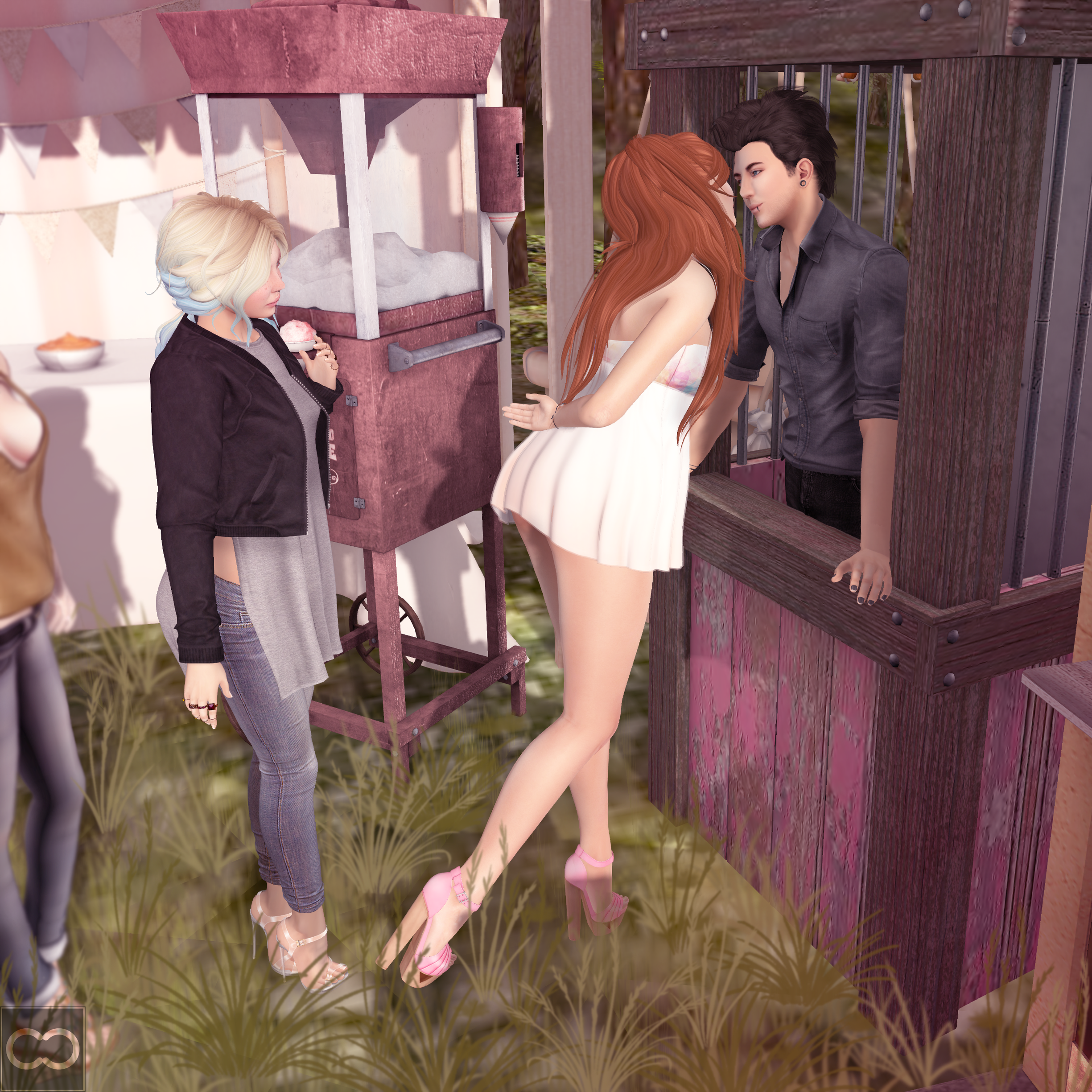 Valentine was more than happy to be stuck in that booth. I think that it's probably the best afternoon that he could think of. Lots of pretty people lining up to pay money to kiss him. I think we may have slipped into one of his daydreams! I'm just teasing but Valentine is always a good sport when he poses for me.
Happy Shopping!
Pic 1:
Valentine:
Shirt -
Deadwool
- Hugo shirt - Denim Grey
Pants -
ISON
- Jumper Set - Black
Hair -
Exile
- Machinehead - Blacks Pack
Skin -
Pink Fuel
- Ashton - Peach
Hands -
SLink
- Avatar Enhancement Mesh Hands For Men - Relaxed
Ears-
CheerNo
- Human Ears - Plug Open
Cryssie:
*Dress -
B.C.C
- Ariel Dress - Rainbow @
Wayward Carnival
*Shoes -
Reign
- Charisma Heels - Bubblegum @
Wayward Carnival
Hair -
Truth
- Lola - Gingers Pack
Skin -
League
- Erin Pale - Feline
Ears -
CheerNo
- Human Ears - Tragus
Body -
Maitreya
- Lara Mesh Body - Includes Hands & Feet (with League appliers)
Cat:
Top -
Pixicat
- London Top - Grey
Jacket -
Pixicat
- London Jacket - Black
Jeans -
Blueberry
- Skinny Jeans - Faded
Shoes -
N-Core
- Donna - Glass
Rings -
ieQED
- Jessi Rings - Bronze
Hair -
Wasabi Pills
- Irene - Sorbet
Skin -
Pink Fuel
- Elsie - Biscuit
*Pose -
Exposeur
- Kissing Both @
Wayward Carnival
*Pose -
Label Motion
- Jenica - Pose 4 @
Wayward Carnival
H&G Items:
*Ticket Booth -
Alchemist
- Ticket Booth @
Wayward Carnival
*Seating Pod -
Soy
- Old Ferris Wheel Car - Salmon @
Wayward Carnival