Uber are getting rustic this round and there are lots of gorgeous items perfect for lazy Summer afternoons.
Every good rustic girl needs a denim shirt and Pixicat have made an adorable take on an old classic.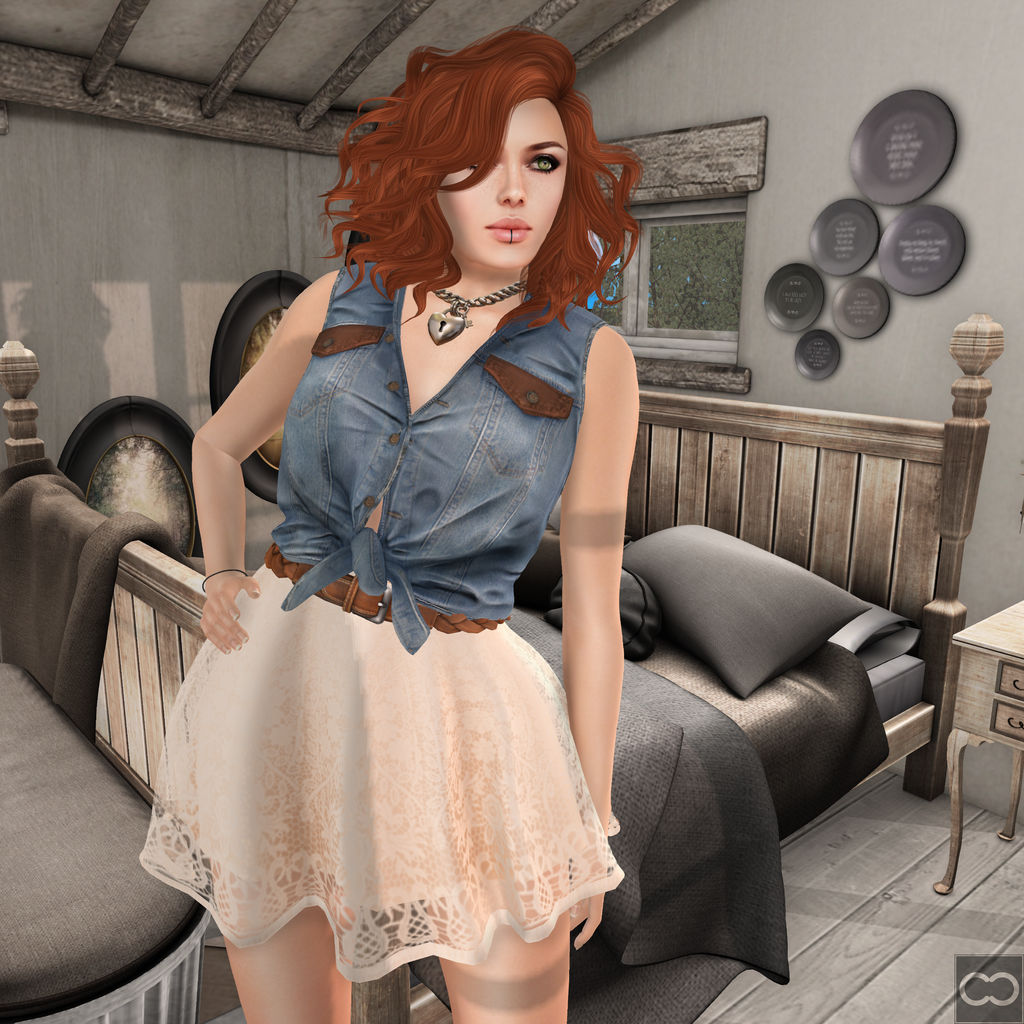 The Rustic Shirt is gorgeous and I really like the detail of the tied front. Even the extra little button that's undone just before the knot. Details like that can really make a piece. Of course it fits perfectly with the matching Rustic Skirt. This pretty beige colour was irresistible to me and I feel so, so girl in this lacy little piece.
All the furniture in this post is part of the Heart On A Wire set from Cheeky Pea for Uber. It's a stunning farmhouse feeling set and of course it comes with the usual PG or adult animations in both the bed and the bench. As always you can either buy the pieces separately or a a set to save yourself a few lindens.
Happy Shopping!
Pic 1:
Shirt -
Pixicat
- Rustic Shirt - Blue @
Uber
Skirt -
Pixicat
- Rustic Skirt - Beige @
Uber
Necklace -
Yummy
- Chunky Heart and Key - Silver
Hair -
Truth
- Bronwyn - Gingers Pack
Skin -
League
- Erin Pale - Feline
Eyes -
Ikon
- Odyssey Eyes - Moor
Body -
Maitreya
- Lara Mesh Body - Includes Hands (with League appliers)
*Pose -
Imeka
- Nara - Pose 7 @
The Chapter Four
H&G Items:
*Bed -
Cheeky Pea
- Heart On A Wire Set - Bed @
Uber
*Bench -
Cheeky Pea
- Heart On A Wire Set - Bench @
Uber
*Lamp -
Cheeky Pea
- Heart On A Wire Set - Branch Lamp @
Uber
*Fan -
Cheeky Pea
- Heart On A Wire Set - Hanging Fan @
Uber
*Side Table -
Cheeky Pea
- Heart On A Wire Set - Side Table @
Uber
*Plates -
Cheeky Pea
- Heart On A Wire Set - Silly Saying Plates @
Uber
*Artwork -
Cheeky Pea
- Heart On A Wire Set - Road Art 1, 2 & 3 @
Uber
*Collage -
Cheeky Pea
- Heart On A Wire Set - Wall Collage @
Uber
*Rugs -
Cheeky Pea
- Heart On A Wire Set - Rug Pile @
Uber
Building -
Apple Fall
- Rural Farmhouse RARE