This is a quick post with just a couple of things from Shiny Shabby that I wanted to show you. It's getting pretty late and I'm sleepy and hungry but I needed to share.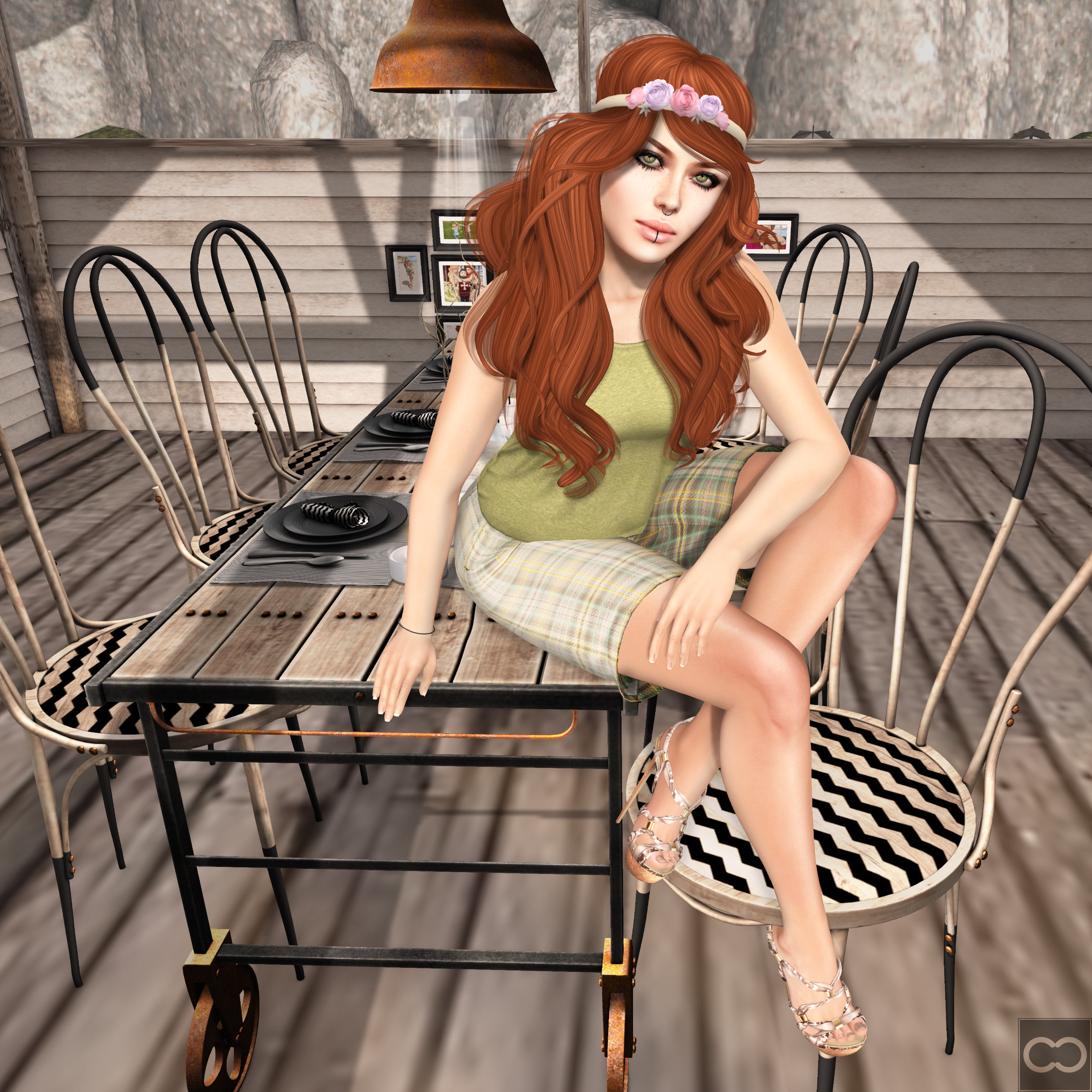 You can grab this pose and the rest in the Sits 020-024 pack from Bang. There are some floor sits and a couple of object/chair sits so it's a great mixed pack. Perfect for the summer for sitting on the grass or the beach and parking your butt on rocks or tables.
You can grab the Falls Shirt and the Kidd Shorts from ColdLogic. They currently still have their 50% off sale running but this is a new release that is also at sale price! How often does that happen? Almost never! Stock up now.
The adorable Repurposed Dining Set in this picture you can grab from Cheeky Pea at Shiny Shabby.
It's a great set and I love the chevron pattern on the napkins and the chairs. You can buy this as a whole set or mix and match the pieces you want by buying them individually.
Happy Shopping!
Pic 1:
Shirt -
ColdLogic
- Falls Shirt - Olive
Shorts -
ColdLogic
- Kidd Shorts 151 - Lemon Lime
Shoes -
N-Core
- Knotted SnakesSkin - Nude
Hair -
Truth
- Lucrecia - Gingers Pack (includes flowers)
Skin -
League
- Erin Pale - Feline
Eyes -
Ikon
- Odyssey Eyes - Moor
Eyelashes -
Mon Cheri
- Falsies Eyelash
Body -
Maitreya
- Lara Mesh Body - Includes Hands & Feet (with League appliers)
*Pose -
Bang
- Sits 020-024 - Sit 024M @
Shiny Shabby
H&G Items:
*Table -
Cheeky Pea
- Repurposed Dining Set - Dining Table @
Shiny Shabby
*Chairs -
Cheeky Pea
- Repurposed Dining Set - Chair @
Shiny Shabby
*Branches -
Cheeky Pea
- Repurposed Dining Set - Branches @
Shiny Shabby
*Candles -
Cheeky Pea
- Repurposed Dining Set - Tray Candle @
Shiny Shabby
*Place Settings -
Cheeky Pea
- Repurposed Dining Set - Table Place Setting @
Shiny Shabby
*Frames -
Cheeky Pea
- Repurposed Dining Set - Collage Wall @
Shiny Shabby
Building -
Scarlet Creative
- Ete Summer Cabin