So we're roughly half way through the Wayard Carnival 2015 and of course I have a few more things to show you from this awesome event.
I think my favourite piece from the entire event is the Maire Antoinette Hybride Corset.
It's a beautiful corset and my favourite colour was Sky. It's a gorgeous pastel blue that feels lacy and feminine. I just want to twirl around in a meadow singing Disney songs. I know I have weird thoughts and that one is pretty weird.
United Colors have made a pretty and delicate necklace that is perfect for wearing with your girly outfits and I know I'll be keeping this handy for Pixel Prom (IT'S ALMOST HERE).
The rings are from Pepper and are the I'm Really A Mermaid rings. They're made for the SLink or Maitreya hands and fit perfectly over the fingers. They come in a range of colours too but I went right for the teal colour.
Dead Dollz have released a great little piece that can be used either as a bodysuit or as a swimsuit.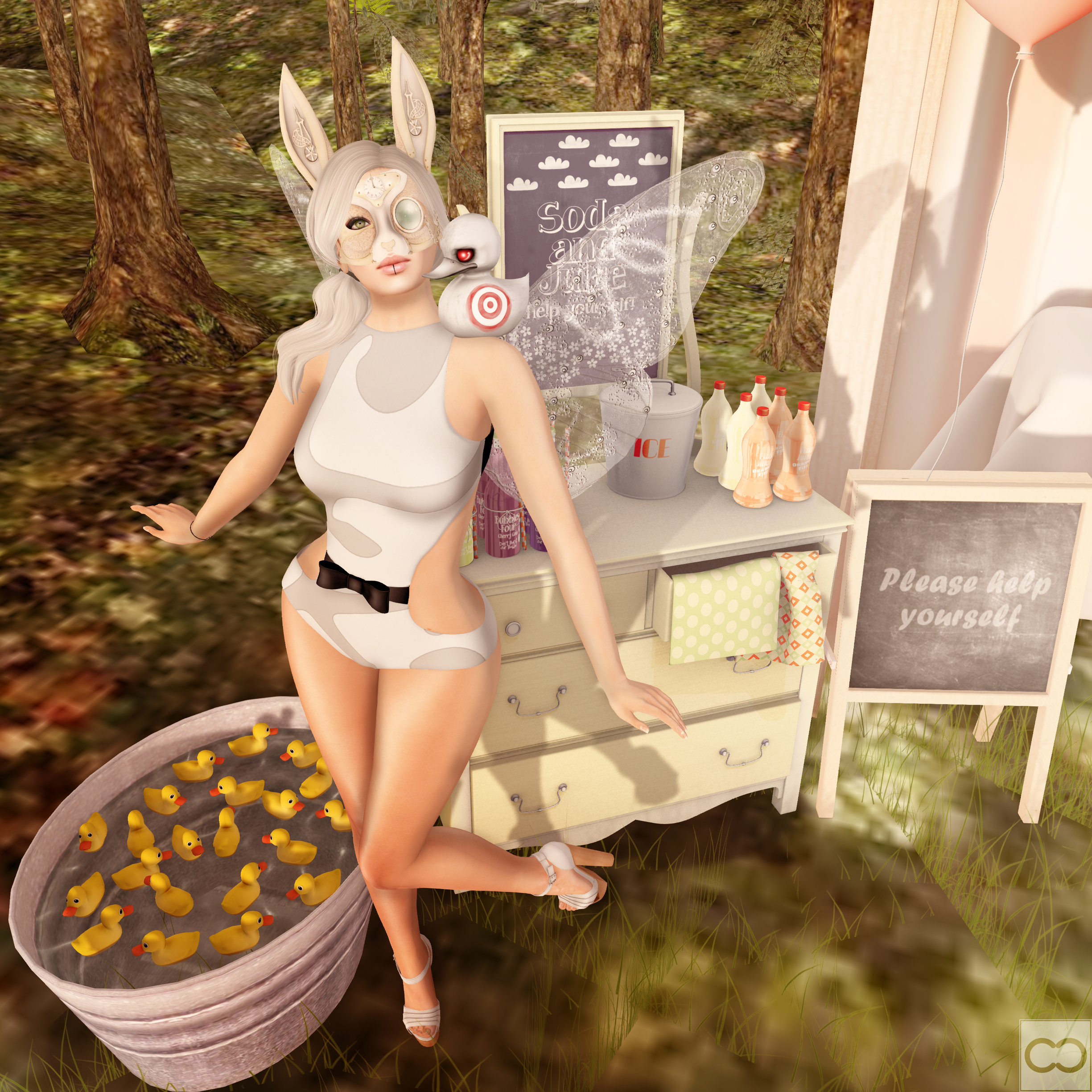 I liked the #4 which is this cute almost camouflage type white. It has an adorable black bow at the front and the straps that wrap around the back are also black. They are made for perfect standard sizes which means there's no alpha. So I suggest that you definitely try a demo before you purchase.
Reign always make super cute shoes and the Charisma Heels are no exception to the rule. I love the platform base and the unique look of the heels on these. These are available in 5 colours and are available for the SLink high feet, The Mesh Project Ouch Feet, The Maitreya Lara Feet and the Belleza mesh body feet.
The hairs in both pictures are from Mithral. The first picture is the Nightshade style and the second is the Nirnroot style. Both colours are available in the Variety Pack, which has some pretty lovely natural colours in it, and I'm really liking both styles of hair so I may pop down to Mithral and try a few more.
There are loads more things to see at this event and there will be 3rd post coming soon!
Happy Shopping!
Pic 1:
*Corset Dress -
Zenith
- Marie Antoinette Hybride Corset - Sky @
Wayward Carnival
Stockings -
Snatch
- Lace Topped Nylons
*Necklace -
United Colors
- Women Necklace - Aquamarine @
Wayward Carnival
*Rings -
Pepper
- I'm Really A Mermaid Rings - Teal @
Wayward Carnival
*Hair -
Mithral
- Nightshade - Variety Pack @
Wayward Carnival
Skin -
League
- Erin Pale - Feline
Eyes -
Ikon
- Odyssey Eyes - Moor
Eyelashes -
Mon Cheri
- Falsies Eyelash
Body -
Maitreya
- Lara Mesh Body - Includes Hands (with League appliers)
*Pose -
Mien
- Popping - 04 (Includes popcorn) @
Wayward Carnival
Pic 2:
*Bodysuit -
Dead Dollz
- Lucretia - #4 @
Wayward Carnival
*Shoes -
Reign
- Charisma Heels - White @
Wayward Carnival
*Mask -
Reverie
- Masquerade - Clockwork Bunny RARE @
Wayward Carnival
*Duck -
Katat0nik
- Dead Duck - White @
Wayward Carnival
*Hair -
Mithral
- Nirnroot - Variety Pack @
Wayward Carnival
Skin -
League
- Erin Pale - Feline
Eyes -
Ikon
- Odyssey Eyes - Moor
Eyelashes -
Mon Cheri
- Falsies Eyelash
Body -
Maitreya
- Lara Mesh Body - Includes Hands & Feet (with League appliers)
*Pose -
Label Motion
- Wings - Pose 2 (includes wings) @
Wayward Carnival
H&G Items Pic 1:
*Tent -
Eunoia
- Carnival Party Tent RARE @
Wayward Carnival
*Table -
Eunoia
- Party Table @
Wayward Carnival
*Bunting -
Eunoia
- Flag Garlands @
Wayward Carnival
*Macarons -
Eunoia
- Plate Of Macarons @
Wayward Carnival
*Cake -
Eunoia
- Party Cake @
Wayward Carnival
H&G Items Pic 2:
*Soda Bar -
Second Spaces
- Erynn Soda Bar - Full Yellow Clean @
Wayward Carnival
*Ducks -
Jian
- Carnival Fun - Bobbing For Ducks @
Wayward Carnival
*Sign -
Eunoia
- Help Yourself Sign @
Wayward Carnival