Kustom9 has hit round 25 and the doors swung open on the 15th July. They'll remain open until the 10th of August so you have plenty of time to pop in for a quick shop.
Bueno have released the Ava Outfit for this round and it's a cute little skirt and tucked in vest shirt combo.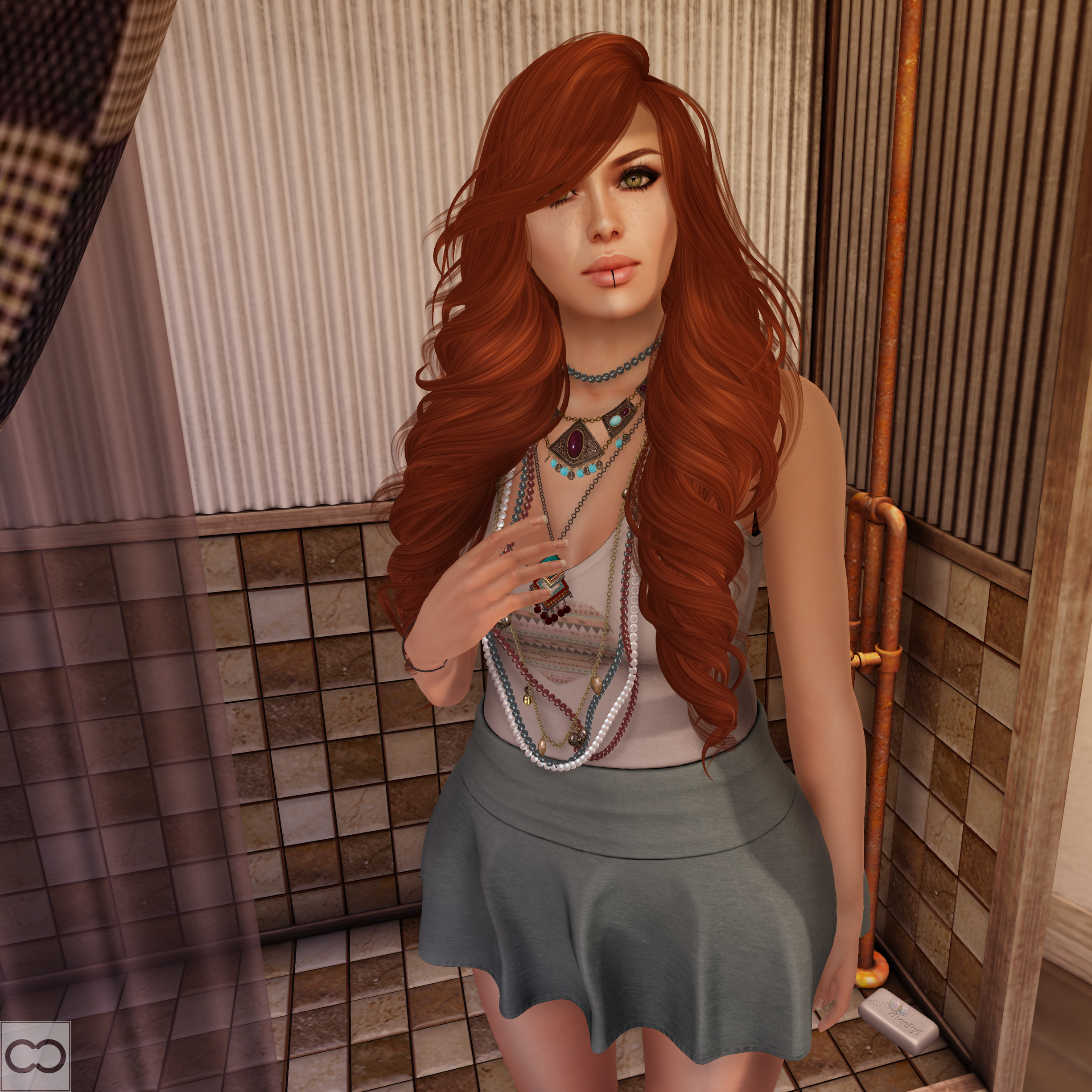 It's all one piece but you get a hud that allows you to change the colour of the shirt and you can also add some text or graphics too. Make sure the colour you are buying is for the skirt because that's the part that doesn't change. Included in the pack is all the standard sizes and fitmesh versions for all Belleza mesh bodies, the Maitreya Lara and the SLink Physique.
The adorable necklaces you can find at My Attic. It's from Emo-tions and is the Abigail Set. Each necklace is a separate piece or you can wear them all together. Remember that My Attic is a quickie event is only open until the 31st July.
Happy Shopping!
Pic 1:
Dress -
Bueno
- Ava Outfit - Teal @
Kustom9
Necklaces -
Emo-tions
- Abigail Set @
My Attic
Hair -
Truth
- Shaylee - Gingers Pack
Skin -
League
- Erin Pale - Feline
Eyes -
Ikon
- Odyssey Eyes - Moor
Eyelashes -
Mon Cheri
- Falsies Eyelash
Body -
Maitreya
- Lara Mesh Body - Includes Hands (with League appliers)
*Pose -
Imeka
- Loli - Pose 1 @
Kustom9
H&G Items:
*Shower -
Cheeky Pea
- Country Dreaming Bathroom - Shower @
FaMESHed
*Toilet -
Cheeky Pea
- Country Dreaming Bathroom - Toilet @
FaMESHed
*Loo Cosy -
Cheeky Pea
- Country Dreaming Bathroom - Loo Cosy @
FaMESHed
*Mirror -
Cheeky Pea
- Country Dreaming Bathroom - Mirror @
FaMESHed
*Sink -
Cheeky Pea
- Country Dreaming Bathroom - Sink @
FaMESHed
*Light -
Cheeky Pea
- Country Dreaming Bathroom - Repurposed Wall Light @
FaMESHed