Collabor88 is back for a new round and the theme is Under The Sea. You can expect lots of ocean themed items from all your favourite Collabor88 creators and few new guests.
Let's jump right in with this Mermaid Holiday Bikini from Hucci.
It's made of shells and string and is just enough to cover your naughty bits. There are only sizes for the SLink Physique mesh body and the Maitreya Lara mesh body so there's no standard sizes in this pack.
The shoes are also from Hucci and are the Campo Sandals. You have a large choice of colours for the great price of 88L and they are made for the SLink high feet, Maitreya Lara feet and The Mesh Project ouch feet.
Rompers are perfect for summer and there have been some pretty ones released this year but I'm loving the gorgeous Anchors print on the Madison Romper from The Secret Store.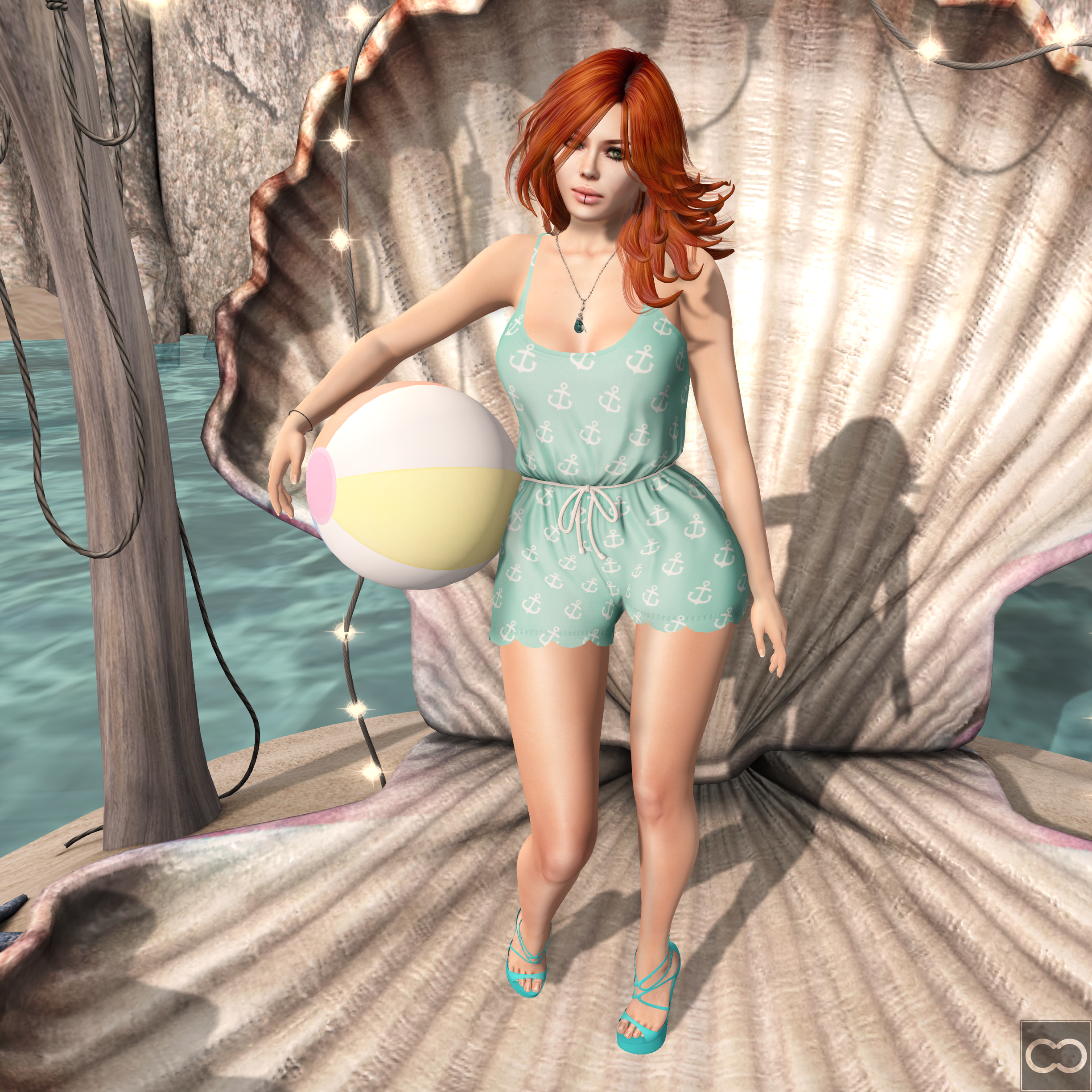 It's a beautiful colour and I adore the little tie around the waist. If this colour isn't for you then of course there are other patterns and colours available. The Secret Store has recently branched out into fitmesh for mesh bodies too so included in the pack are standard sizes and additional sizes for the Maitreya Lara and SLink Physique..
You can grab the giant clam shell from Trompe Loeil. I got the Nerissa Seashell Bath version which comes with a bath or with an empty shell. There's also a bed version for those of you who've always wanted to sleep in a giant shell.
Happy Shopping!
Pic 1:
Bikini -
Hucci
- Mermaid Holiday Bikini @
C88
Shoes -
Hucci
- Campo Sandal - Moonglow @
C88
Necklace -
Yummy
- Dreaming Mermaid Necklace - Aquamarine @
C88
*Hair -
Mina
- Grace - Dark Reds Pack @
Hair Fair 2015
Skin -
League
- Erin Pale - Feline
Eyes -
Ikon
- Odyssey Eyes - Moor
Body -
Maitreya
- Lara Mesh Body - Includes Hands & Feet (with League appliers)
*Pose -
An Lar Poses
- The Lolli Series - Five Mirrored @
Candy Fair 2015
Pic 2:
Romper -
The Secret Store
- Madison Romper - Anchors @
C88
Necklace -
Yummy
- Dreaming Mermaid Necklace - Aquamarine @
C88
*Hair -
Mina
- Grace - Dark Reds Pack @
Hair Fair 2015
Skin -
League
- Erin Pale - Feline
Eyes -
Ikon
- Odyssey Eyes - Moor
Body -
Maitreya
- Lara Mesh Body - Includes Hands (with League appliers)
Feet -
SLink
- Avatar Enhancement Mesh Feet - High (with League appliers)
*Pose -
Kirin
- Fun At The Beach - Pose 1 (includes ball) @
The Seasons Story
Shell -
Trompe Loeil
- Nerissa Seashell Bath (empty) @
C88