Romp closes it's door on the 17th so you still have a few hours left to get your butt down there and grab yourself some awesome adult themed items.
The adorable and yet perfectly kinky Bow Collar and Bow Cuffs are from Fetch. They include a hud that allows you to change the colours of the pieces and the cuffs have a pose that force your arms either behind you or in front of you.
The Bodysuit is from The Forge. You have a choice of colours but I liked the white best. The only downside to this cute little onepiece is that it only comes in XXS, XS and S sizes which isn't great for those of us who wear a M or L. I found that I could just about squeeze into the S size with a little bit of tweaking but please try a demo before you purchase.
Wimey have released two pieces for you to choose from.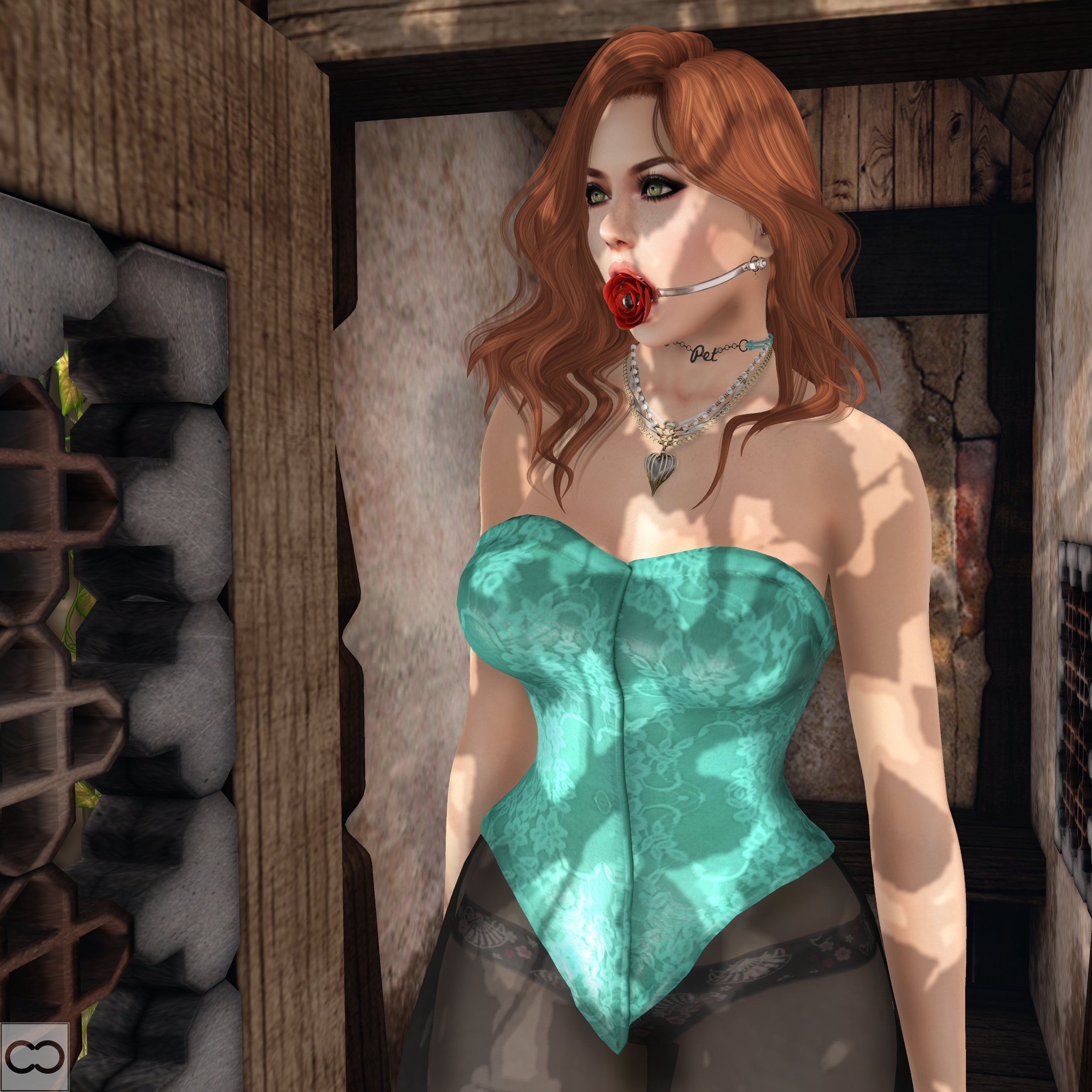 You have a choice of the Desires Corset, which comes in a choice of 10 colours or you can opt for the Desires Gown that has a sheer skirt piece attached to the corset. I personally thought the gown was the best piece of the two and I paired it with the Sakura panties in Black from Luxuria to keep my modest in check, however feel free to let your goodies be on show if that's your thing.
The super cute little Pet Collar is from Ama. You can also choose the 'Owned' version of this collar and both come with a hud that cycles through four cord colours and four metal colours.
The necklace is the Caged Heart Collar from RealEvil Industries. This is definitely more of a necklace than a collar to me but I love the little heart pendant on this end of this piece. This one also includes a hud that allows full customisation of colours and metals.
Cubic Cherry Kreations have released the Bliss Gag. It's a sweet little flower that fits snugly between your lips. Perfect for a little bit of punishment but still looking adorable and girly.
I hope you enjoyed Romp. I can't wait for the next fair but make sure you visit this one before it closes on the 17th.
Happy Shopping!
Pic 1:
*Bodysuit -
The Forge
- Body Suit - White @
Romp
*Cuffs -
Fetch
- Bow Cuffs @
Romp
*Collar -
Fetch
- Bow Collar @
Romp
Hair -
Truth
- Astra 2 - Gingers Pack
Skin -
League
- Erin Pale - Feline
Eyelashes -
Mon Cheri
- Falsies Eyelash
Body -
Maitreya
- Lara Mesh Body - Includes Hands (with League appliers)
*Pose -
Double Take
- Thorn Of The Rose (cuffs pull arms behind back)
Pic 2:
*Dress -
Wimey
- Desires Gown - Teal @
Romp
*Panties -
Luxuria
- Sakura - Black @
Romp
*Necklace -
RealEvil Industries
- Caged Heart Collar @
Romp
*Collar -
Ama
. - Pet Collar - Fatpack @
Romp
*Ballgag -
Cubic Cherry Kreations
- Bliss Gag @
Romp
Hair -
Truth
- Essena - Variety Pack
Skin -
League
- Erin Pale - Feline
Eyes -
Ikon
- Odyssey Eyes - Moor
Eyelashes -
Mon Cheri
- Falsies Eyelash
Body -
Maitreya
- Lara Mesh Body - Includes Hands (with League appliers)
*Pose -
An Lar Poses
- The Demure Series - Four @
Romp
*Hut -
Artisan Fantasy
- Maiden For Conclave Single @
Romp
Ivy -
Dysfunctional Designs
- Draping Ivy
*Cell -
N4RS
- Bullock Prison Cell M/F @
Romp
*Bucket -
N4RS
- Prison Bucket @
Romp
*Stool -
N4RS
- Wooden Prison Seat @
Romp