Wayward Carnival opened today and from now until the 30th July you have access to some great new designs from some of the best creators on the grid. They're all on one gorgeously decorated sim for you to shop until you drop.
Let's leap right into the goodies.
League have released the brand new Sylph Dress for the event. It comes in several adorable colours with two different bead options on the bust area. It includes a hud that allows you change the colours of those beads too.
The delicate necklace I'm wearing is from Things. It's the Campania Necklace in gold and I think it's a gorgeous feminine piece that goes great with formal wear (pixel prom guys!!!).
Imeka makes some adorable little attachments and this little Cake Ice Cream Cone is no different. You need to throw a few lindens in the gacha to get one but each one comes with a little hud so you can choose between vanilla and chocolate cake in your cone. The cone also as an animation that forces you to hold it upright so you don't smear frosting all over your brand new clothes.
Pr!tty released the lovely Daisy style and it does indeed include the pretty little daisy. I struggle finding a red that is like my usual red colour but there are some pretty awesome alternatives to play around with.
Baiastice have released a brand new bikini for the Wayward Carnival.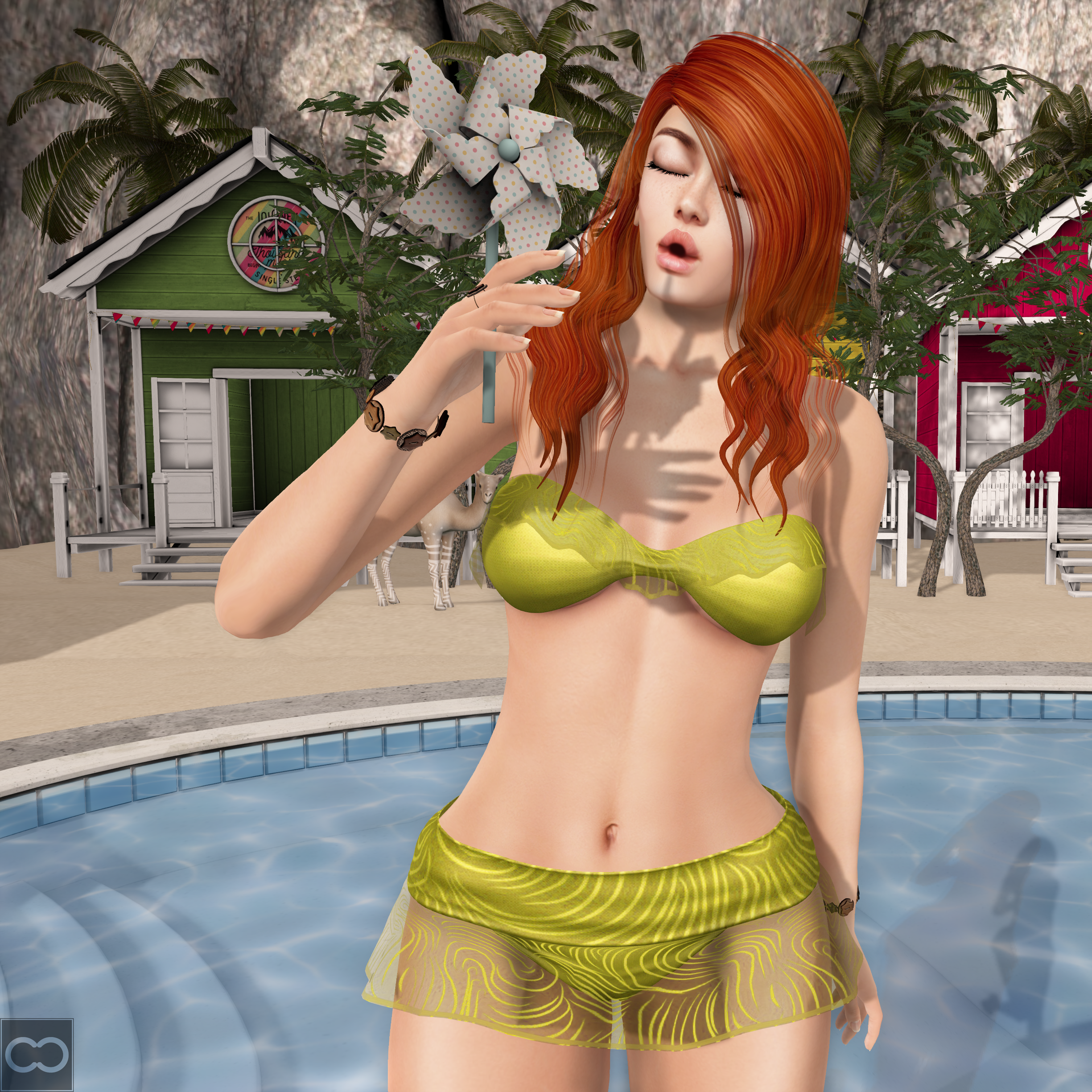 It has adorable ruffles across the bra top and little modesty skirt on the bottoms. There are regular and lace versions of this bikini but not all the colours are available in the lace option. Also this one doesn't have fit mesh versions but the standard size small fit my Maitreya well with a little butt shrinking.
The Wooden Button Jewellery is from Izzie's. The ring and bracelets come in lots of different colours but I think the more natural wooden colours are my favourites.
There will be more to come from Wayward Carnival soon.
Happy Shopping!
Pic 1:
Dress -
League
- Sylph Dress - Moss @
Wayward Carnival
*Necklace -
Things
- Campania - Gold @
Wayward Carnival
*Cone -
Imeka
- Cake Ice Cream Cone - #1 @
Wayward Carnival
*Hair -
Pr!tty
- Daisy - Reds Pack (Includes Daisy) @
Wayward Carnival
Skin -
League
- Erin Pale - Feline
Eyes -
Ikon
- Odyssey Eyes - Moor
Eyelashes -
Mon Cheri
- Falsies Eyelash
Body -
Maitreya
- Lara Mesh Body - Includes Hands & Feet (with League appliers)
*Pose -
An Lar Poses
- The Wonderwall Series - Four (Arm altered by ice cream cone) @
Wayward Carnival
Pic 2:
*Bikini -
Baiastice
- Ruffle Bikini - Lime @
Wayward Carnival
*Bracelet & Ring -
Izzie's
- Wooden Button Jewellery - Brown @
Wayward Carnival
*Hair -
Mina
- Lizzy - Dark Reds Pack @
Hair Fair 2015
Skin -
League
- Erin Pale - Feline
Eyelids -
SLink
- Mesh Eyelids
Body -
Maitreya
- Lara Mesh Body - Includes Hands (with League appliers)
*Pose -
Mien
- Whirl - 01 (includes pinwheel) @
Wayward Carnival
H&G Items:
*Pool -
Pixel Mode
- Classic Kidney Shape Pool @
Wayward Carnival
*Huts -
Cheeky Pea
- Beach Camp Hut - Grass, Sunflower & Raspberry @
Wayward Carnival
*Trees (front) -
Little Branch
- Hook Thorn Dark @
Wayward Carnival
*Camels -
Half Deer
- Cool Socks Camels @
Wayward Carnival
*Bunnies -
Anc
- Cotton Bunny - Sugar @
Wayward Carnival