Uber is back with an Athletic theme for this round. I was really impressed with what the creators had on offer and of course it meant I got to bulk out my new work out wardrobe.
Erratic released the Tia Crop Top and Daria Pants.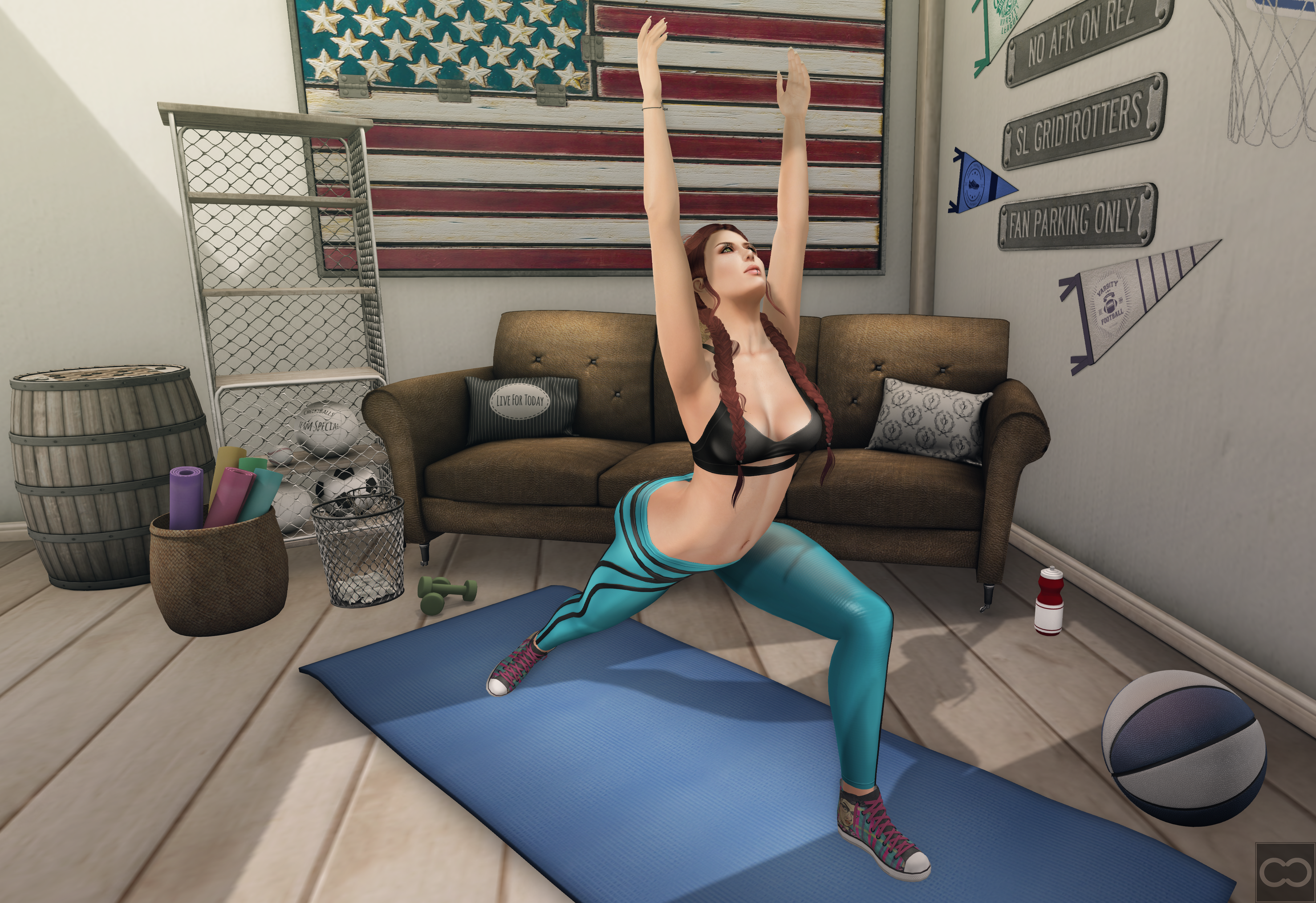 They're both exclusives for the Maitreya Lara mesh body. The top is available in 12 colours, or with 5 additional colours if you get the fatpack. The pants also come in 12 colours and include a hud that allows you to change the stripes on the pants too. I couldn't resist the bright of the Aqua colour.
The hair you can grab from Little Bones while you are down at Uber. I went for the Tonic style in their Reds Pack and there are three different styles of bangs in each colour pack. I love the braids on these, they are gorgeous.
Happy Shopping!
Pic 1:
Shirt -
Erratic
- Tia Crop Top - Black @
Uber
Pants -
Erratic
- Daria Pants - Aqua @
Uber
*Shoes -
FATEstep
- Nylon Chucks
Hair -
Little Bones
- Tonic - Reds Pack @
Uber
Skin -
League
- Erin Pale - Natural (with Erin tintable lipstick)
Eyes -
Ikon
- Triumph Eyes - Moor
Eyelashes -
Mon Cheri
- Falsies Eyelash
Body -
Maitreya
- Lara Mesh Body - Includes Hands & Feet (with League appliers)
Pose -
oOo Studio
- Yoga - One
H&G items:
*Couch -
Cheeky Pea
- Duncan Sports Lounge - Sofa @
Uber
*Shelf -
Cheeky Pea
- Duncan Sports Lounge - Equipment Shelf @
Uber
*Bin -
Cheeky Pea
- Duncan Sports Lounge - Hoopz Game @
Uber
*Flag -
Cheeky Pea
- Duncan Sports Lounge - American Flag @
Uber
*Signs -
Cheeky Pea
- Duncan Sports Lounge - Parking Sign, Gridtrotters Sign, AFK sign @
Uber
*Pennants -
Cheeky Pea
- Duncan Sports Lounge - Green Pennant, Blue Pennant, Purple Pennant @
Uber
*Barrel -
Cheeky Pea
- Duncan Sports Lounge - Droughts Table @
Uber
*Yoga Mat -
Cheeky Pea
- Divya Yoga Mat - Blue @
Uber
*Basket -
Cheeky Pea
- Divya Mat Basket @
Uber
Weights -
Pilot
&
Exposeur
- Floor Hand Weights
Water Bottle -
Pilot
&
Exposeur
- Floor Waterbottle
Basketball Hoop -
Pilot
- Basketball Goal Decor - White/Blue
Basketball -
Pilot
- Basketball Decor - White/Blue