We're back for part 2 of the Muted Coven round of Collabor88. I've got a few more gorgeous bits to show you from some of the other creators who really outdid themselves in this round.
Fishy Strawberry released the Runa Top and matching Runa Skirt.
I went for the Potion Aubergine version in both the top and skirt. They comes in several different colours and textures. Each colour comes in standard sizes and fitmesh for the SLink Physique, Maitreya Lara and all three Belleza mesh bodies.
I'm completely enamoured with this Catcall dress from Tres Blah.
The harness part of the dress is gorgeous and I made a beeline for the Dark Teal. It comes in standard sizes and fitmesh for SLink and Maitreya mesh bodies.
The hair, which I mentioned in Part 1, is the Hexxed style from Little Bones. A gorgeous dress needs some attention grabbing hair and this one really fit the bill.
Foxes released The Craft dress for this round and while it's perfect for an adorable little modern witchy vibe costume it still works are a great casual dress for those who like their clothing a little darker.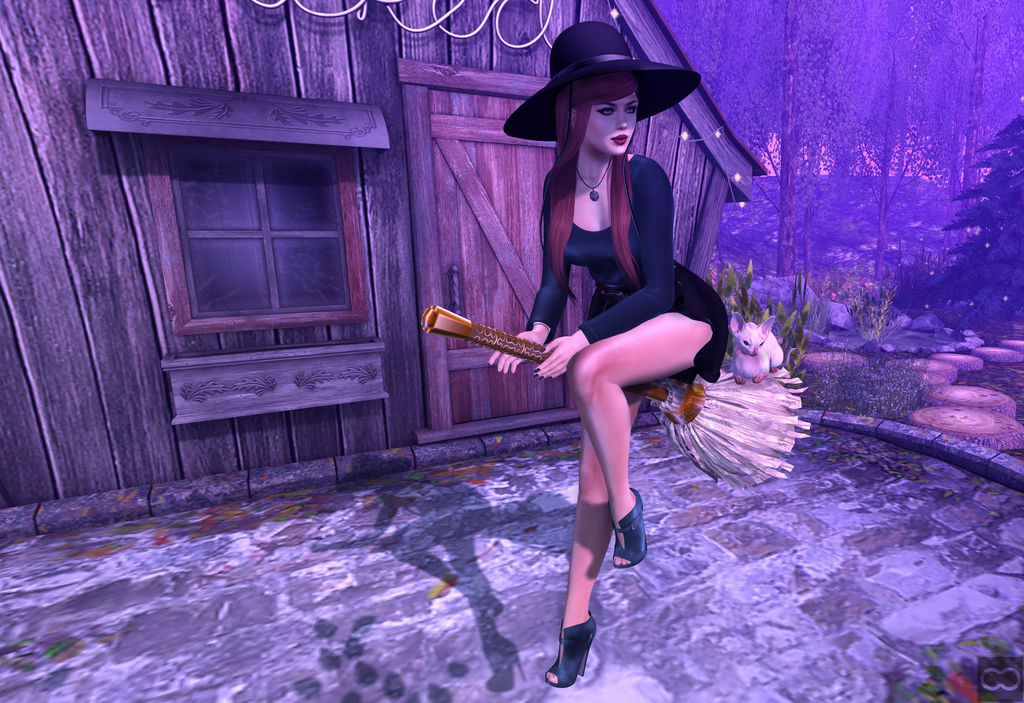 There are lighter coloured options available but I have enough pastels and florals to keep me going for a lifetime in my inve
ntory, with the arrival of autumn I'm happy to start including some rich jewel colours. It's available in fitmesh for

Belleza Isis & Freya, Maitreya, and Slink and four standard sizes (no large).
Last up is the stunning Avianna Dress from The Secret Store. The matching Harpy Mantle is also available and both fit together for a truly eye-catching outfit.
I love the pattern on the dress and the Midnight was my favourite colour on o
ffer. Both the d

ress and mantle include standard sizing XXS-M, along with SLink and Maitreya fitmesh.
Happy Shopping!
Pic 1:
*Top -
Fishy Strawberry
- Runa Top - Potion Aubergine @
Collabor88
*Skirt -
Fishy Strawberry
- Runa Skirt - Potion Aubergine @
Collabor88
Hair -
Truth
- Josette - Pastels Pack
Skin -
League
- Erin Pale - Feline (with Erin tintable lipstick)
Eyes -
Ikon
- Triumph Eyes - Moor
Eyelashes -
Mon Cheri
- Falsies Eyelash
Body -
Maitreya
- Lara Mesh Body - Includes Hands (with League appliers)
*Pose -
An Lar Poses
- The Rochester Series - Five M
Pic 2:
Dress -
Tres Blah
- Catcall - Dark Teal @
Collabor88
Necklace -
Yummy
- Pentagram Pendant - Silver Grey @
Collabor88
Hair -
Little Bones
- Hexxed - Reds Pack @
Collabor88
Skin -
League
- Erin Pale - Feline (with Erin tintable lipstick)
Eyes -
Ikon
- Triumph Eyes - Moor
Eyelashes -
Mon Cheri
- Falsies Eyelash
Body -
Maitreya
- Lara Mesh Body - Includes Hands (with League appliers)
Pose -
NanTra
- Secret Treat - 3 (includes broom) @
Collabor88
Pic 3:
Dress -
Foxes
- The Craft - Teal @
Collabor88
Necklace -
Yummy
- Pentagram Pendant - Silver Grey @
Collabor88
Hair -
Little Bones
- Spectre w/Hat - Reds Pack @
Collabor88
Skin -
League
- Erin Pale - Feline (with Erin tintable lipstick)
Eyes -
Ikon
- Triumph Eyes - Moor
Eyelashes -
Mon Cheri
- Falsies Eyelash
Body -
Maitreya
- Lara Mesh Body - Includes Hands & Feet (with League appliers)
Pose Prop -
Purple Poses
- Broom Pack 01 - Broom 02 @
Collabor88
Pic 4:
Dress -
The Secret Store
- Avianna Dress - Midnight @
Collabor88
Mantle -
The Secret Store
- Harpy Mantle - Midnight @
Collabor88
Necklace -
Yummy
- Pentagram Pendant - Silver Grey @
Collabor88
Hair -
Truth
- Anouk - Gingers Pack
Skin -
League
- Erin Pale - Feline (with Erin tintable lipstick)
Eyes -
Ikon
- Triumph Eyes - Moor
Eyelashes -
Mon Cheri
- Falsies Eyelash
Body -
Maitreya
- Lara Mesh Body - Includes Hands (with League appliers)
*Pose -
Elephante Poses
- Emily - #4
H&G items:
Building -
Trompe Loeil
- Le Fay Cottage & Garden @
Collabor88
Cat Friend -
Pixicat
- Basket Sphynx - Lazy & Lying Down @
Collabor88