The Fantasy Collective has a little over a week left to go so you still have chance to get your butt down to the brand new sim and see all the items on offer.
My jewellery folder is getting a little bit out of control and Noctis and Modern Couture have added to the chaos with their creations for this round.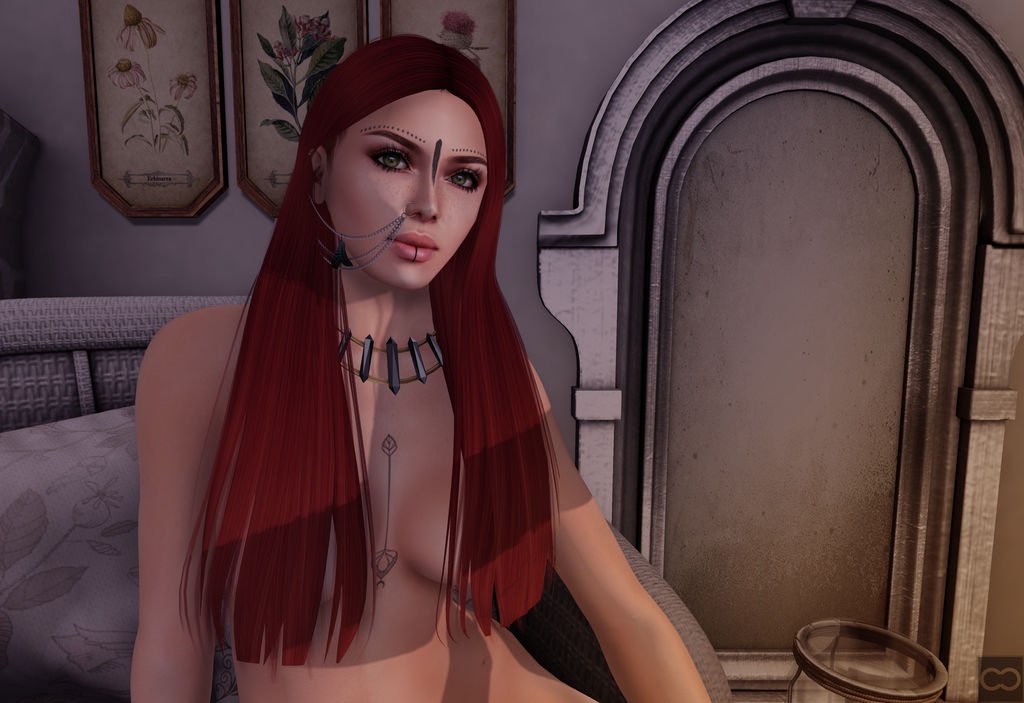 The Wasteland Queen Double Piercing is from Noctis. If you find the double nose chain a bit too intense they also have a single chain version on offer too. I love the little feathers hanging from it and that it goes up to a cuff on the top of the ear rather than to the lobe. (sorry it's hidden in my hair there).
The necklace, which I've blogged before but definitely deserves a second mention, is the Narc Necklace from Modern Couture. This time I wore the Black and I think the big chunky crystals are to die for. This is one of those times I wish I could reach into my screen and yank something into RL.
Bold & Beauty is a new hair store to me so I was impressed with their Shantal style that they have available. It's deliciously sleek and comes down long enough to cover my nipples which means I can get away with running around in it shirtless and not feel like I'm exposing myself to the world. The Reds Pack had the perfect red colour for me in there but of course they have others available so I'm sure you'll be able to find your shade or one pretty damn close.
I don't wear tattoos often on my blog but often I find myself wearing one in world. I blame Cat because she has so many gorgeous ones that I get ink envy and want to tat up. I do love delicate little designs like this Reeva Tattoo from Arise. She has two others on offer but this one most took my fancy. It's a cute little arrow and is available in system layers and appliers for SLink, Maitreya, Omega and TMP. That should cover almost every mesh body or body part out there!
Before you run off to go spend your hard earned lindens you can also grab the Lanai Wicker Chair and some additional decor items from Cheeky Pea while you are at The Fantasy Collective and also the cute little Apothecary Art, which changes to a ton of different flowers and herbs, is available at the Artisan Fantasy booth.
So here's your reminder that The Fantasy Collective closes on the 15th.
Happy Shopping!
Pic 1:
*Nose Chain -
Noctis
- Wasteland Queen Piercing - Double Right @
The Fantasy Collective
*Necklace -
Modern Couture
- Narc Necklace - Black @
The Fantasy Collective
Face Paint -
Wicked Peach
- Fierce - 12
*Chest Tattoo -
Arise
- Reeva Tattoo @
The Fantasy Collective
*Hair -
Bold & Beauty
- Shantal - Reds Pack @
The Fantasy Collective
Skin -
League
- Erin Pale - Natural
Eyes -
Ikon
- Trumph Eyes - Moor
Eyelashes -
Mon Cheri
- Falsies Eyelash
Body -
Maitreya
- Lara Mesh Body (with League appliers)
*Pose -
Kirin
- Sitting Pretty - Pose 1
H&G items:
*Chair -
Cheeky Pea
- Lanai Wicker Chair - Cloud Soft @
The Fantasy Collective
*Mirror -
Cheeky Pea
- Lanai Large Mirror Cloud @
The Fantasy Collective
*Art Work -
Artisan Fantasy
- Apothecary Art @
The Fantasy Collective