Gen-Neutral is brand new monthly event which focuses on a mixture of all types of creations with a gender neutral feel to them. It's open until noon on September 26th so you still have a few days to go check it out.
It's packed with great creators, some who have made their items in both male and female fits and others who have worked towards a much more androgynous style of clothing. You'll also find cosmetics, skins, hair and home and garden items here so it really is an event that covers everything.
Ama has gone all out for this round and released lots of yummy items. The first being the Azriel Skirt.
It's a bargain at a special event price of only 99L and comes in standard sizes and fit mesh for both men and women. The galaxy print is a special edition of the skirt and won't be sold after Gen-Neutral ends.
My favourite piece from Ama has to be the Moustache set.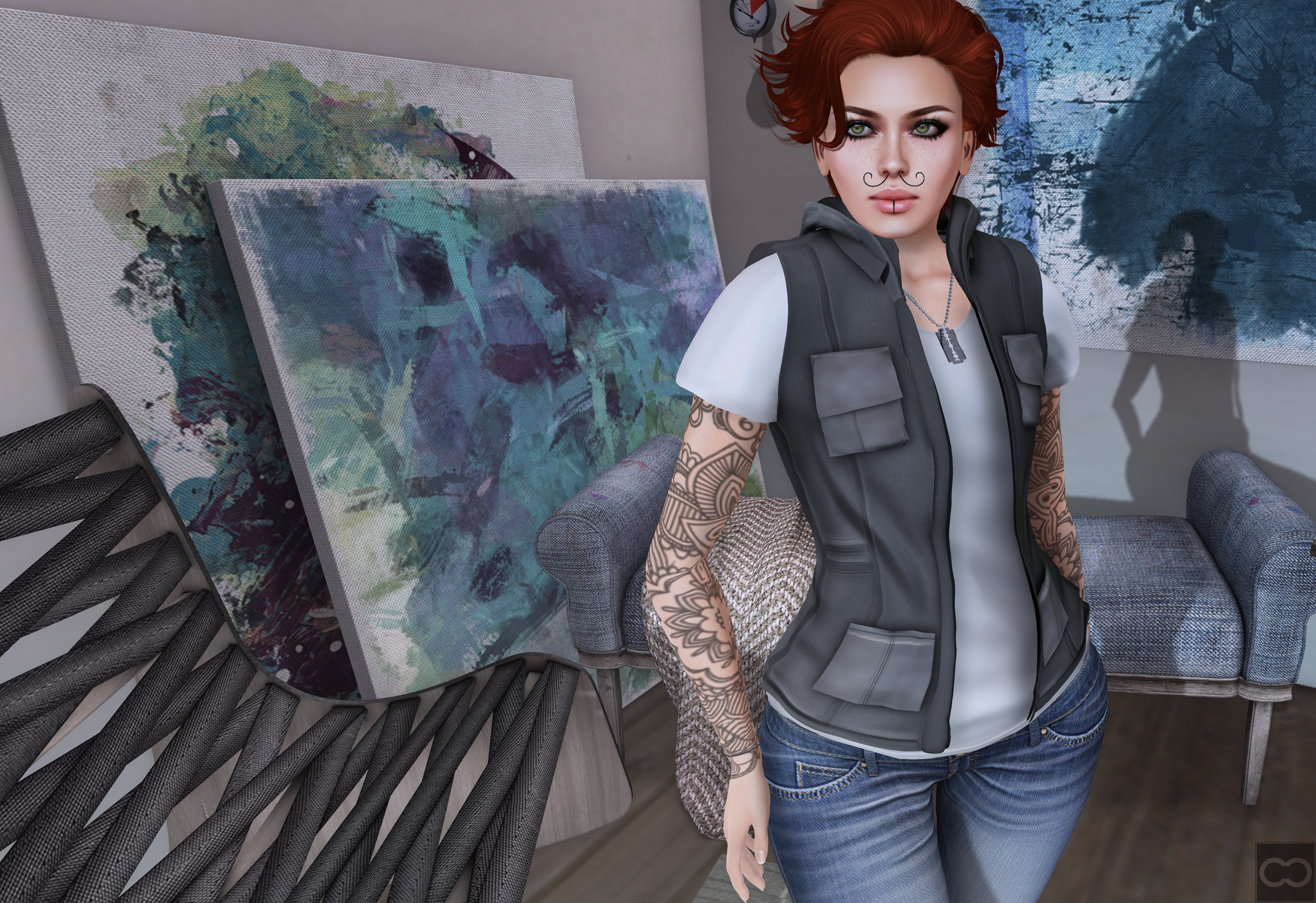 How adorable is this septum piercing. It makes me want to go get mine pierced because I want to wear one of these in RL. Mine is currently a fakey, I'm working towards getting it pierced. Until then I'll just have to enjoy this one in SL. You have a choice of curly or straight and get both in the pack.
The Stump Hoodie/Tee Combo is from Vinyl. This top comes in several different colours and includes a hud that allows you change the colour of the hoodie underneath too. Standard sizes and fit mesh versions are included for male and female sizes but none of them include prominent 'breasts'. This top was made to flat chested so if you try a demo before you buy. I know there's a lot of people in SL who have been desperate for flat chested items so hopefully Gen-Neutral will be bringing us more and more of these items.
Happy Shopping!
Pic 1:
Shirt -
Blueberry
- Romy Knotted Top - White
*Skirt -
Ama
. - Azriel Skirt - Galaxy Fade @
Gen-Neutral
*Shoes -
Ama
. - Gilded Oxfords - Onyx
*Septum Ring -
Ama
. - Moustache - Curly @
Gen-Neutral
Neck Tie -
Pure Poison
- BowTie Swirl (group gift)
Tattoo -
Things
. - Paziah - Black
Hair -
Truth
- Tom (female) - Gingers Pack
Skin -
League
- Erin Pale - Feline
Eyes -
Ikon
- Triumph Eyes - Moor
Eyelashes -
Mon Cheri
- Falsies Eyelashes
Body -
Maitreya
- Lara Mesh Body - Includes Hands (with League appliers)
*Pose -
An Lar Poses
- The Demure Series - One
Pic 2:
Shirt -
Vinyl
- Stump Hoodie/Tee Combo - Grey @
Gen-Neutral
Pants -
Blueberry
- Mia Jeans - Vox
*Septum Ring -
Ama
. - Moustache - Curly @
Gen-Neutral
Necklace -
Maxi Gossamer
- Razor Dog Tags - Flowers & Jewels
Tattoo -
Things
. - Paziah - Black
Hair -
Truth
- Tom (female) - Gingers Pack
Skin -
League
- Erin Pale - Feline
Eyes -
Ikon
- Triumph Eyes - Moor
Eyelashes -
Mon Cheri
- Falsies Eyelashes
Body -
Maitreya
- Lara Mesh Body - Includes Hands (with League appliers)
*Pose -
Bang
- 530-539 - Stand 532M @
Gen-Neutral
H&G items:
Chaise -
Junk
- Drew Chaise - Denim @
Gen-Neutral
Canvases -
Junk
- Abstract Canvas - Floor @
Gen-Neutral
Artwork Wall -
Junk
- Abstract Canvas - Wall @
Gen-Neutral
*Chair -
Cheeky Pea
- Belted Chair @
Gen-Neutral
Table -
Apple Fall
- Old Stained Table @
Gen-Neutral
Artwork Floor -
Apple Fall
- Still Life Observation w/ Dust Sheet @
Gen-Neutral
Rug -
Glam Affair
- Andy Rug 01
Lamp -
Convair
- Pipe Table Lamp - #1
Wall Lamp -
Convair
- Pipe Wall Lamp - #1
*Building -
Cheeky Pea
- Easy Being Green Skybox