We Love Role Play is open again and this time they have a brand new sim so you'll need to update your LM's. You have until September 30th to go and check it all out.
I grabbed a few pieces that took my fancy but I was extremely taken with this Altar tattoo from White Widow.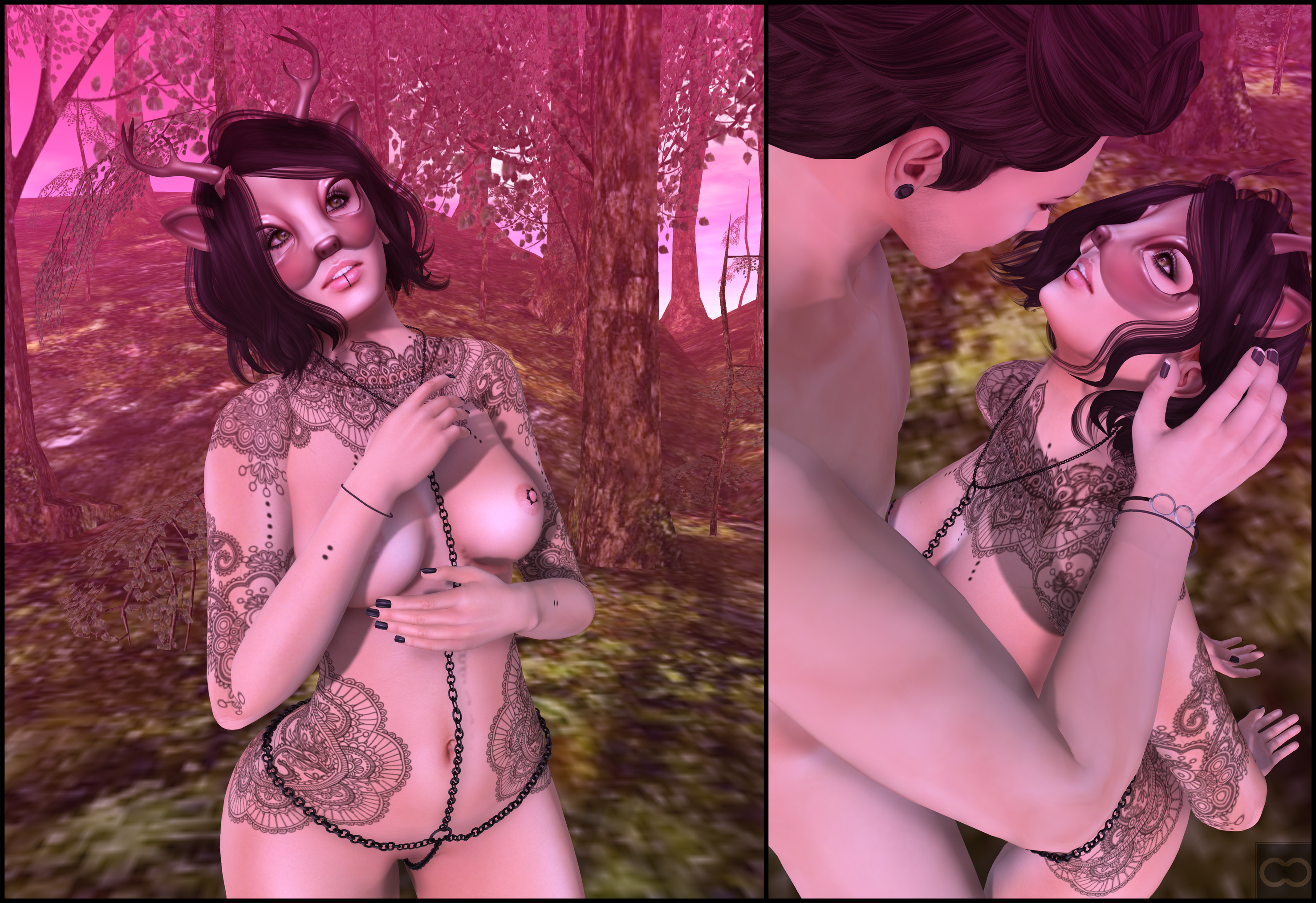 The design feels like old lace. I love the scalloped shape of the areas where the design is on the body and I went with the Black but there's also a brown and white version available. It comes with appliers for pretty much every mesh body you can imagine and Omega appliers to cover everything else.
The harness is the Ashie V2 Harness in Black and you can find in the Haste booth. They've started to include fitmesh for the Maitreya and SLink Physique in their packs, which is awesome, along with the usual standard sizes. There are 5 different metal colours available.
The poses used in both sections of the picture are from Bang. The single pose you can find in the Stands 520-529 pack and the couples pose is called Savior. Both the pack of single poses and the couples pose are available at We Love Role Play.
Happy Shopping!
Cryssie:
*Harness -
Haste
- Ashie V2 - Black @
We Love Role Play
*Nipple Rings -
Haste
- Spiked Nipple Ring - Black
Mask -
Foxes
- Woodland Wonderland - Deer Mask
Tattoo -
White Widow
- Altar - Black @
We Love Role Play
Hair -
Magika
- Itch - Pack 01
Skin -
League
- Erin Pale - Natural
Eyes -
Ikon
- Triumph Eyes - moor
Eyelashes -
Mon Cheri
- Falsies Eyelash
Teeth -
Whatever
- Teeth 2.0
Body -
Maitreya
- Lara Mesh Body - Includes Hands (with League appliers)
Valentine:
Nail Polish -
Ama
. - Slink Polish - Black Chipped
Hair -
Exile
- Vindicated - Blacks Pack
Skin -
Pink Fuel
- Ashton - Peach (Face only)
Hands -
SLink
- Avatar Enhancement Mesh Hands Male - Relaxed
Ears -
CheerNo
- Human Ears - Plug Open
Body -
SLink
- Physique Male
*Single Pose -
Bang
- Stands 520-529 - Stand 527 Mirrored @
We Love Role Play
*Couple Pose -
Bang
- Savior @
We Love Role Play