I wish I could get away with calling myself a 'gamer'. I'm much more of casual player but I know some pretty intense and awesome girl gamers so I'm dedicating my gamer girl post to them right now.
Oneword's latest round is dedicated to all things 'gamer' and you still have a couple of days before it closes on the 15th September to get some gamer goodies into you inventory.
Elephante Poses released the Gamer pose pack that comes with these cute little bubble props. I loved the 'Check Point' one but there are other phrases with other poses available too.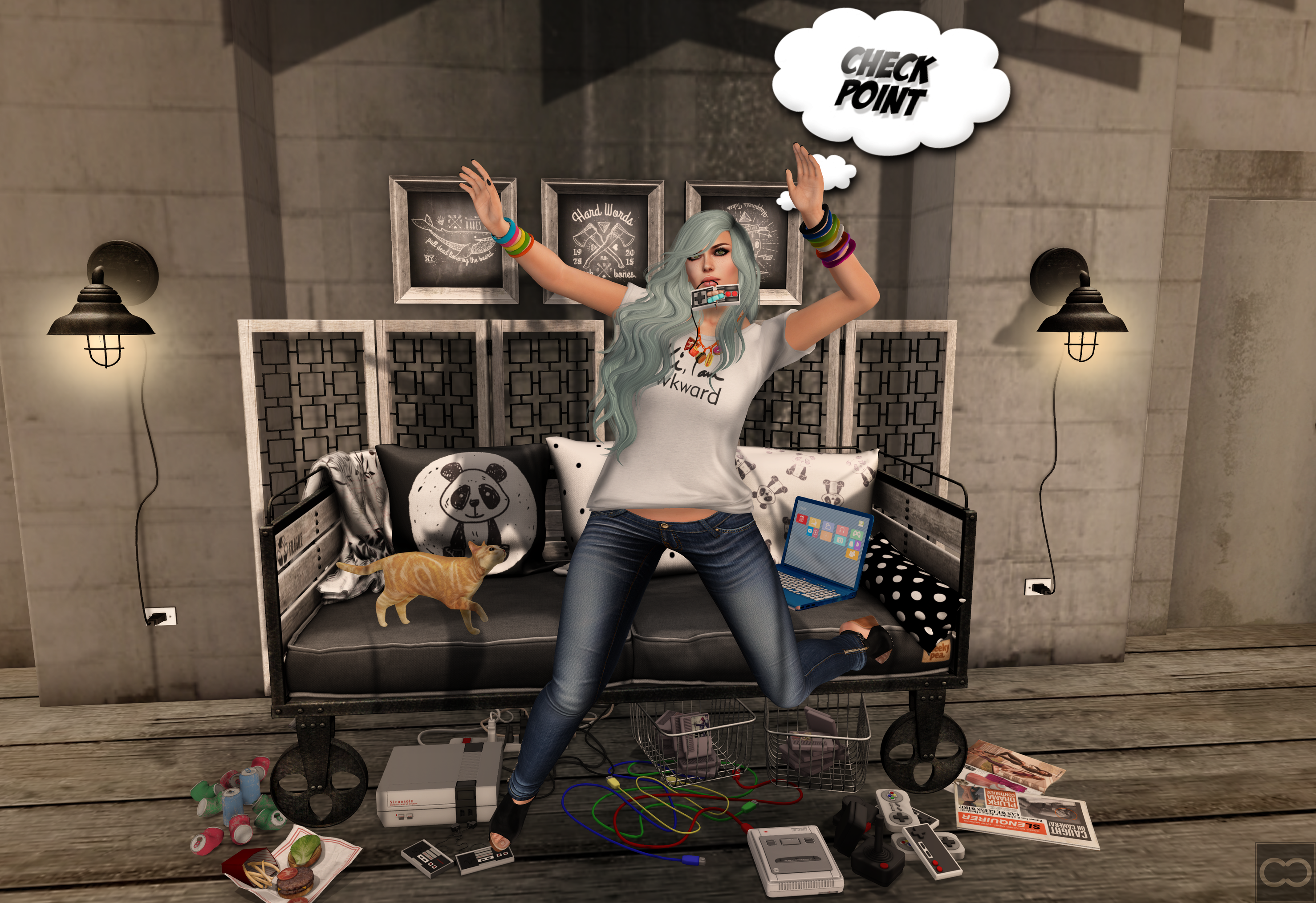 The adorable little couch with the panda cushions is the Repurposed Mono Panda Daybed from Cheeky Pea. You can grab this, and the rest of the Repurposed Mono Set from The Men's Dept. You have a choice of PG or Adult animations too. Grab the set and save yourself a few lindens or go for the individual pieces that most tickle your fancy!
Happy Shopping!
Pic 1:
Shirt -
Erratic
- Mindy T-shirt - Awkward White
Pants -
Blueberry
- Mia Jeans - Vox
Shoes -
Reign
- Kaydence Wedges - Black
Necklace -
Yummy
- Junk Food Charm Necklace
Bracelets (left) -
Izzie's
- 80's Rainbow Bangles
Bracelets (right) -
Erratic
- Triangle Stacked Bangles
Mouthie -
Geek
- A Geek's Tragedy Mouffie
Hair -
Truth
- Josette W/Bangs - Colours Pack
Skin -
League
- Erin Pale - Feline
Eyes -
Ikon
- Triumph Eyes - Moor
Eyelashes -
Mon Cheri
- Falsies Eyelash
Body -
Maitreya
- Lara Mesh Body - Includes Hands & Feet (with League appliers)
*Pose -
Elephante Poses
- Gamer - Check Point @
Oneword
H&G items:
*Couch -
Cheeky Pea
- Repurposed Mono Set - Panda Daybed @
The Mens Dept
*Screen -
Cheeky Pea
- Repurposed Mono Set - Screen @
The Mens Dept
*Lights -
Cheeky Pea
- Repurposed Mono Set - Wall Light @
The Mens Dept
*Artwork -
Cheeky Pea
- Repurposed Mono Set - Whale, Axe & Skull Funk @
The Mens Dept
Cans -
Kalopsia
- Cans Mess
Burger Meal -
Pilot
- Burger Meal
Cat -
Fashionably Dead
- Cat 12 Curious
Console (left) -
Cheeky Pea
- Playing Games Console
Power Strip -
Second Spaces
- Geeky Powerstrip With Cords
Cables -
Second Spaces
- Geeky Loose Cables
Console (right) -
Standby Inc
- Super Life Console
Game Cartridges -
Second Spaces
- Geeky Old School Game Cartridges (baskets part of couch)
Controllers -
Second Spaces
- Geeky Game Controllers
Laptop -
Boom
- Super Magical Portable Internet Machine - Octo RARE
Magazines -
Erratic
- Lazy Sunday Morning - Magazine & Newspaper
Building -
Frogstar
- Whiteout Industrial Loft