Neve is a brand new brand from the creators of ColdLogic. I should hope you're all familiar with ColdLogic by now and if you're not now is the perfect time to get acquainted.
Neve will slowly replace ColdLogic but don't worry, you won't be losing your favourite ColdLogic creations, they'll still be available for a while. However Neve will be doing something new that I think will excite most of you... mesh body support!
All the new releases from Neve will include Fitmesh for Maitreya Lara, Belleza Isis, SLink Physique and of course your usual standard sizes (no Large size sorry ladies). Each item comes in a mini pack of four colours on a hus so no more spending ages desperately trying to pick a colour.
I grabbed two of the new dresses on offer, the first being the Frill Dress.
I went for the Daisy option because the cute little floral print was too cute to pass up. The hud allowed me to change the colour of the skirt, shirt and belt separately.
Since I'd been for a little shopping trip around FaMESHed I decided to team it with this adorable Becca Hair from Mina. I love the brushed back style, it's something I could never pull off in RL so I'm more than happy to rock it in SL. All the usual Mina colour packs are available, this colour being in the Dark Reds pack.
The shoes with the socks are from Reign, you can also find them over at FaMESHed. I was gifted these for my birthday by the ever adorable Amadeo. Thanks sexypants! They come with a hud that lets you flip between white, grey and black socks and they come in fitmesh versions to fit over the most popular mesh bodies.
The second dress I grabbed from Neve was the Ballerina Dress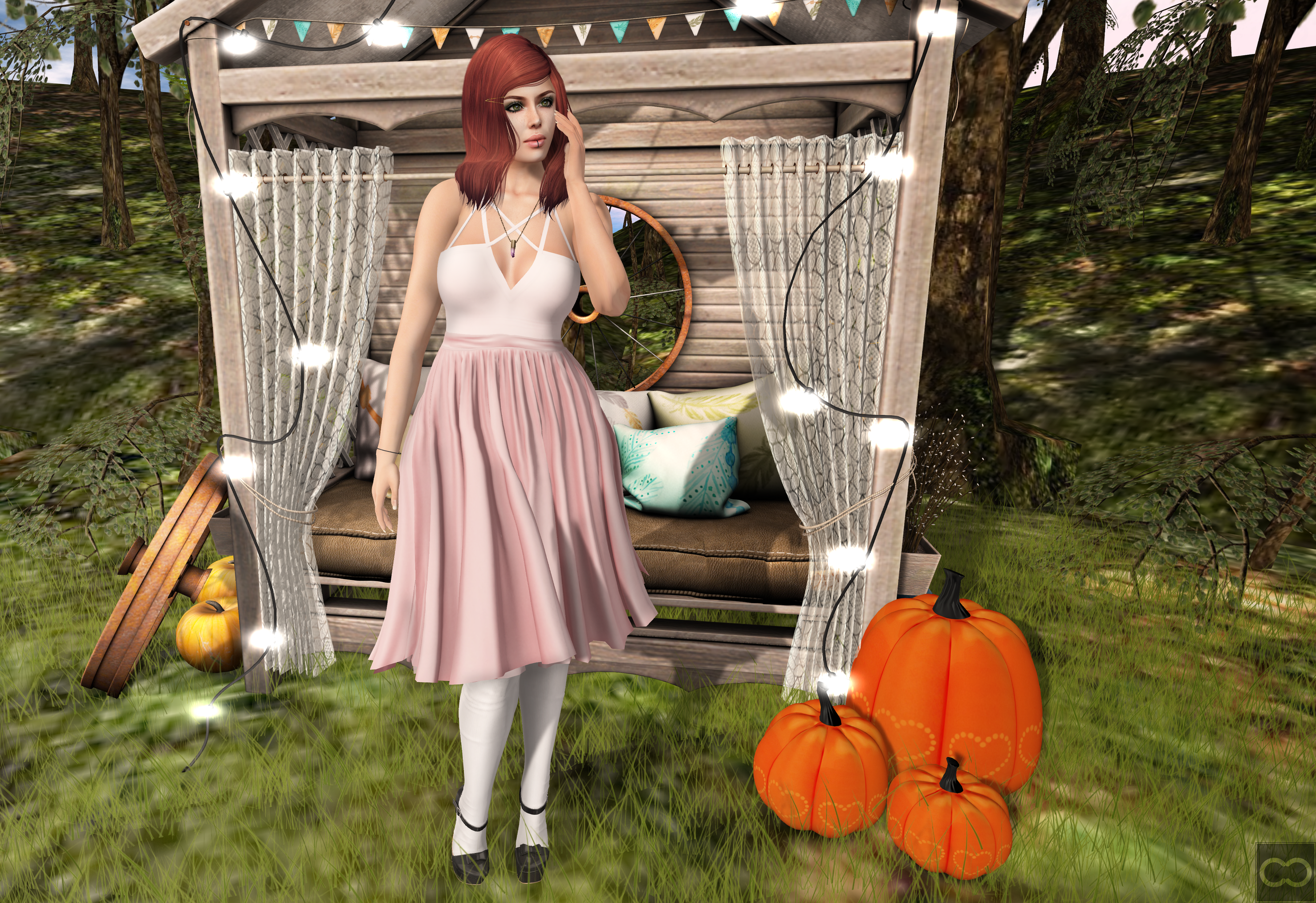 The gorgeous floaty femininity of this dress is irresistible. As soon as I tried the demo I made noises that are usually reserved for burgers heading in my direction. I made grabby hands for the Lively Pack and then oops it was in my inventory. How did that happen?
The hair is from Little Bones at FaMESHed and is the Beau style. I'll give you one guess which colour pack I went with. Yup, the Reds Pack. I like the new style of hud on the Little Bones hair because it lets you play around more.
The cute little bench with the lights and curtains is the Watercolour Canopy from Cheeky Pea. You can choose PG or Adult animations and the lights and curtains are optional and rez from a menu inside the canopy itself.
If you wanted to get your hands on the little heart decorated pumpkins then once you've finished shopping at FaMESHed and filled your dress needs over at Neve then hop on over to Imeka and you can get the Lovely Pumpkin pack there as part of the Mix event.
I hope to see more from Neve soon and you can find them at the usual ColdLogic LM!
Happy Shopping!
Pic 1:
Dress -
Neve by ColdLogic
- Frill Dress - Daisy
Shoes/Socks -
Reign
- Dolly Plats - Black @
FaMESHed
Necklace & Earrings -
Yummy
- Boho Beaded Necklace & Earrings - White/Gold
*Hair -
Mina
- Becca - Dark Reds Pack @
FaMESHed
Skin -
League
- Erin Pale - Mint
Eyes -
Ikon
- Triumph Eyes - moor
Eyelashes -
Mon Cheri
- Falsies Eyelash
Ears -
CheerNo
- Human Ears - Tragus
Body -
Maitreya
- Lara Mesh Body - Includes Hands (with League appliers)
*Pose -
Kirin
- Yuka - Pose 4
Pic 2:
Dress -
Neve by ColdLogic
- Ballerina Dress - Lively
Shoes/Socks -
Reign
- Dolly Plats - Black @
FaMESHed
Necklace -
Yummy
- Rough Crystal - Purple
Hair -
Little Bones
- Beau - Reds Pack @
FaMESHed
Skin -
League
- Erin Pale - Mint
Eyes -
Ikon
- Triumph Eyes - moor
Eyelashes -
Mon Cheri
- Falsies Eyelash
Body -
Maitreya
- Lara Mesh Body - Includes Hands (with League appliers)
*Pose -
Kirin
- Aki - Pose 6
H&G items:
*Covered Bench -
Cheeky Pea
- Watercolour Canopy @
FaMESHed
*Pumpkins -
Imeka
- Lovely Pumpkin - Style 3 (front left), 4 (back) & 2 (front right)