Happy September everyone! September 1st is my birthday so that's why you didn't see my face here yesterday but I had a lovely day, lots of love on Plurk and all the yummy foods in my face.
Thanks to everyone who wished me a Happy Birthday. You're all lovely!
So I did a quick trip around No21 because I knew that Tee*fy had the perfect little party dress for my birthday celebrations with my SL friends.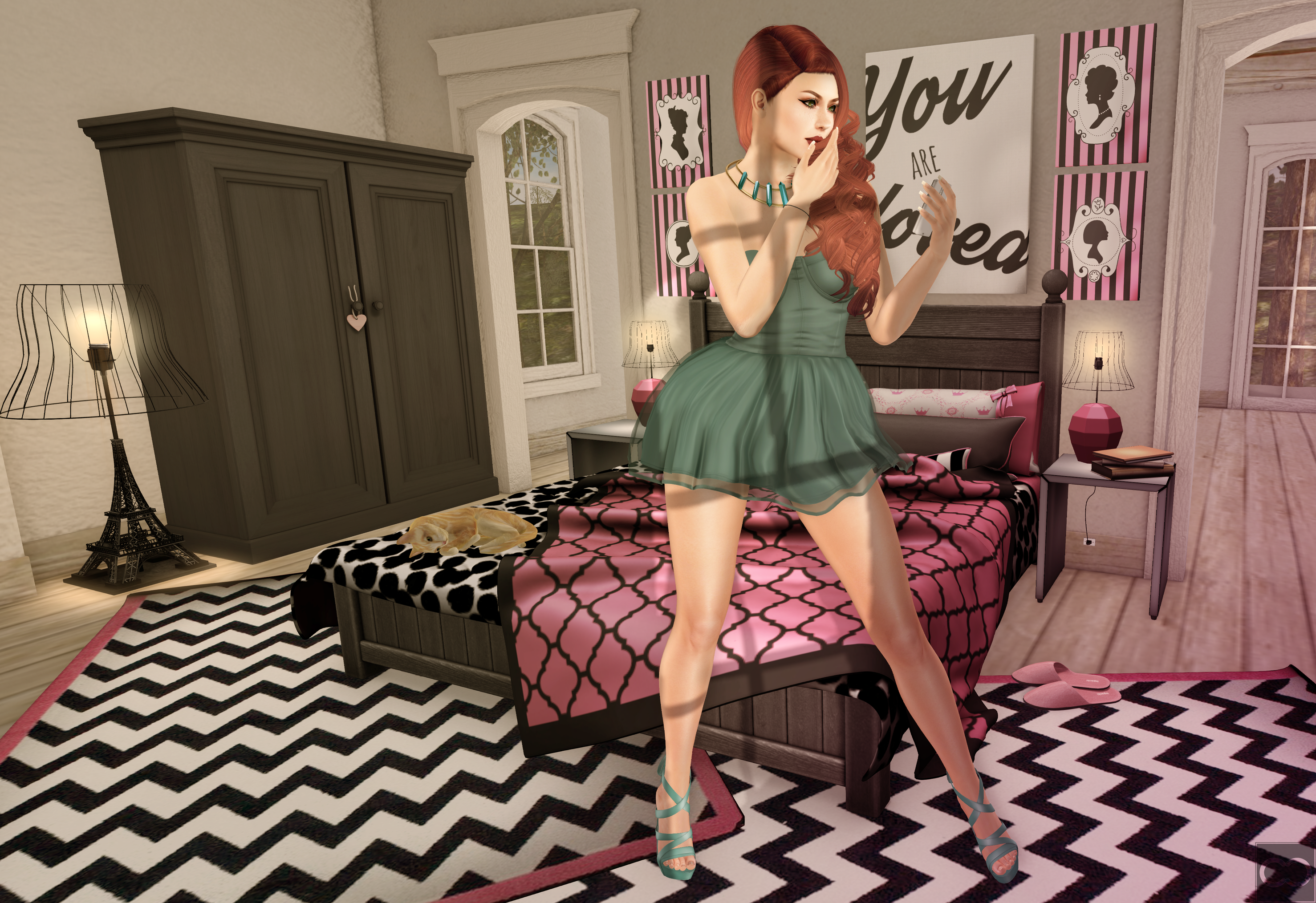 The Sofia Dress is gorgeous and short with just the right amount of frill. I love the bodice that looks like a corset too. It comes in standard sizes and with fitmesh for the Maitreya Lara. I went for the Emerald, which isn't as dark as it might sound, and it was perfect!
Little Bones helped me complete my outfit with the side swept House style in the Reds Pack. I almost always get the Reds pack but they have some awesome colour packs for those of you who love something a bit more attention grabbing.
The Narc Necklace you can find at the Modern Couture booth if you hop on over to The Fantasy Collective. The big chunky crystals demand to be noticed and I made some rather unflattering grabby hands for the Acqua colour.
Not only did I end up with a new dress but an entire new bedroom thanks to Cheeky Pea.
The Mimi's Bakery Bedroom is quite possibly the more adorable bedroom set I've ever seen in SL. The pink and the frills and the everything! I can't explain how much I just want to squish this set. SQUISH IT! The bed comes with PG or Adult animations and as usual you can purchase the pieces on their own or grab the pack to save yourself a few lindens!
No21 will be closing on September 11th and The Fantasy Collective on September 15th so you still have a few days to go and grab anything that takes you fancy!
Happy Shopping!
Dress -
Tee*fy
- Sofia Dress - Emerald @
No21
*Necklace -
Modern Couture
- Narc Acqua Necklace @
The Fantasy Collective
Hair -
Little Bones
- House - Reds Pack @
No21
Skin -
League
- Erin Pale - Natural (with Erin tintable lipstick)
Eyes -
Ikon
- Triumph Eyes - Moor
Eyelashes -
Mon Cheri
- Falsies Eyelash
Body -
Maitreya
- Lara Mesh Body - Includes Hands & Feet (with League appliers)
*Pose -
Exposeur
- Pin Up Selfie - 1 Mirrored (includes phone)
H&G items:
*Bed -
Cheeky Pea
- Mimi's Bakery Bedroom Set - Bed @
No21
*Rug -
Cheeky Pea
- Mimi's Bakery Bedroom Set - Rug @
No21
*Side Tables -
Cheeky Pea
- Mimi's Bakery Bedroom Set - Table @
No21
*Lamps -
Cheeky Pea
- Mimi's Bakery Bedroom Set - Lamp @
No21
*Books -
Cheeky Pea
- Book Decor Dollarbie Shortstack @
No21
*Sihouette Art -
Cheeky Pea
- Mimi's Bakery Bedroom Set - Silhouettes 1, 2, 3 & 4 @
No21
*Cookie Cutter Art -
Cheeky Pea
- Mimi's Bakery Bedroom Set - Framed Cutter Art @
No21
*Loved Art -
Cheeky Pea
- Mimi's Bakery Bedroom Set - Message Art @
No21
Cat -
Fashionably Dead
- Cat 02 Sleeping Curled
*Wardrobe -
Brixley
- Heart Wardrobe
*Eiffle Tower Lamp -
Cheeky Pea
- Eiffel Lamp - Black
Building -
Llorisen
- Lils Shotgun Cottage