Whore Couture is back for their fourth instalment and has been open for a while now so hopefully all the rush will have died down. Their doors will still be open until the 31st March so you have two weeks to take your butt down there and grab some bits.
I've been having way too much fun saying Whore Courture 4. WhooooreeeCoutuuuurreeeFoooouuurr! Yeah I know, I know. I need to get outside me. But seriously it's fun to say... a lot.
Onto the goodies...
Since I've gotten my SLink Physique and my Maitreya Lara mesh bodies I've been embracing some applier based clothing that maybe I would have passed over on a basic system layer. Appliers allow the texture to be much more crisp and detailed, more like mesh, than a basic system layer.
So my first purchases were the Amber Top and Amber Bottom from So-Hai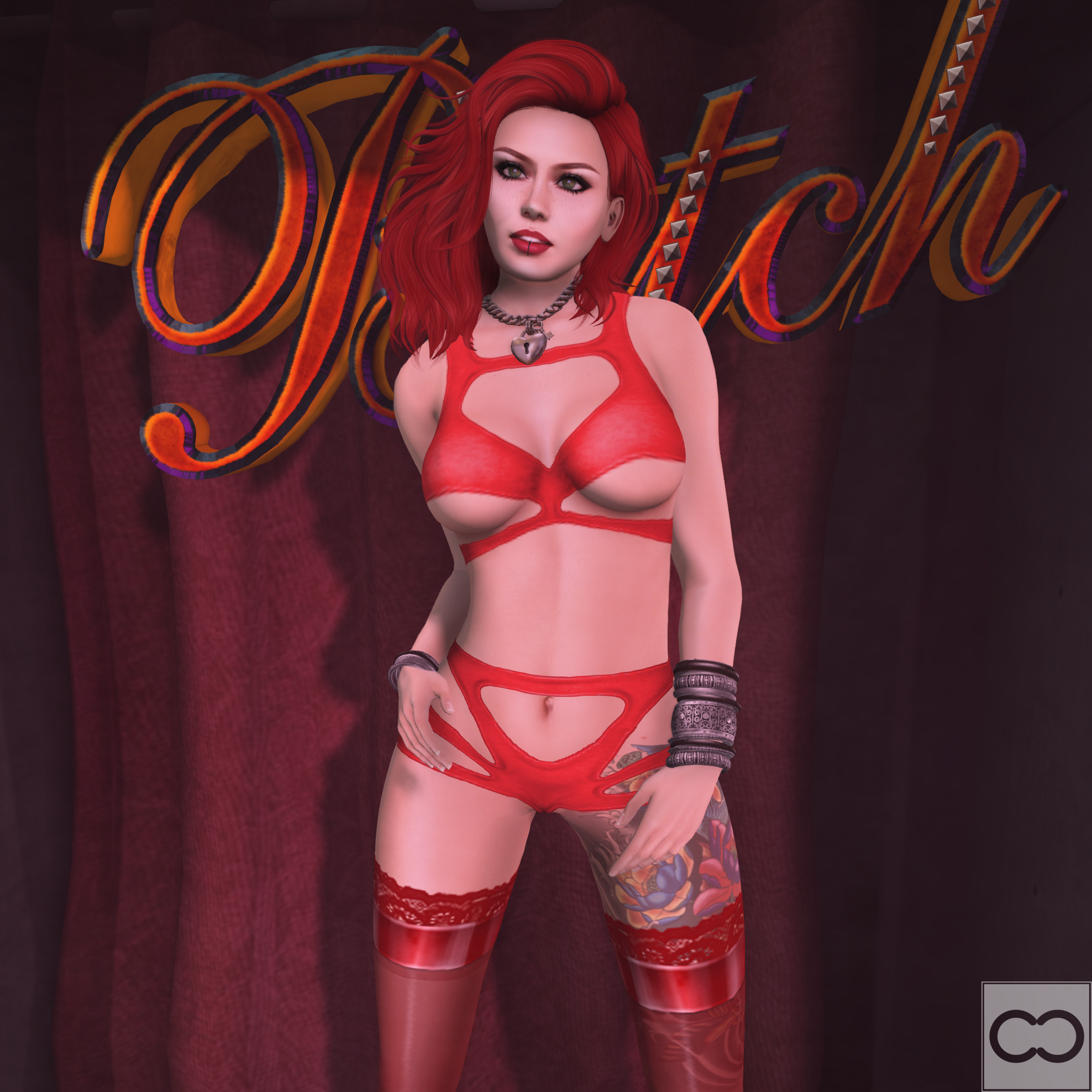 You purchase the top and bottom separately so you can mix and match the colours on offer or buy two the same colour for more of an outfit look. It comes on appliers for SLink Physique or for the Omega system that covers pretty much every other mesh body and part on the market.
The stockings are a great little Freebie from Avanti. The Whore Couture Four Stockings can be grabbed while you're having a wander around. They come in system layers or on Omega, Maitreya, Belleza and SLink appliers so you're covered for your mesh body. I always love it when designers pop a lovely little freebie out at a fair and it's something that you know you're going to get decent use out of.
The other outfit I grabbed was from Beautiful Dirty Rich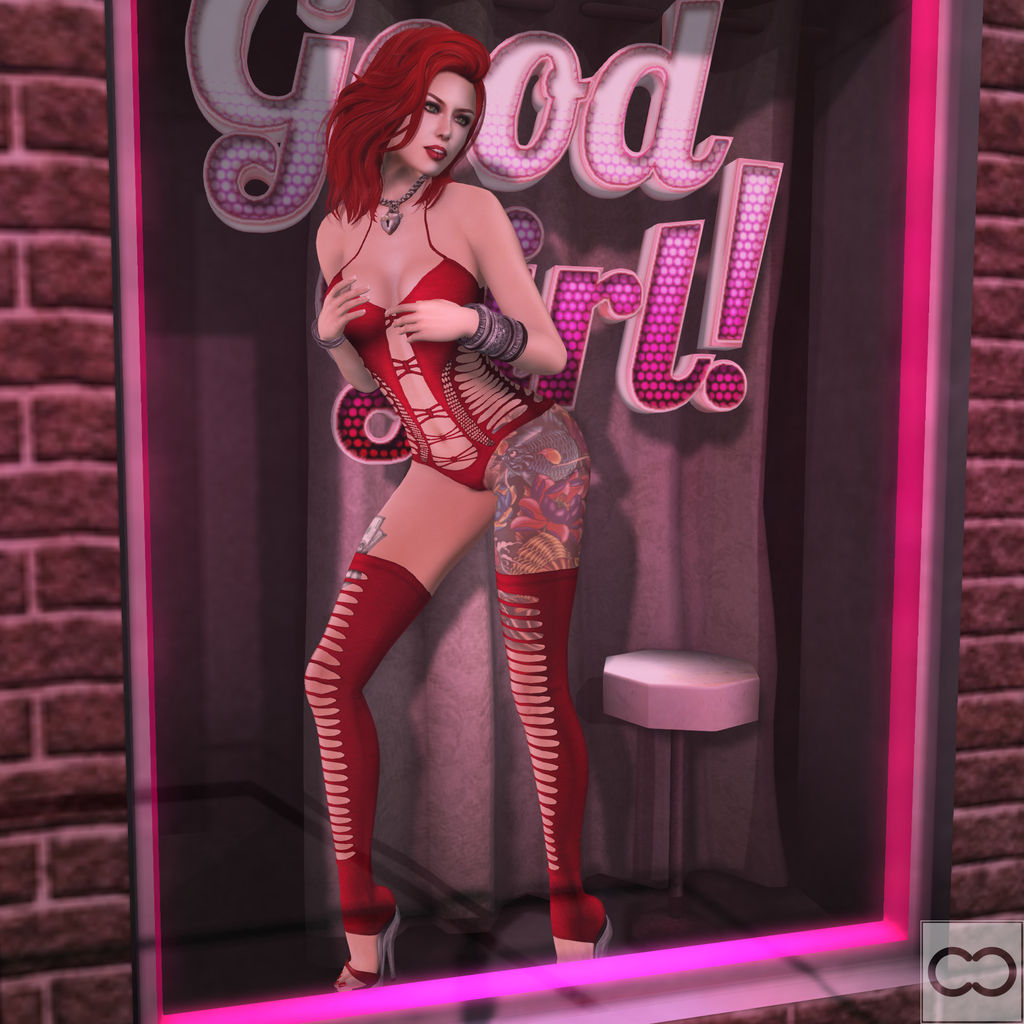 The It's Rainin' Hundreds outfit comes with a hud that includes appliers SLink, Lena, WowMeh, Maitreya, Lolas and Omega. So I'm pretty sure your body is going to be covered under one of those. If you don't have a mesh body then of course there are standard system layers for you. The outfit includes a pair of shoes that fit the SLink high feet too. So this really is a full outfit and one available in lots of bright, attention grabbing, colours too.
The awesome pose prop that I used is the Red Light Showcase from Exposeur. This is also down at Whore Couture and not only includes the pose prop with the doorway, steps and windows but also an entire street piece so you can make your own scenes to take pictures in.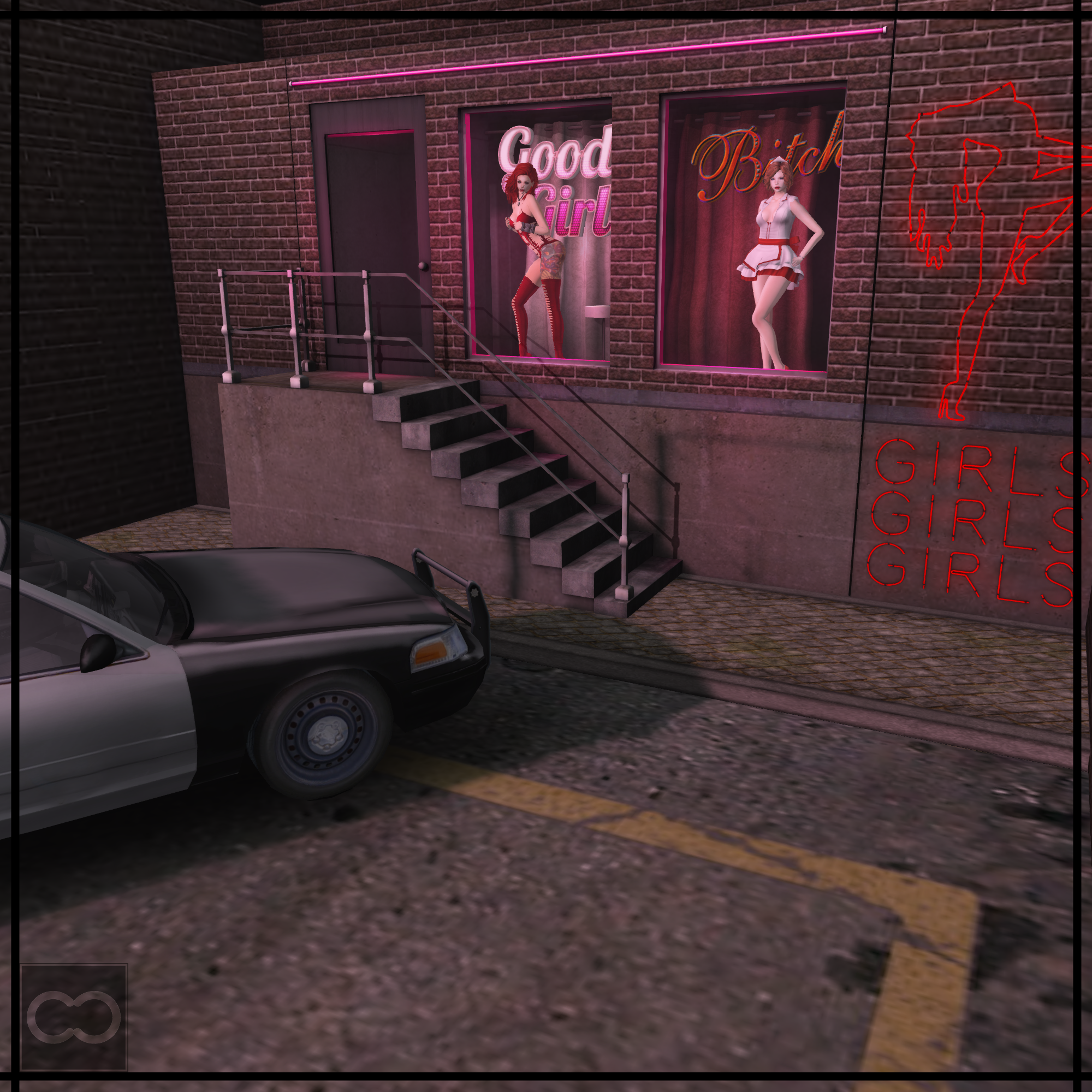 I added a cop car I found on the Marketplace a long time ago and a piece of road from the Urban Road Pack from Tampon Inside. Play with it, add your own things and make sleazy back street strip club scene!
Happy Shopping!
Pic 1:
Top -
So-Hai
- Amber Top - Red @
Whore Couture
Shorts -
So-Hai
- Amber Bottom - Red @
Whore Couture
Stockings -
Avanti
- Whore Couture Four Stockings - Red (gift) @
Whore Couture
Necklace -
Yummy
- Chunky Heart And Key - Silver
Bangles -
Maxi Gossamer
- Damasc Bangles - Silver
Tattoo -
Tattoo Mania
- Lick (appliers version)
*Hair -
Truth
- Bexley - Colour Pack
Skin -
League
- Erin Pale - Feline (with Erin tintable lipstick)
Eyes -
Ikon
- Charm Eyes - Moor
Eyelash -
Mon Cheri
- Falsies Eyelash
Teeth -
Whatever
- Teeth 2.0 - Gem Piercing
Body -
Maitreya
- Lara Mesh Body - Includes Hands (with League appliers)
*Pose Prop -
Exposeur
- Red Light Showcase @Whore Couture
Pic 2:
Lingerie -
Beautiful Dirty Rich
- It's Rainin' Hundreds - Red (includes shoes) @
Whore Couture
Necklace -
Yummy
- Chunky Heart And Key - Silver
Bangles -
Maxi Gossamer
- Damasc Bangles - Silver
Tattoo -
Tattoo Mania
- Lick (appliers version)
*Hair -
Truth
- Bexley - Colour Pack
Skin -
League
- Erin Pale - Feline (with Erin tintable lipstick)
Eyes -
Ikon
- Charm Eyes - Moor
Eyelash -
Mon Cheri
- Falsies Eyelash
Teeth -
Whatever
- Teeth 2.0 - Gem Piercing
Body -
Maitreya
- Lara Mesh Body - Includes Hands (with League appliers)
Feet -
SLink
- Avatar Enhancement Mesh Feet - High (with League appliers)
*Pose Prop -
Exposeur
- Red Light Showcase @
Whore Couture
H&G Items:
Bitch Sign -
DeviousMind
- Redlight Neon Sign - Hellfire Bitch
Good Girl Sign -
DeviousMind
- Redlight Neon Sign - Good Girl
Neon Dancer -
Seven Emporium
- Dancer Neon
Neon Girls -
Seven Emporium
- GirlsGirlsGirls Neon
*Alley Scene -
Exposeur
- Red Light Showcase @
Whore Couture
Cop Car - Found on Marketplace but seems to be gone now (sorry!)
Road -
Tampon Inside
- Urban Road Pack - End Piece