I'm leaaaaavvvinnnggg on a jet plane, don't know when I'll be back again...
ALL TOGETHER NOW!
Leeaaavvvvvinnnnnggg on a jet planeeee...
Now that you have that earworm to keep you going for a few hours let's take a peek at some of the goodies from the brand new round of The Liaison Collaborative. They've got a fantastic new build and a new location so don't forget to update your landmarks. The theme is Bon Voyage. Very fitting considering their big move.
Haste have got you covered for the upcoming summer months with a cute little swimsuit.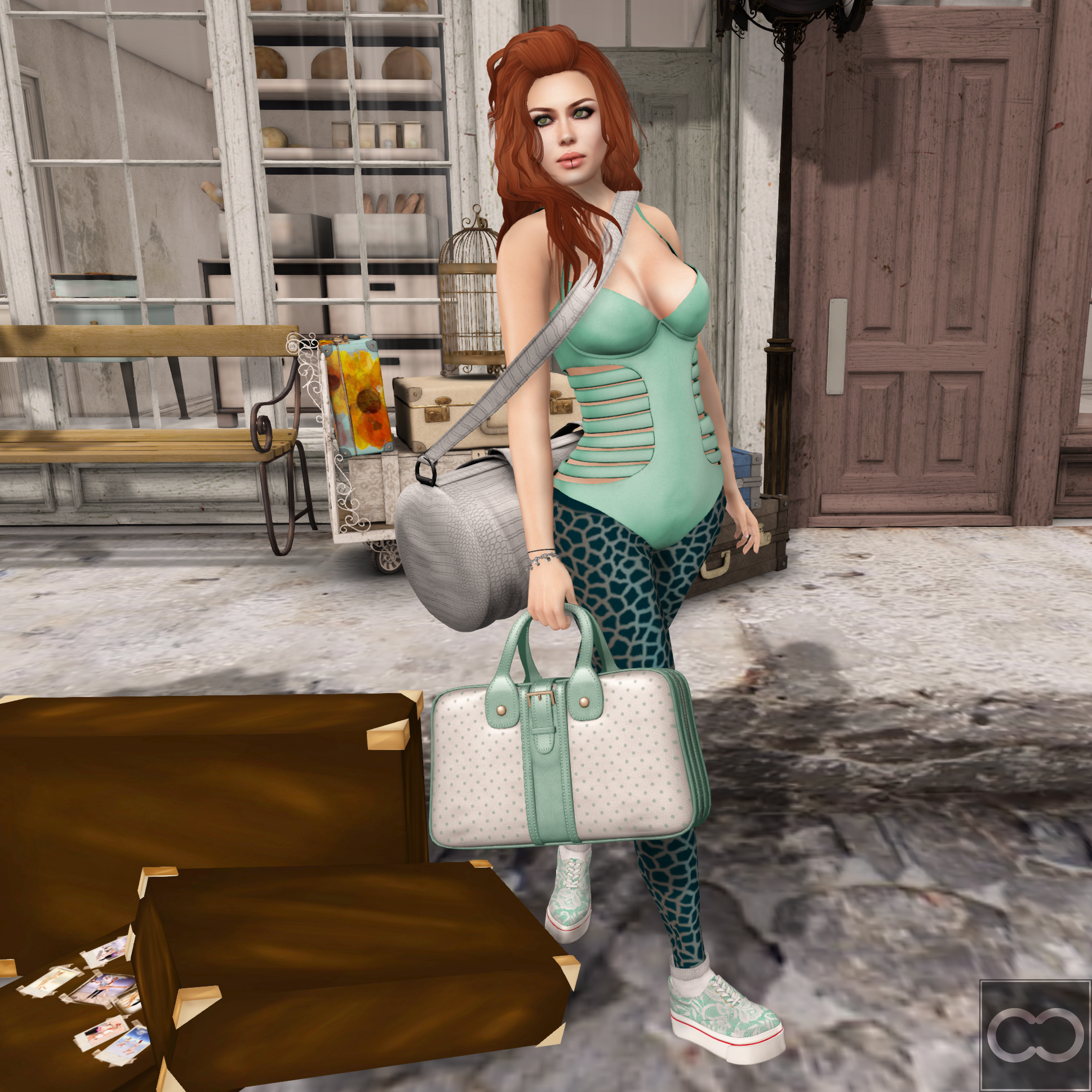 The Riviera Swimsuit has lots of colours to choose from and comes in all your usual standard sizes. It's a great swimsuit and would leave you with some very interesting tan lines or if you wanted to throw on some leggings or tights like I have then it becomes and equally awesome bodysuit too.
Because the mint swimsuit was so pretty I had to throw on the Weekender bag from Izzie's in this adorable Dots Mint colour. How cute is this?! I wish I had a RL bag that was this cute because I'm off on my own overnight trip in RL soon and I'd love to rock up with a bag this awesome. It comes with poses for the left and right hand and a pose with both hands in the front. A no pose version is also included. You have so many colours to choose from with this bag so I'm championing the Dots Mint as my personal favourite!
If you're more of a duffle bag kind of person then you can grab the Croc Embossed Duffle Bag from Represent. You have a choice of black or white and is resizeable so it works for men or women. Unisex item win!
Damselfly impressed me with their Gardner style for TLC. I love the brushed back fringe (or bangs) and loose, messy style. Not too straight but not completely curly either. Too cute. I went for the Light Reds And Faded pack but they've pretty much got every colour you can imagine covered in their colour packs so you'll end up finding yours in there somewhere.
The pose prop is the Road Less Travelled from Elephante Poses. It's the little brown pile of suitcases on the floor and it's got a bunch of poses that will work for travelled themed pictures or even for things like moving house, packing up your winter clothes... have fun with it, use your imagination, make awesome pictures!
If you're like me travelling light is a near impossibility but if you only get to have one suitcase and want some fanastic poses to go with it then grab yourself the Ramblin' On Set 2 pack from Exposeur.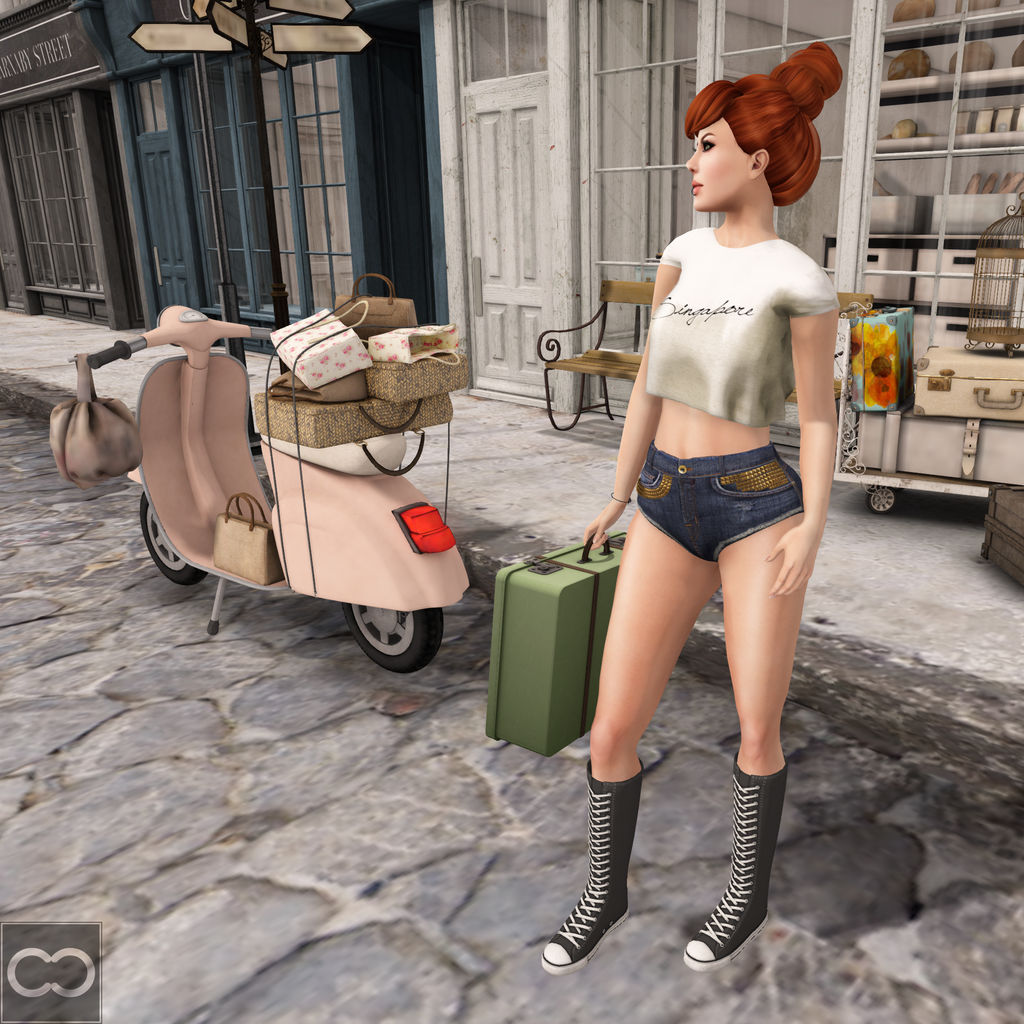 Of course the suitcase is included and the mirrors of each of the poses so this is a great set to have in your inventory. You could even use the poses with your own bags as they've also included the poses in the pack that don't require you to wear the prop.
The little top I'm wearing is from ANE and is the Bon Voyage Backless Top. It has a very pretty back with little lacy bits and a tie hanging down from the neck. Go try the demo to see how pretty it is. Each top has a major city on the front and includes a plain, white lace or black lace version. I went with Singapore in the plain version.
If you prefer more of an updo hair than something as loose as the Damselfly hair the Entwined has released this pretty pretty and neat bun style called Bella. I like the two stacked buns style the hair has compared to other bun styles I've seen in the past with just one bun. It's a welcome addition to my inventory and their colour packs are great too!
There some fantastic home and garden items out for this round so I'm going to show you a bunch in this post and then some more later on when I post my Part 2 of The Liaison Collaborative.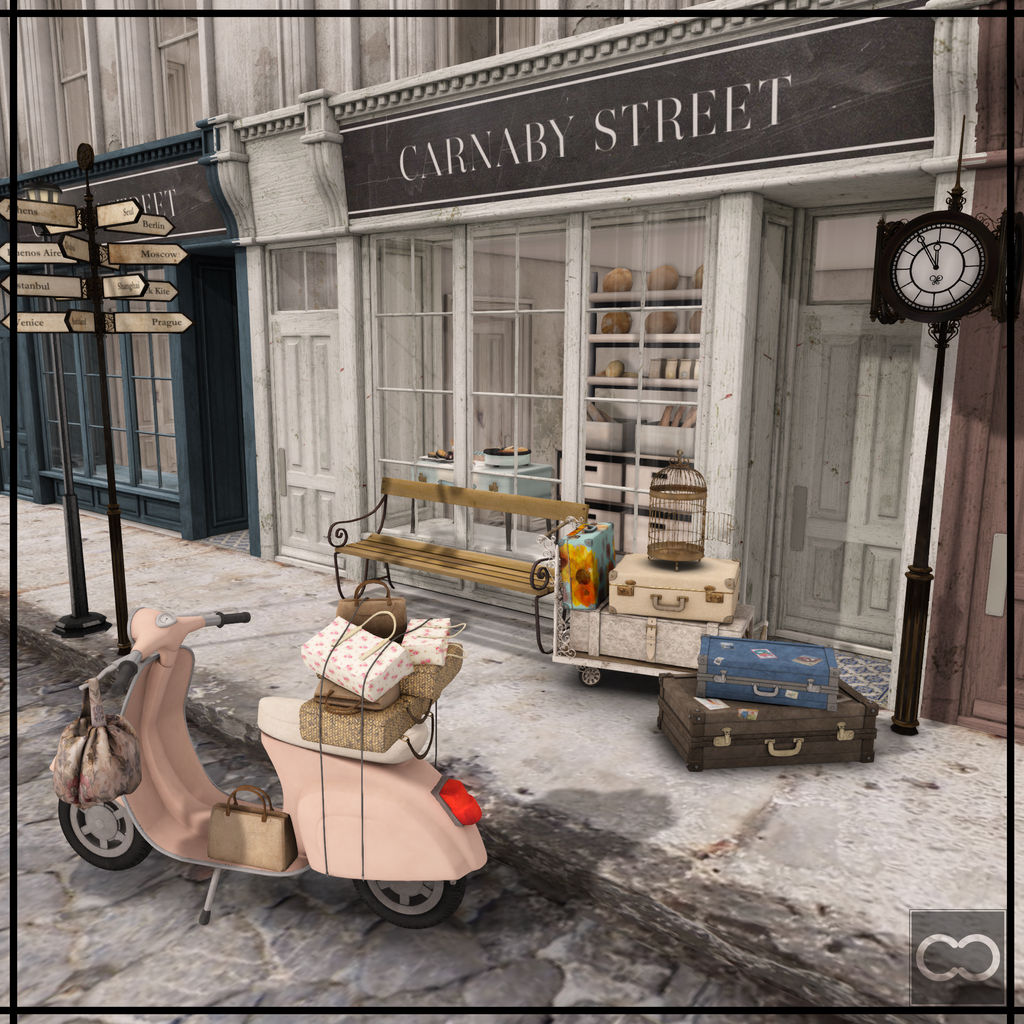 My favourite piece is definitely this gorgeous retro looking Dolce Vite Scooter from Kalopsia with all the luggage tried on the back. You'll get a version that is for decor, but it actually includes some awesome poses too so technically it's a pose prop, and a version that is driveable. So you really can hop on your scooter and drive away. It has a menu that allows you to change the colour when you click it so if pink isn't your thing there's bound to be a colour in there that is more you!
There are lots of great suitcases in this round to be used for decor but Frogstar and 8f8 produced my favourites. The brown and blue suitcases are the Transient Luggage from Frogstar and the suitcases on the trolley are the Unexpected Journey All My Stuff Luggage Trolley for Her from 8f8. The little cage is a separate piece that is also available from 8f8.
8f8 didn't just stop at luggage they also are responsible for the High Time Clock and the Middle Of Nowhere Sign. The sign especially makes me wish I had a sim where I could rez this out permanently. It reminds me of the signs I see in the city that confuse the crap out of me! lol.
More from The Liaison Collaborative soon so keep watching!
Happy Shopping!
Pic 1:
*Swimsuit -
Haste
- Riviera Swimsuit - Mint @
The Liaison Collaborative
Tights -
Izzie's
- Giraffe Tights - Teal
*Shoes -
Baiastice
- London Sneakers - Green Lace @
The Arcade
*Handbag -
Izzie's
- Weekender - Dots Mint @
The Liaison Collaborative
*Dufflebag -
Represent
- Croc Embossed Duffle Bag - White @
The Liaison Collaborative
*Bracelet -
Cae
- Wanderlust - Vegas @
The Liaison Collaborative
*Hair -
Damselfly
- Gardner - Light Reds And Faded Pack @
The Liaison Collaborative
Skin -
League
- Erin Pale - Feline (with Erin tinted lipstick)
Eyes -
Ikon
- Charm Eyes - Moor
Eyelashes -
Mon Cheri
- Falsies Eyelash
Hands -
SLink
- Avatar Enhancement Mesh Hands - Bag & Casual (with League appliers)
*Pose -
Elephante Poses
- Road Less Travelled @
The Liaison Collaborative
Pic 2:
*Shirt -
ANE
- Bon Voyage Backless Top - Singapore Plain @
The Liaison Collaborative
Shorts -
Hucci
- Ulnahot Denim Shorts - Dark Wash Frayed
Shoes -
Super Kingdom
- Girl Tops
*Hair -
Entwined
- Bella - Fatpack @
The Liaison Collaborative
Skin -
League
- Erin Pale - Feline (with Erin tinted lipstick)
Eyes -
Ikon
- Charm Eyes - Moor
Eyelashes -
Mon Cheri
- Falsies Eyelash
Hands -
SLink
- Avatar Enhancement Mesh Hands - Bag & Casual (with League appliers)
*Pose -
Exposeur
- Ramblin' On - Set 2 - Pose 5 @
The Liaison Collaborative
Pic 3 - H&G items:
*Scooter -
Kalopsia
- Dolce Vita Scooter @
The Liaison Collaborative
*Floor Luggage -
Frogstar
- Transient Luggage @
The Liaison Collaborative
*Kart Luggage -
8f8
- Unexpected Journey - All My Stuff Luggage Trolley - Hers @
The Liaison Collaborative
*Cage -
8f8
- Unexpected Journey - Bon Voyage Cage - Hers @
The Liaison Collaborative
*Clock -
8f8
- Unexpected Journey - High Time Clock @
The Liaison Collaborative
*Sign -
8f8
- Unexpected Journey - The Middle Of Nowhere Sign @
The Liaison Collaborative
*Street Lamp -
Kunst
- Street Lamp - Black @
The Liaison Collaborative
Bench -
What Next
- Pembury Bench
*Shop -
Apple Fall
- Carnaby Row Store