That's right! You can grow your own Fairy Garden for the bargain price of only 199.95 and 6.95 postage and packing. Each month we'll send you a brand new fairy for your growing garden at an additional 99.95!
I'm kidding! However SL is always providing us with ways to get the things we want and a Fairy Garden is one of the things we can have.
Alouette has their Create Your Own Fairy Garden gacha out at The Arcade.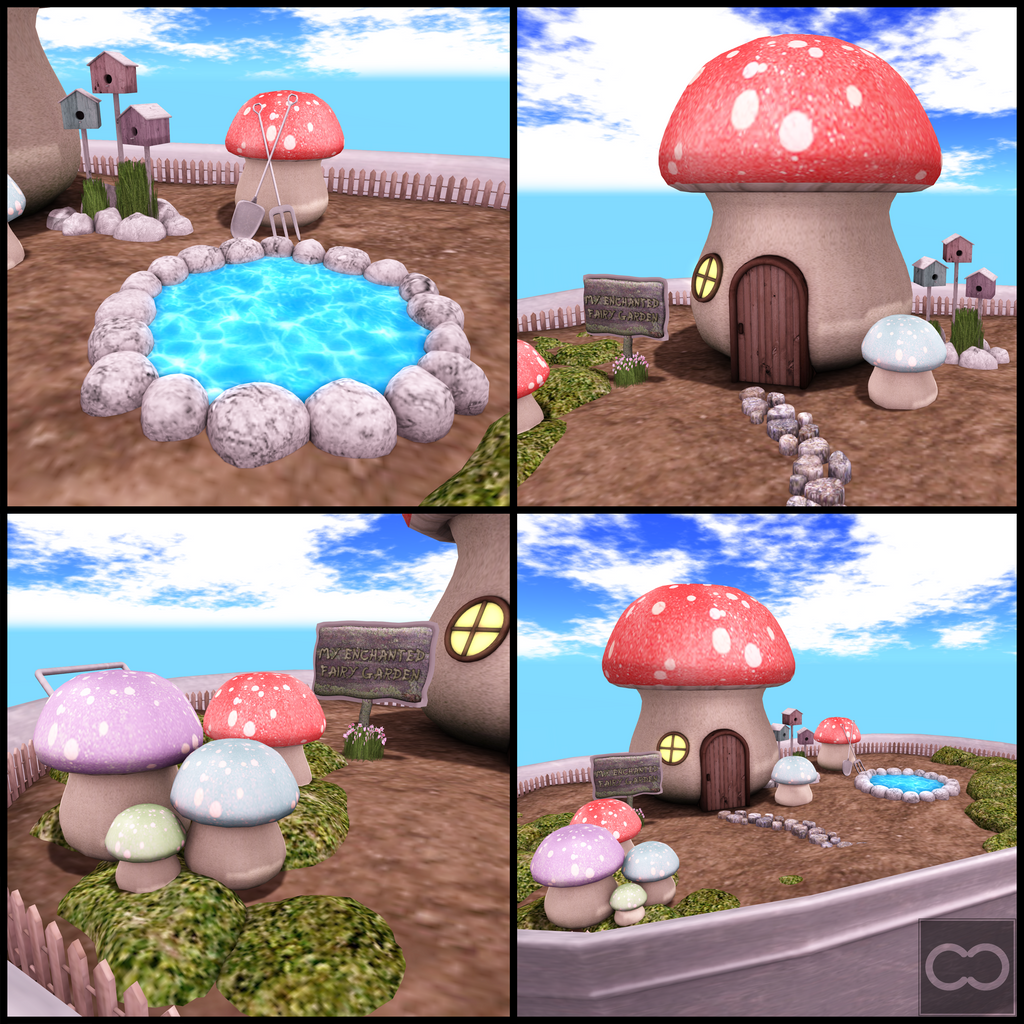 I personally liked the Fairy Metal Basin Base as the foundation of my personal Fairy Garden but of course Alouette has provided you with more than one option to choose from including a suitcase, a birdbath and a plant pot.
You can choose different houses too. I loved the mushroom because it just made me think fairies more than the others but you get the one you like most!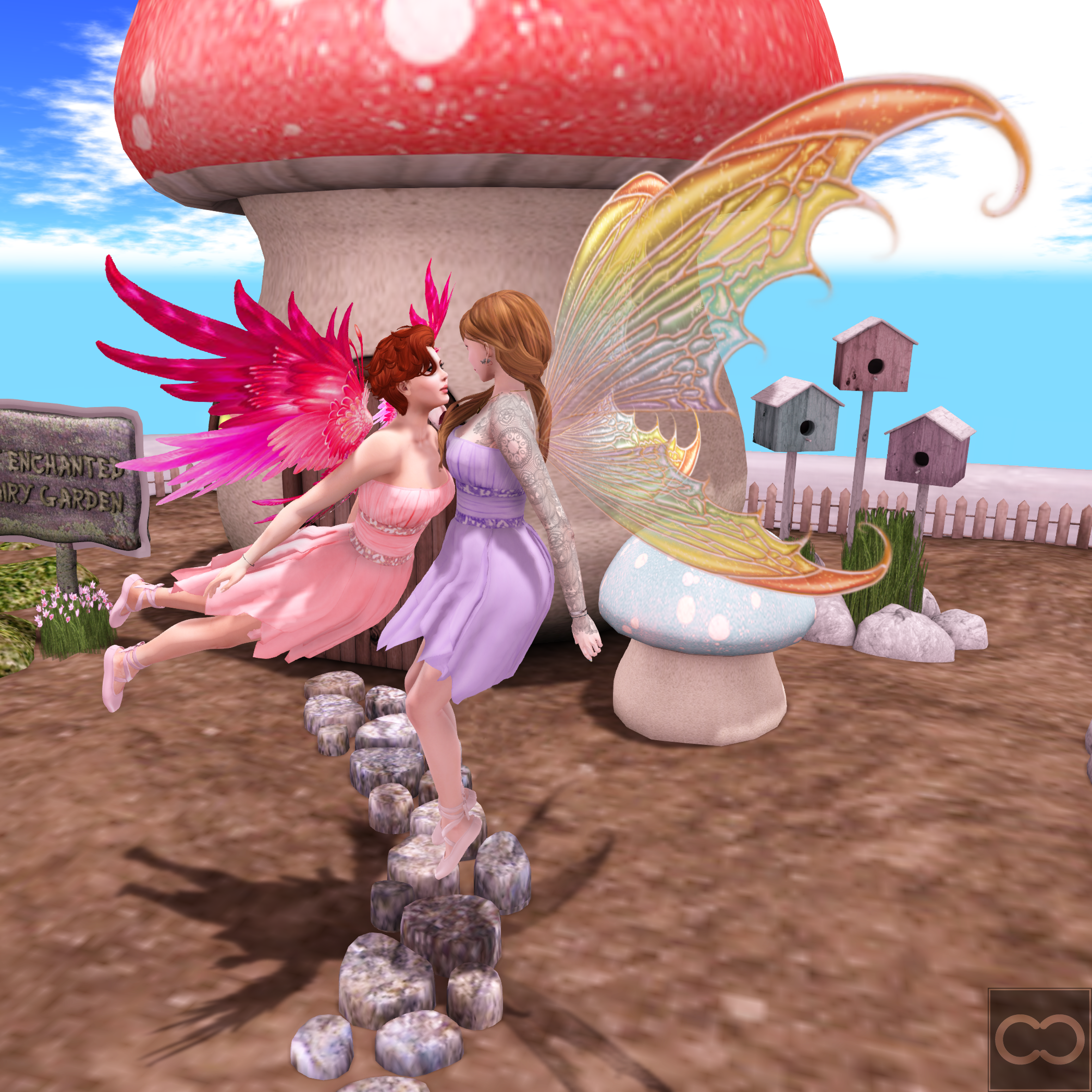 Of course I had to expand the garden up to an enormous size, grab Cat, dress like a fairy and fly around like I lived in it. I had a little bit too much fun. Upsizing Alouette gacha builds is way too much to pass up on but watch those prims... when you make little things big the land impact gets big too!
Happy Shopping!
Cryssie:
Dress -
Meli Imako
- Chiffon Strapless Fairy Dress - Pink
*Shoes -
Ama
. - Pointe Flats - Pink (SLink flat) @
The Fantasy Collective
Wings -
Blokc
- Wings - Pink
*Hair -
Truth
- Tom (female) - Gingers Pack
Skin -
League
- Erin Pale - Feline (with Erin tintable lipstick)
Eyes -
Ikon
- Charm Eyes - Moor
Eyelashes -
Mon Cheri
- Falsies Eyelash
Body -
Maitreya
- Lara Mesh Body - Includes Hands (with League appliers)
Feet -
SLink
- Avatar Enhancement Mesh Feet - Flat (with League appliers)
Cat:
Dress -
Meli Imako
- Chiffon Strapless Fairy Dress - Lilac
Shoes -
Ama
. - Pointe Flats - Nude (SLink flat) @
The Fantasy Collective
Wings -
Deviance
- Rainbow Wings
Tattoo -
Things
- Luturna Tattoo
Hair -
Clawtooth
- La Bella Donna with Flowers - Browns Pack @
The Arcade
Skin -
Pink Fuel
- Doll V2 - Crystal
Body -
Maitreya
- Lara Mesh Body
Hands -
SLink
- Avatar Enhancement Mesh Hands - Casual (with Pink Fuel appliers)
Feet -
SLink
- Avatar Enhancement Mesh Feet - Flat (with Pink Fuel appliers)
*Pose -
Picture This
- Mermaids
*All pieces from
Alouette
- Create Your Own Fairy Garden @
The Arcade
Base - Fairy Metal Basin Base
House - Fairy Mushroom House
Fence - Fairy Fenching - Metal Basin - Worn
Moss - Fairy Moss - Metal Basin
Mushrooms Single - Fairy Mushrooms - Single - Purple, Blue, Red & Green
Tools Mushroom - Fairy Mushrooms - Tools
Group Mushrooms - Fairy Mushrooms - Triple
Sign - Fairy My Enchanted Garden Sign
Path - Fairy Pathway - Curved
Bird Houses - Fairy Bird Houes - Worn
Pond - Fairy Stone Pond