The theme picked for this round of Oneword was Fairytales. If you've ever wanted to be a princess then a quick trip to this round is needed!
Oneword now only runs for 2 weeks instead of a full month. So this round will close on March 15th.
So my first goodie to show is a stunning dress from Wimey.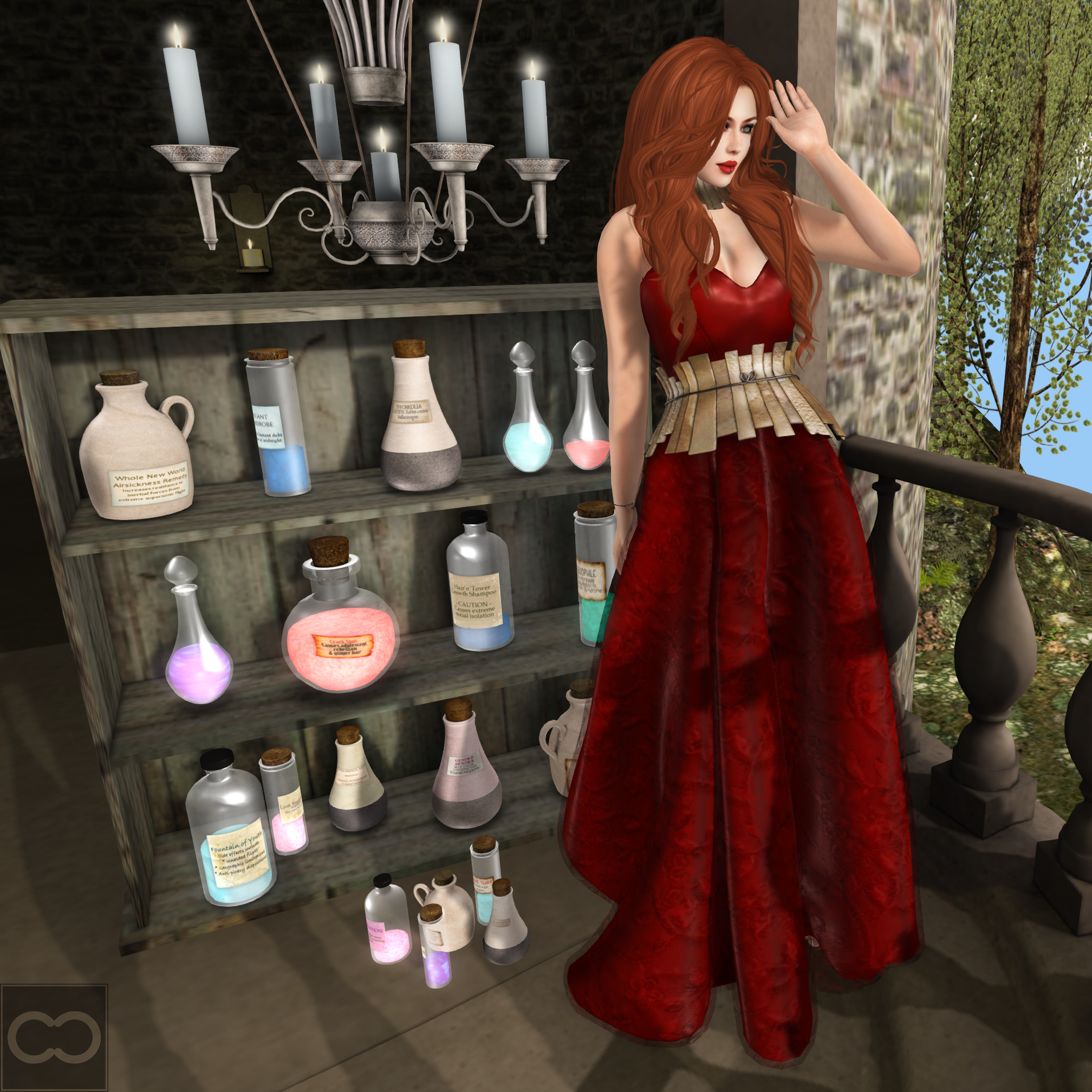 The Frozen Fractals Gown comes in a lot of different colours but each one includes a hud that allows you to change the colour of the gorgeous waist and matching neck piece. The hud also allows you to switch up the colour of the lace layer of the skirt of the dress. I went for red on red because it just looked so pretty but you can pick whichever lace colour you love most.
I normally jabber on about home and garden items at the end of my posts but because I want to show lots of things you can get at the event I swapped and changed around the items for each picture. So the adorable little Potions Cabinet you see in the back there is from Plethora. I sized it up so you could get a really good look at it but I kind of like it this big. I'd love to have giant bottles of potions to dose people with! The extra little bottles are also from Plethora but these were a group gift and you can get them by heading to the Plethora main store and joining the group!
The pose and prop are the Fairytale Tower from Exposeur. You could easily use this as little tower to live in if the fancy took you. It comes with 5 single poses, mirrors included, and 3 couples poses.
Another full length dress available at Oneword is Idun Silk Gown from Cila.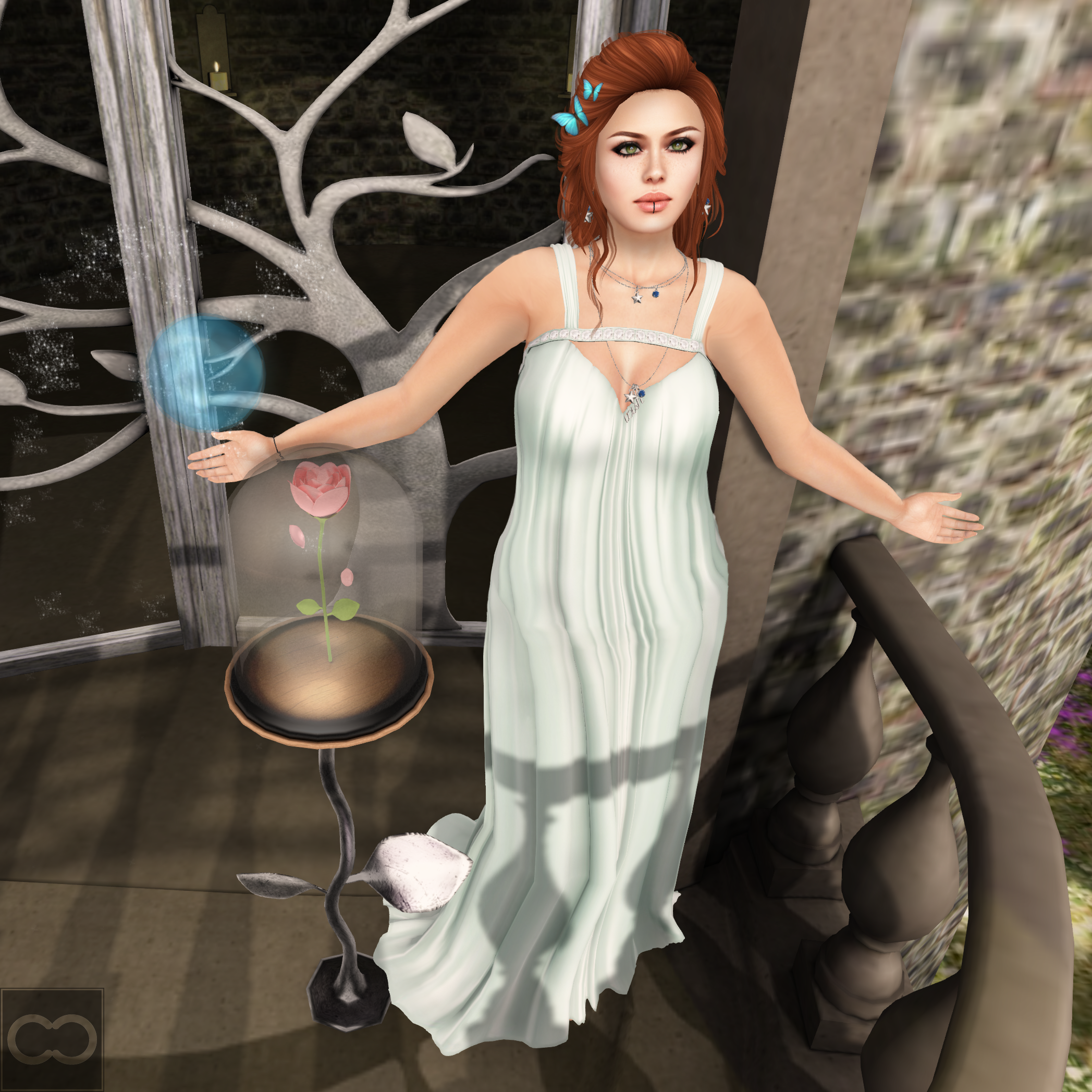 I really like the strap across the front of the dress. It's a little bit different and I think makes the dress stand out a bit more from the others with a similar style. I went for the Mint because it was a gorgeous soft green colour.
The pose is from the Dark Fairy #2 set from Black Tulip. It includes the blue orb and a hud that allows you to show and hide the orbs for each of the poses. You can switch poses with the click of a hud and without having to detach and reattach props.
Every Disney fan will know the story of Beauty And The Beast and of course this pretty little rose in a jar is inspired by Beasts most prized possession. So it makes sense that Cubic Cherry Kreations called this Beast's Treasure. You have a choice of metal and rose colours and it makes a very pretty home decor piece even if you don't like or have never seen Beauty And The Beast.
The pretty and detailed room divider you see peeking out from the darkness is the Fairy Tree Room Divider from Fetch. It's so pretty and I'm loving this piece so much it's going in the perma house!
Happy Shopping!
Pic 1:
*Dress -
Wimey
- Frozen Fractals Gown - Red @
Oneword
*Hair -
Truth
- Avena - Gingers Pack
Skin -
League
- Erin Pale - Feline (with Erin tintable lipstick)
Eyes -
Ikon
- Charm Eyes - Moor
Eyelashes -
Mon Cheri
- Falsies Eyelash
Hands -
SLink
- Avatar Enhancement Mesh Hands - Casual (with League appliers)
*Pose Prop -
Exposeur
- Fairytale Tower @
Oneword
*Chandelier -
Ravenghost
- Evermore Fairytale Luminary @
Oneword
*Potions Shelf -
Plethora
- Potions Cabinet @
Oneword
*Floor Potions -
Plethora
- Extra Potions (group gift)
Pic 2:
*Dress -
Cila
- Idun Silk Gown - Mint @
Oneword
*Jewellery -
Cae
- Wish Earrings & Necklace @
Oneword
*Hair -
Truth
- Delphine - Gingers Pack (includes butterflies)
Skin -
League
- Erin Pale - Feline (with Erin tintable lipstick)
Eyes -
Ikon
- Charm Eyes - Moor
Eyelashes -
Mon Cheri
- Falsies Eyelash
Hands -
SLink
- Avatar Enhancement Mesh Hands - Casual (with League appliers)
*Pose -
Black Tulip
- Dark Fairy #2 - 9 (includes orb) @
Oneword
*Flower -
Cubic Cherry Kreations
- Beast's Treasure - Pink Silver @
Oneword
*Screen -
Fetch
- Fairy Tree Room Divider @
Oneword