So this post is really all about two fantastic bargains that have crossed my path in the last couple of days and while I don't usually blog on a Wednesday I didn't want to hang around and push everything back just to show them off to you. So here I am, on my usual day off, bringing you a quickie post to make sure you don't miss out.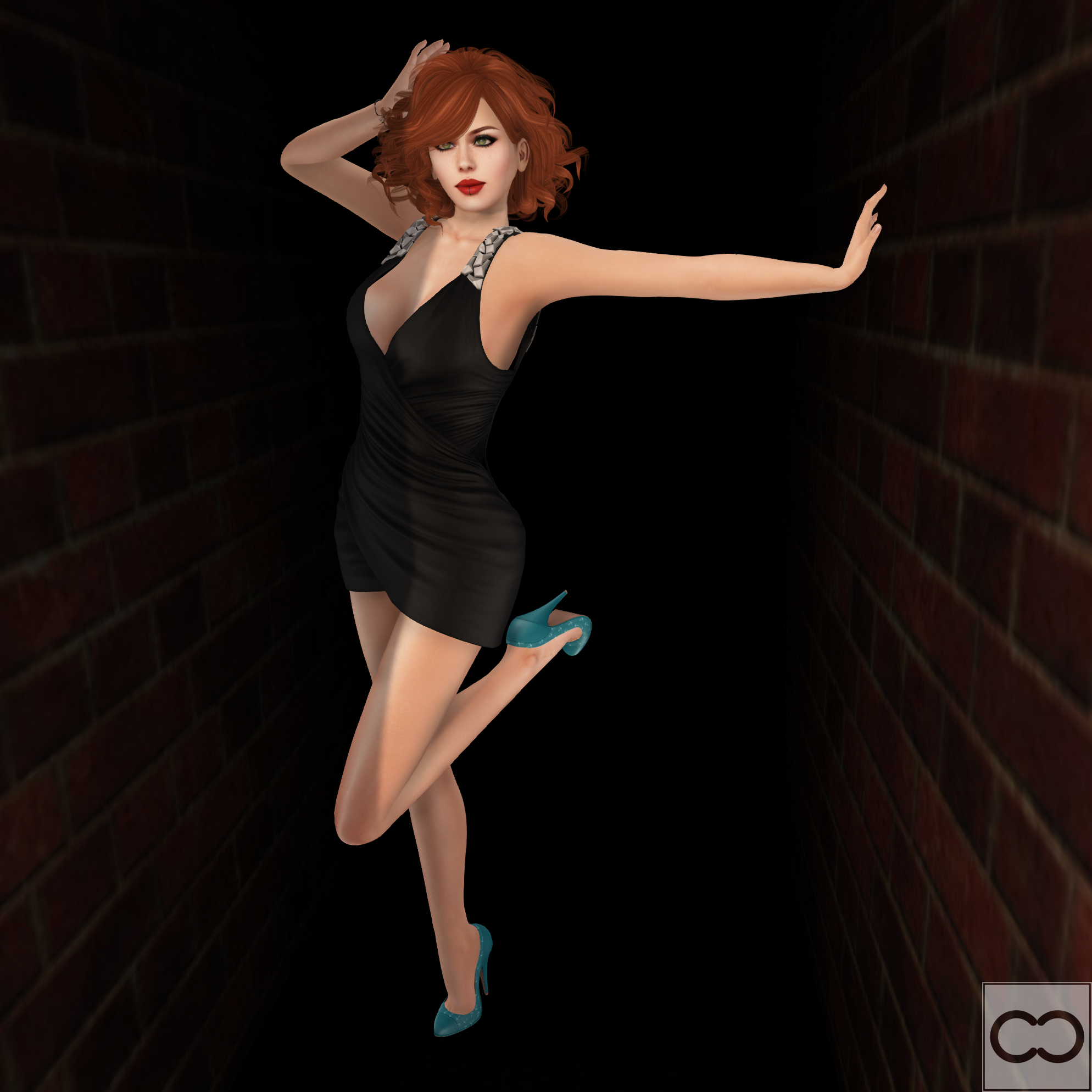 So the first bargain you can find is the dress from Blacklace. This is the Glimmer dress and right now you can get this during their TGIF special for only 99L. You get a hud that includes 5 different dress colours and four different gem colours so you can swap and change to your will. It even fit over my Maitreya Lara body but that is dependant on your slider settings so my suggestion is try a demo. If not then of course it is in the usual standard sizing for you to wear without a mesh body.
The second bargain is the Narrow Dark Alley pose prop from Exposeur. This is a great little box prop that comes with 20 poses in it and mirrors. So technically you're getting 40 different positions for your butt to be in. You can sit up to 3 people for group shots and it's mod so there's nothing stopping you dropping your own textures on it to make it something other than an alley. It's 100L. Yes I wrote 100L.
So I know you are all lazy butts like me so I've kindly added the Marketplace links to both these items. (While you're on there make sure to check out Exposeur's store, look for lowest price using the drop down and grab the latest 1L deals while you're there!)
Blacklace Glimmer Dress
Exposeur Narrow Dark Alley Pose Prop
Happy Shopping!
*Dress -
Blacklace
- Glimmer Mesh Cocktail Dress
Shoes -
Ingenue
- Marie Heels - Anchor Blue (Maitreya Lara Version)
Hair -
Truth
- Demelza (w/o headband) - Gingers Pack
Skin -
League
- Erin Pale - Feline (with Erin tintable lipstick)
Eyes -
Ikon
- Charm Eyes - Moor
Eyelashes -
Mon Cheri
- Falsies Eyelash
Body -
Maitreya
- Lara Mesh Body - Includes Feet (with League appliers)
Hands -
SLink
- Avatar Enhancement Mesh Hands - Flat (with League appliers)
*Pose -
Exposeur
- Narrow Dark Alley