You have until November 10th to nip over to Shiny Shabby to grab the goodies on offer there but I wanted to share with you an adorable lingerie/cardigan set from Dead Dollz that I never want to take off.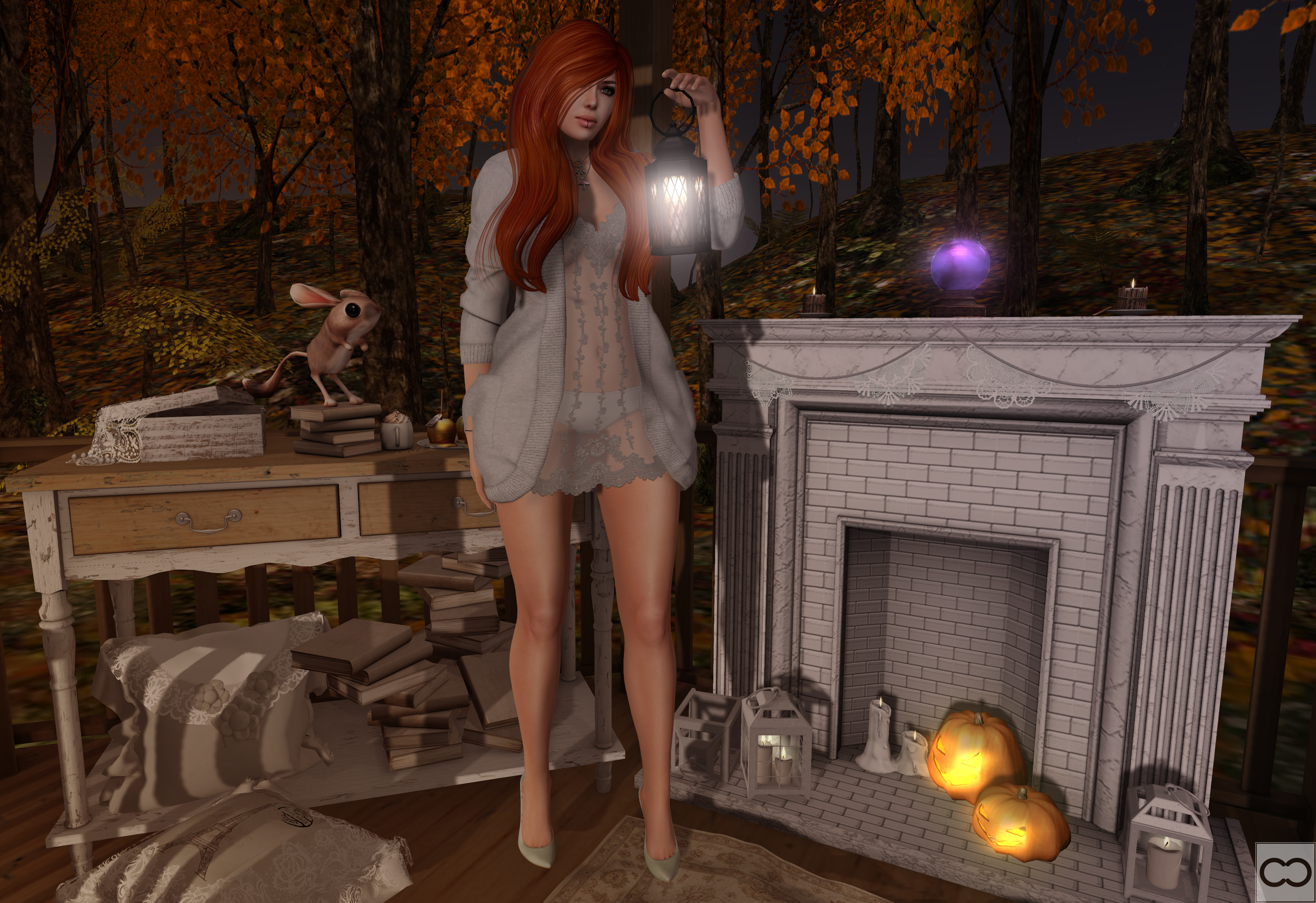 It's the Shierak Set and this one is the silver but there are other colours available. It's an exclusive for the Maitreya Lara mesh body so please try a demo if you use another body. The best part is that each piece of the set is separate (not on the demo) so you can mix and match the colours if you so wish or wear them individually. It's seriously sex with the sheer slip but then makes it cozy with the nice comfy cardigan. Panties are included too... but you don't have to wear them!
The hair is the Esmee style from Mina and is also at Shiny Shabby. All the usual Mina colour packs are available and most of you regular readers will know I'm a Dark Reds pack girl myself because this is my favourite red from all her colours.
All the funiture were from the Amala and Zerkalo gachas at The Epiphany. I've listed all the pieces below in the credits for you! If you fancy having a go at getting some then good luck to you and I hope you get all the rares!
Happy Shopping!
Lingerie & Cardigan -
Dead Dollz
- Shierak Set - Silver @
Shiny Shabby
*Shoes -
CandyDoll
- Sabatiny Heels - Ombre EXCLUSIVE @
The Epiphany
*Necklaces -
Izzie's
- Weather Necklaces - Long Silver Umbrella & Silver Rain
*Hair -
Mina
- Esmee - Dark Reds Pack @
Shiny Shabby
Skin -
League
- Erin Pale - Feline
Eyes -
Ikon
- Triumph Eyes - Moor
Body -
Maitreya
- Lara Mesh Body - Includes Hands & Feet (with League appliers)
Pose -
Exposeur
- Companions Set - Martha 2 @
Geeks 'n' Nerds
*Lantern -
Amala
- Black Holdable Lantern @
The Epiphany
H&G Items:
*Fireplace -
Amala
- White Marble Fireplace @
The Epiphany
*Table -
Amala
- Distressed Basic Console @
The Epiphany
*Cinnamon Candle -
Amala
- Cinnamon Candle @
The Epiphany
*Crystal Ball -
Amala
- The Crystal Ball @
The Epiphany
*Pumpkins -
Amala
- Two Carved Pumpkins - Orange @
The Epiphany
*Candles -
Amala
- Old Candles - White @
The Epiphany
*Candy Apples -
Amala
- Delicious Caramel Apples @
The Epiphany
*Books & Hot Choc -
Amala
- Hot Chocolate & Books EXCLUSIVE @
The Epiphany
*Books Pile -
Amala
- The Pile o' Books @
The Epiphany
*Gazebo -
Amala
- Wooden Gazebo - Distressed Brown RARE @
The Epiphany
*Jewellery Box -
Zerkalo
- Vintage Treasures - Jewelry Box EXCLUSIVE @
The Epiphany
*Flower Pillow -
Zerkalo
- Vintage Treasures - Pillow w/Flowers @
The Epiphany
*Tower Pillow -
Zerkalo
- Vintage Treasures - Paris Pillow @
The Epiphany
*Garland -
Zerkalo
- Vintage Treasures - Lace Garland @
The Epiphany
*Duel Lanterns -
Zerkalo
- Vintage Treasures - Two Lanterns @
The Epiphany
*Single Lantern -
Zerkalo
- Vintage Treasures - Single Lantern @
The Epiphany
*Rug -
Zerkalo
- Vintage Treasures - Rug @
The Epiphany
*Critter -
Half-Deer
- Long Eared Jerboa - Decor - Look Up EXCLUSIVE @
The Epiphany