The Liaison Collaborative is back with a bang from their little break and are bringing us an awesome Fright Night theme just before Halloween. You have until October 30th so plenty of time to go check it out.
I love making creepy pictures so I get to have all the fun in October... mwhahahahahaaaaaa.
Okay, okay, I'll calm down. Onto the goodies!
Dead Dollz have released a brand new dress for the Maitreya Lara body called Nathalie.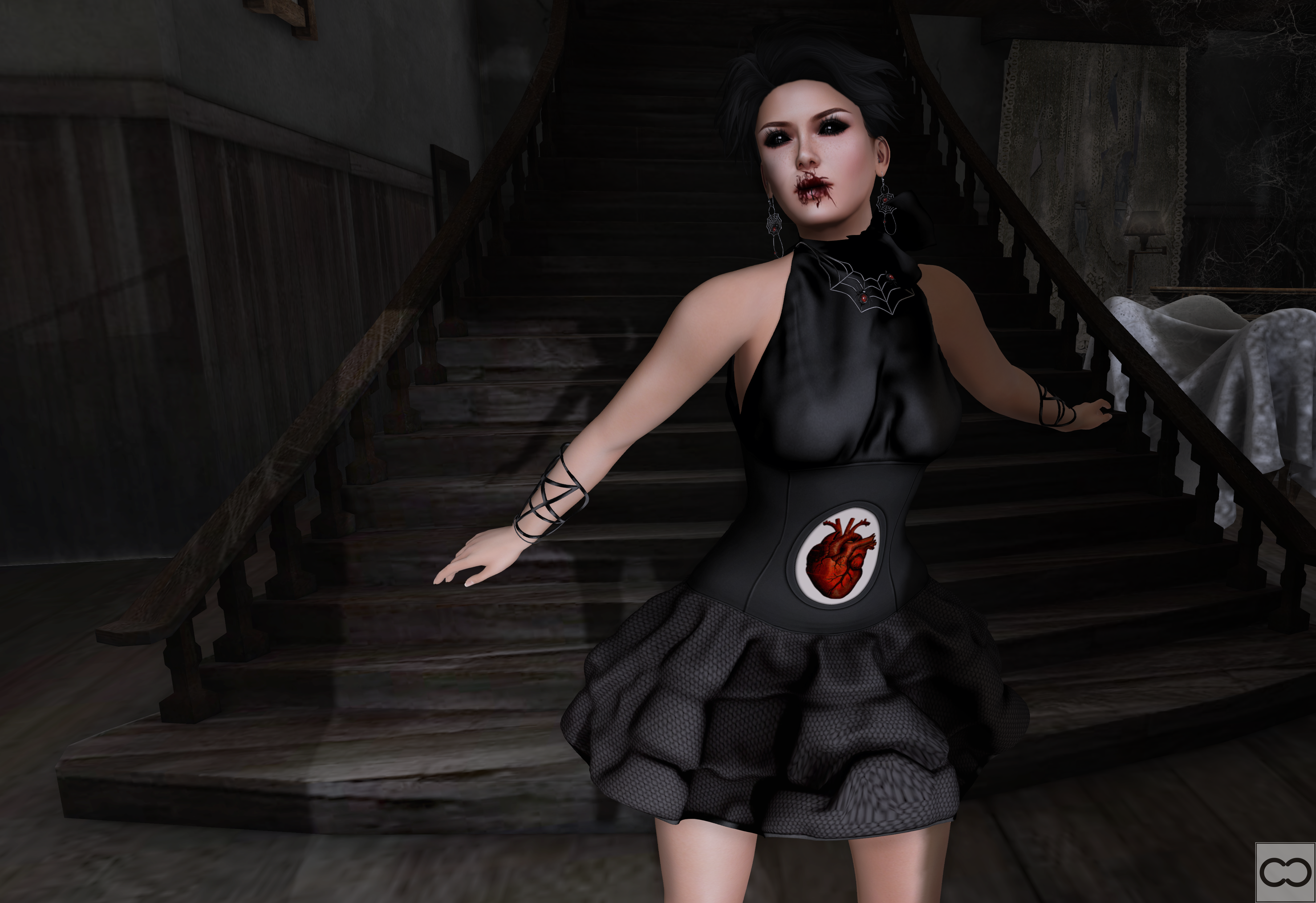 The main part of the dress is black but there are four colour options for the bust area of the dress and each with it's own creepy design on the stomach. I liked the black with this deep red heart on the front. If you don't use a Maitreya Lara body then please, please make sure that you try a demo before you buy.
Luxe have released these awesome Pentagram Cuffs for this round. You have a choice of several metal colours and I love how big they are but still feel quite delicate. Perfect for Halloween or for any other time of the year.
EarthStones are trying to uncover the black widow in all of us with the Spider Cascade Necklace and Earrings. It's a pretty web design with jewelled spiders on both the pieces and while the necklace looks delicate from the front...
The back is dramatic and flows down the spine. This piece has some amazing detail and you all need to go get one for Halloween.
The Frankenpants are a new release from Ama. Frankenpants makes me giggle and Amadeo slipped me a sneaky peeky of these before he released them and I was running around SL in them for about a week solid. You can choose between Grey or Green and they come in system layers and appliers for Maitreya, SLink, Omega and TMP.
Yes that is Amadeo being a little creeper in the background there, I can't take him anywhere!
Lastly the shoes are the Elvira Heels and you can grab from the Rebel Hope booth at The Liaison Collaborative. They have gorgeous little skull embellishments on the straps and the heel and these are currently my new favourite pair so they'll be getting a hell of a lot of wear, especially so close to Halloween.
More coming from The Liaison Collaborative soon so keep your eyes peeled. Eww, peeled eyes.
Happy Shopping!
Pic 1:
*Dress -
Dead Dollz
- Nathalie - Black @
The Liaison Collaborative
*Necklace -
EarthStones
- Spider Cascade Necklace @
The Liaison Collaborative
*Earrings -
EarthStones
- Spider Cascade Earrings @
The Liaison Collaborative
*Cuffs -
Luxe
- Pentagram Cuff - Black @
The Liaison Collaborative
*Mouth Cuts -
Ama
. - Feed
*Hair -
Damselfly
- Lousa - Tuxedo @
The Liaison Collaborative
Skin -
League
- Erin Pale - Feline
Eyes -
Izzie's
- Demon Mesh Eyes - Black
Eyelashes -
Mon Cheri
- Falsies Eyelash
Ears -
CheerNo
- Human Ears - Tragus
Body -
Maitreya
- Lara Mesh Body - Includes Hands (with League appliers)
*Pose -
Elephante Poses
- Fright - #5 @
The Liaison Collaborative
Pic 2:
*Pants -
Ama
. - Frankenpants - Green @
The Liaison Collaborative
*Shoes -
Rebel Hope
- Elvira Heels - Black @
The Liaison Collaborative
*Necklace -
EarthStones
- Spider Cascade Necklace @
The Liaison Collaborative
*Cuffs -
Luxe
- Pentagram Cuff - Black @
The Liaison Collaborative
*Mouth Cuts -
Ama
. - Feed
Hair -
Truth
- Ryleigh - Gingers Pack
Skin -
League
- Erin Pale - Feline
Eyes -
Izzie's
- Demon Mesh Eyes - Black
Eyelashes -
Mon Cheri
- Falsies Eyelash
Ears -
CheerNo
- Human Ears - Tragus
Body -
Maitreya
- Lara Mesh Body - Includes Hands & Feet (with League appliers)
*Pose -
Black Tulip
- The Black Widow - #5 @
The Liaison Collaborative