After a really successful first round The Epiphany are back for their second and it's even bigger and even better than it was first time.
Some of my favourite stores are there and so I did do some excited little dances at some of things I saw. I'll be breaking all the goodies down into a few posts so here we go with the first!
Addams have filled their gacha with the Marion Hero Costume.
It's 100L per pull and the Black versions are the rares. Every other colour is a common so you can mix and match or go for a full set which would be the Hero Custome, Waders Custome, Gloves Custome and Hero Mask. Make sure you're playing for the size you want as they are split into different fitmesh sizes and standard sizes. You can also find a special edition Hero Mask as the Addams exclusive for 25 points that you can get by redeeming your unwanted gacha wins.
The adorable little Bottle Necklace you can get by throwing 50L at the Yummy gacha. This one is the Jar/Key version but there are eight others you can win.
Jian have filled their gacha with Ween Bat's. What's a Ween Bat you ask? Well it's an adorable little baseball bat with a bow that you can use to deliver you enemies swift justice... I mean it's cute and you need one. They are 50L a pull and the rares are studded or with cute little bat wings. However if you go for the Exclusive by saving up your pulls then you can get the Spiked version.
The Cinnabun hair is from Besom. You can snag yourself one of these for 50L per pull and this colour can be found in the Colours Pack which is #22. There are other styles and colours in the gacha too so play until you get something you love, swap with your friends or save up for exclusives.
Bueno have released the Stash House gacha for this round and everything is a common apart from the skybox, which is the only rare. You can fill your Stash House with jewels, cash and drugs by collecting all the commons. It's 50L a pull so go nuts!
Reign has gone all American Horror Story on us with their Coven gacha.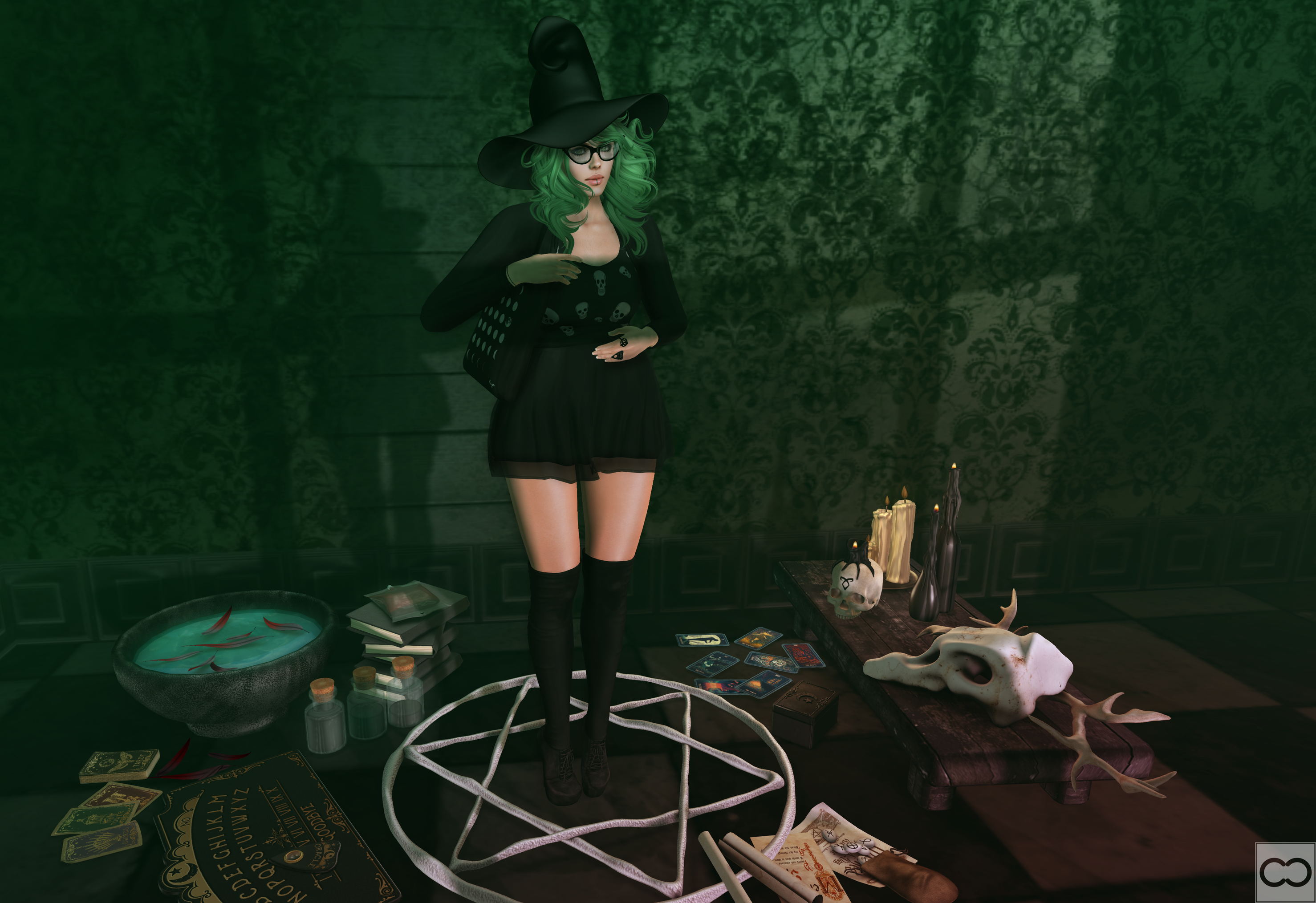 This gacha is packed full of goodies that include dresses, shoes, jewellery, bags, glasses and even hair! The great Coven Booties are one of the rares, the hair being the other two, in this one and it's 75L a pull. Each piece of clothing comes with a hud that lets you change it to the size you want too so you don't have to worry about playing multiple sizes if you are someone who likes to switch often.
May's Soul and Random Matter both released some fantastic decor pieces to create a seriously creepy room. The Dark Magic gacha from May's Soul is 50L a pull and the Spirit Set gacha from Random Matter is 75L a pull. I found both of these sets mixed and matched so well. However I appear to make a very confused looking witch.
There will be more from The Epiphany soon, until then...
Happy Shopping!
Pic 1:
*Bodysuit -
Addams
- Marion Hero Custome - Black RARE @
The Epiphany
*Boots -
Addams
- Marion Waders Custome - Black RARE @
The Epiphany
*Gloves -
Addams
- Marion Gloves Custome - Black RARE @
The Epiphany
*Mask -
Addams
- Marion Hero Mask - Black RARE @
The Epiphany
*Necklace -
Yummy
- Bottle Necklace - Jar/Key @
The Epiphany
*Bat -
Jian
- Ween Bat - Spiked @
The Epiphany
*Hair -
Besom
- Cinnabun - Colours Pack @
The Epiphany
Skin -
League
- Erin Pale - Feline
Eyes -
Ikon
- Triumph Eyes - Moor
Eyelashes -
Mon Cheri
- Falsies Eyelash
Body -
Maitreya
- Lara Mesh Body (with League appliers)
*Pose -
An Lar Poses
- The Hollow Series - Six
H&G items:
*Lower Safe -
Bueno
- Stash House - Safe @
The Epiphany
*Upper Safe -
Bueno
- Stash House - Safe Open @
The Epiphany
*Clothing -
Bueno
- Stash House - Thrown Dress/Shoes - Black @
The Epiphany
*Crates -
Bueno
- Stash House - Crates @
The Epiphany
*Jewels -
Bueno
- Stash House - Stolen Jewels @
The Epiphany
*Money -
Bueno
- Stash House - Money Stacks (Bloody & Cleans) & Money Pile (Bloody & Clean) @
The Epiphany
*Gun -
Bueno
- Stash House - Silent Gun - Black @
The Epiphany
*Scale -
Bueno
- Stash House - Merch Scale - Red @
The Epiphany
*Joints -
Bueno
- Stash House - Joint Box @
The Epiphany
*Tablet -
Bueno
- Stash House - Meeting Tablet @
The Epiphany
*Pills -
Bueno
- Stash House - Meds For Bed @
The Epiphany
*Building -
Bueno
- Stash House - Skybox RARE @
The Epiphany
Pic 2:
*Dress -
Reign
- Coven Dress Skulls @
The Epiphany
*Boots -
Reign
- Coven Booties RARE @
The Epiphany
*Glasses -
Reign
- Coven Myrtle Glasses @
The Epiphany
*Rings -
Reign
- Coven Diamond Frame Ring in Black & Ouija Ring @
The Epiphany
*Bag -
Reign
- Coven Totes - Moon Phases @
The Epiphany
Hair -
Magika
- Sorcery (scribo gift)
Skin -
League
- Erin Pale - Feline
Eyes -
Ikon
- Triumph Eyes - Moor
Eyelashes -
Mon Cheri
- Falsies Eyelash
Body -
Maitreya
- Lara Mesh Body - Includes Hands
*Pose -
Imeka
- Loli - Pose 7
H&G items:
*Salt Circle -
May's Soul
- Dark Magic - Salt Cercle @
The Epiphany
*Runes -
May's Soul
- Dark Magic - Runes @
The Epiphany
*Alter -
May's Soul
- Dark Magic - Altar @
The Epiphany
*Bottles -
May's Soul
- Dark Magic - Bottles @
The Epiphany
*Skull -
May's Soul
- Dark Magic - Skull @
The Epiphany
*Candles -
Random Matter
- Spirit Set - Candles Black @
The Epiphany
*Tarot Cards -
May's Soul
- Dark Magic - Tarot @
The Epiphany
*Spell Box -
Random Matter
- Spirit Set - Box Black @
The Epiphany
*Books -
May's Soul
- Dark Magic - Books @
The Epiphany
*Cauldron -
May's Soul
- Dark Magic - Cauldron @
The Epiphany
*Potions -
May's Soul
- Dark Magic - Potions @
The Epiphany
*Tarot Set -
Random Matter
- Spirit Set - Tarot Bad Juju @
The Epiphany
*Ouiji Board -
Random Matter
- Spirit Set - Ouiji Black - RARE @
The Epiphany
Building -
A.S.S
- The Squat Skybox