Uber have gone Freestyle for this round so it's an eclectic mix of goodies from your favourite Uber creators.
Addams have released an adorable cardigan and shirt set with some cute little shorts to go with it.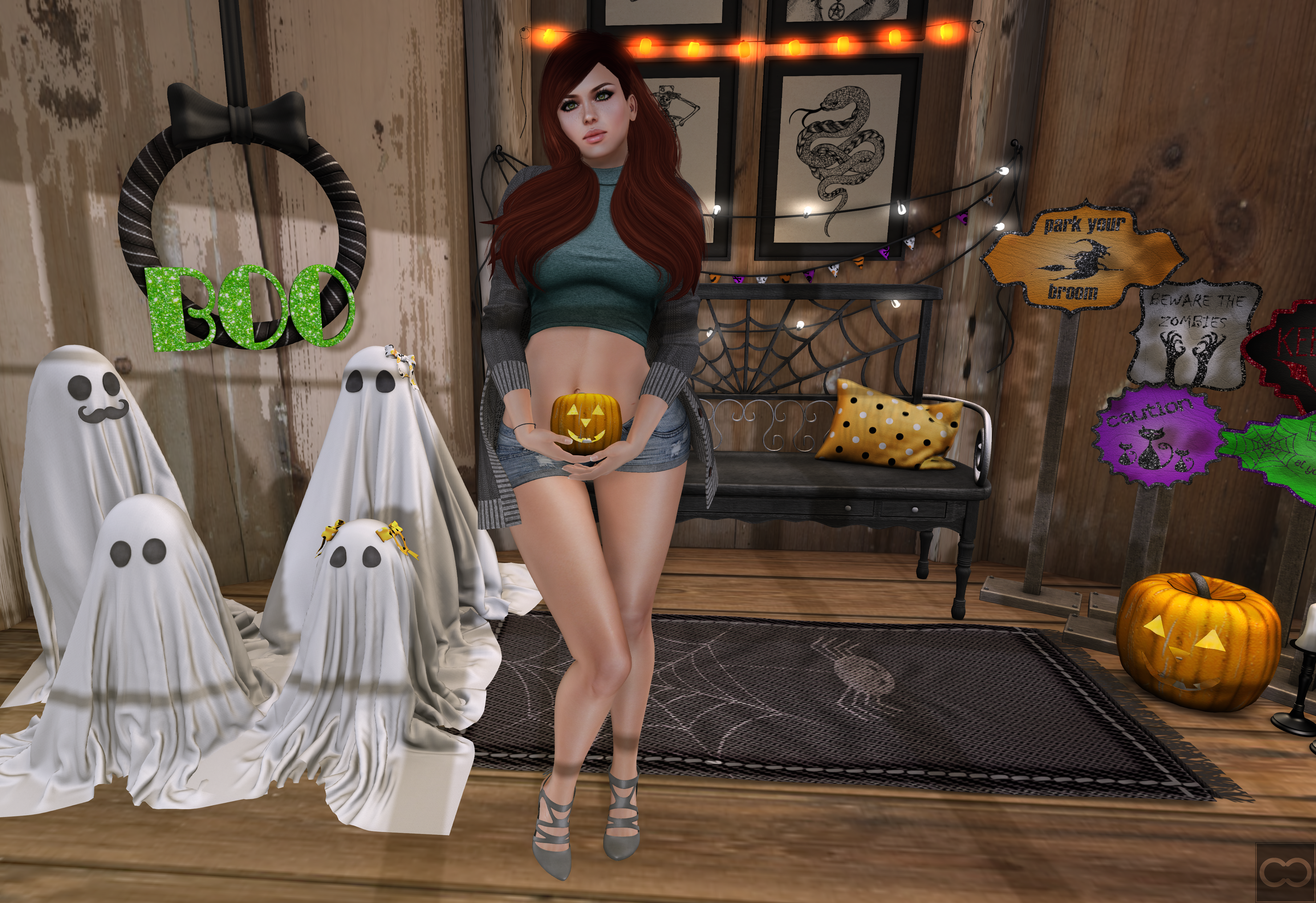 The Thelma Wool Cardigan w/Turtleneck is perfect for the slightly cooling weather without bundling yourself up too much. You get a hud included that allows you to change the colour of the turtleneck underneath so make sure you're buying the cardigan colour you want. You can even hide the turtleneck completely and just wear the cardigan or you can even purchase the Barbara Turtleneck separately.
The Electra Denim Shorts come in a full range of denim colours and the cardigan, turtleneck and shorts all come in standard sizes and fitmesh for Maitreya Lara, SLink Physique and all Belleza mesh bodies.
Fishy Strawberry have also released a cardigan to keep you warm in the cooling weather.
The Carol Cardigan comes in six colours and includes a hud to allow you to change the undershirt colours. Included in the pack is standard sizes and SLink Physique, Maitreya Lara and Belleza body fitmesh sizes.
Erratic have you covered for sexy little black dresses with their Adriana Dress.
They are made to fit only the Maitreya Lara mesh body so please, please try a demo before buying if you wear any other type of mesh body or if you use the standard avatar base.
The fantastic Halloween themed pieces are all from Cheeky Pea. They are part of the Kitsch Halloween Set and my favourite are the adorable little ghosts. Everyone needs a ghost family in their house.
Happy Shopping!
Pic 1:
Top -
Addams
- Thelma Wool Cardigan W/ Turtleneck - Grey @
Uber
Shorts -
Addams
- Electra Denim Shorts - Ocean @
Uber
Hair -
Oleander
- Boone - Natural Tones Pack
Skin -
League
- Erin Pale - Feline
Eyes -
Ikon
- Triumph Eyes - moor
Eyelashes -
Mon Cheri
- Falsies Eyelash
Body -
Maitreya
- Lara Mesh Body - Includes Hands & Feet (with League appliers)
*Pose -
Imeka
- Michi - Pose 5 @
The Chapter Four
*Pumpkin -
Cheeky Pea
- Kitsch Jack-o-Lantern @
Uber
Pic 2:
*Top -
Fishy Strawberry
- Carol Cardigan - Night @
Uber
*Pants -
Fishy Strawberry
- Moto Jeggings - Wash 6
Hair -
Oleander
- Boone - Natural Tones Pack
Skin -
League
- Erin Pale - Feline
Eyes -
Ikon
- Triumph Eyes - moor
Eyelashes -
Mon Cheri
- Falsies Eyelash
Body -
Maitreya
- Lara Mesh Body - Includes Hands (with League appliers)
*Pose -
Imeka
- Michi - Pose 8 @
The Chapter Four
Pic 3:
Dress -
Erratic
- Adriana Dress - Black @
Uber
Necklace -
Maxi Gossamer
- Baroque Teardrop - Long Silver
Hair -
Oleander
- Boone - Natural Tones Pack
Skin -
League
- Erin Pale - Feline
Eyes -
Ikon
- Triumph Eyes - moor
Eyelashes -
Mon Cheri
- Falsies Eyelash
Body -
Maitreya
- Lara Mesh Body - Includes Hands (with League appliers)
*Pose -
Imeka
- Michi - Pose 1 @
The Chapter Four
H&G items:
*Couch -
Cheeky Pea
- Kitsch Halloween Set - Kitsch Spider Bench @
Uber
*Rug -
Cheeky Pea
- Kitsch Halloween Set - Kitsch Spider Rug @
Uber
*Skeleton Art -
Cheeky Pea
- Kitsch Halloween Set - Kitsch Sir Bones Art @
Uber
*Witches Art -
Cheeky Pea
- Kitsch Halloween Set - Kitsch Madam Witch Art @
Uber
*Signs -
Cheeky Pea
- Kitsch Halloween Set - Kitsch Sign - Bat, Broom, Cat, Ghost, Spider & Zombies @
Uber
*Wreath -
Cheeky Pea
- Kitsch Halloween Set - Kitsch Boo Ribbon Wreath @
Uber
*Ghosts -
Cheeky Pea
- Kitsch Halloween Set - Kitsch Manly Ghost, Lady Ghost, Young Lad Ghost & Little Lass Ghost @
Uber
*Pennant Lights -
Cheeky Pea
- Kitsch Halloween Set - Kitsch Pennant Lights @
Uber
*Pumpkin Lights -
Cheeky Pea
- Kitsch Halloween Set - Kitsch Pumpkin Lights @
Uber
*Ghost Lights -
Cheeky Pea
- Kitsch Halloween Set - Kitsch Ghost Lights @
Uber
*Pumpkin -
Cheeky Pea
- Kitsch Halloween Set - Kitsch Jack-o-Lantern @
Uber
*Candles -
Cheeky Pea
- Kitsch Halloween Set - Kitsch Candle Group @
Uber
Building -
Scarlet Creative
- Princess Jezibell Snug